Djoser Step Pyramid was built during the 27th century BC. It stands in the Saqqara necropolis which is located near Memphis, the ancient capital of the Old Kingdom.
Whether you are searching for a nice relaxing break, or whether you want to experience a journey through the ages, Egypt is undeniably a prime destination. Regardless of why you want to visit Egypt, you'll almost certainly want to see the pyramids during your stay. This is especially true if it's going to be your first ever holiday in this ancient land.
While the Great Pyramids of Giza are without question the most famous Egyptian pyramids, they are not the only ones to attract an almost endless number or tourists to the country. The Djoser  step pyramid in the Saqqara necropolis near Memphis is just one example. What makes "step" pyramids so interesting, is the fact that they predate the smooth sided pyramids for which Egypt is so famous.
The Step Pyramid At The Heart Of The Saqqara Necropolis
The Djoser step pyramid is believed to be the first pyramid ever designed and subsequently constructed under the supervision of an architect called Imhotep. It was built and completed during the Third Dynasty in the Saqqara necropolis which is located on the plateau above the Nile Valley. Today, the pyramid is the main attraction of this ancient mortuary complex which sits within a single giant courtyard.
By comparison to other Egyptian pyramids of a similar age, the Djoser Step Pyramid was elaborately decorated with stone, as well as with more traditional materials, including wood and reeds. Many historians believe that the stone may have been added either to enhance its artistic appeal, or to mark a new technological breakthrough.
One of the interesting features of this fascinating pyramid is that it has a total of fifteen doors, with only one of them being an actual entrance. Quite a few of our Egyptian package tours include a visit to the Djoser Step Pyramid, but if your preferred package doesn't, then we also offer several one day pyramid tours, including our incredibly popular Saqqara, Memphis and Dahshur one day tour.
Up until recently, the Djoser Step Pyramid was believed to have been the oldest stone structure, but recent evidence tends to suggest that Gisr el-Mudir, also located in Saqqara is older, possibly dating back to the Second Dynasty.
Another striking aspect of the pyramid lies deep with its walls. Venturing deep into this ancient pyramid, one comes across a finely crafted and decorated room. It is believed that only the most skilled artisans and artists where employed to create and decorate this inner chamber. The chamber is deep within the dark recesses of the ancient tomb, which clearly suggests that artistry was not intended to be for the admiration of the living, but rather for use in the afterlife.
Looking Below The Djoser Step Pyramid
The Step Pyramid of Djoser doesn't only occupy space above ground, but instead, it sits above an extensive labyrinth of chambers and tunnels that cover an area of approximately 6 kilometers before connecting to a central shaft, 28 meters deep and 7 meters wide. These underground passage ways were designed to mimic the interior decoration of the Pharoah's palace. On the east side of the there are an additional 11 shafts, each measuring 32 meters deep. Some scholars have speculated that these were added for the royal harem, but this theory has so far never been proved.
In the storerooms which are abundant in this part of the tomb, more than 40,000 stoneware vessels were discovered which would have served to satisfy the Pharaoh's needs in the afterlife. Interestingly, most of these are considerably older than Pharaoh Djoser.
The Burial Chamber
The burial chamber consists of four courses, with each one having been constructed with well-dress granite. The chamber's only entrance was sealed with a 3.5 ton slab of rock, but at some point in time, the chamber was opened and subsequently robbed. In fact, researchers believe that the chamber was originally lined with alabaster, and that the existing granite was only added at a later time after looting had already occurred. Not surprisingly, the remains of the Pharaoh have never been found.
Djoser's Step Pyramid As It Stands Today
While the Djoser Step Pyramid is by far the most imposing structure in the area, it is not one of the best preserved pyramids. Apart from damage caused by natural erosion, the pyramid has also sustained damage as a result of a powerful earthquake which struck in 1992, causing a large section of the burial chamber roof to collapse. Fortunately, archaeologists are doing everything in their power to preserve this wonderful pyramid in order to prevent any further damage
Explore The Land Of The Pharaohs
Are you longing to explore Egypt, land of the Pharaohs and the cradle of human civilization? Nobody is better equipped than we are to make sure your Egyptian dream holiday becomes a real life adventure that will leave you with memories you'll cherish forever. We've been in this business for nearly 60 years already, and we'll be around for the next 60 years as well because we know what our customers want.
You can book your dream Egypt tour package that includes a trip to the Djoser Step Pyramid right now, or contact our customer support team and they'll be there to take care of your needs every step of the way.
Brace yourself for grand awakening as you revisit a time when pharaohs and emperors still ruled – Discover Egypt with a 10 Day Cairo and Nile Cruise tour.
Take a trip through the eons of time discover the Land of the Pharaohs in a way most can only dream about – A 8 Day Cairo and Dahabiya Nile cruise vacation.
Embark on an authentic journey of discovery through Ancient Egypt; begin your voyage in Cairo, and end it in Aswan – A 10 Day SS Sudan Nile cruise vacation.
Embark on an Egyptian journey of discovery with a 10 day tour featuring the best sites in Cairo, Aswan, Luxor, Hurghada, and finally a return to Cairo.
Lose yourself in Cairo; rediscover yourself on the Nile, rejuvenate yourself in the Red Sea. An epic 12 Day Egypt tour: Cairo, Nile cruise and Red Sea.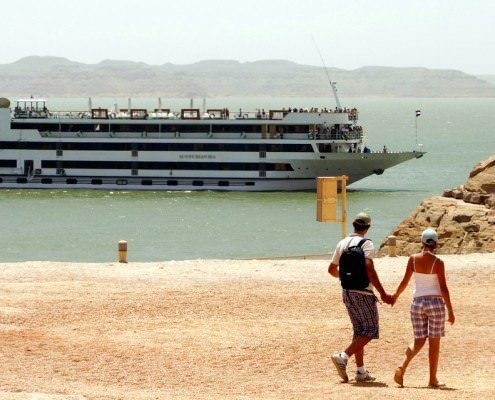 Step aboard a journey of a lifetime that will see you following in the footsteps of pharaohs; welcome to the magic of Nile and Lake Nasser cruises.