Can I travel to Cairo Egypt?
Yes, you can travel to Cairo just as millions of other people do. To visit Cairo you will need an Egypt entry visa and a valid passport with two blank pages and at least 6 months validity remaining.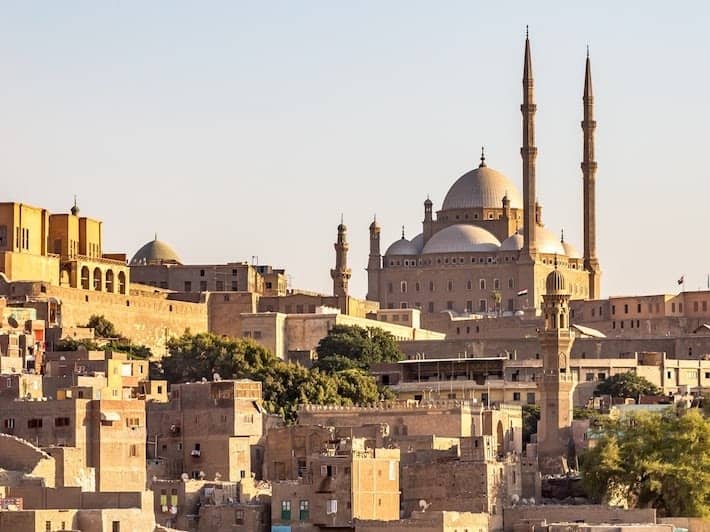 A Brief Travelers Introduction to Cairo, Egypt
While Cairo is today the capital of Egypt, this has not always been the case. It only became the capital of Egypt during the reign of Pharaoh Ramses II following the unification of Upper and Lower Egypt. Up until the mid-19th century, the sprawling city which we now call Cairo was called Faiyum.
Today Cairo is one of the world's most densely populated cities, with approximately 20 million inhabitants. The city is notorious for its congested roads and is often described as being polluted and dirty. However, dig a bit deeper and you will discover that Cairo has a very special sort of charm. Cairo is also home to some magnificent tourist sites: archaeological sites, cultural sites and religious sites.
Why do People Visit Cairo?
Cairo is best known for its ancient Giza Pyramids and Sphinx, along with its beautiful mosques and churches. There are literally hundreds of these historical buildings in the old part of town and they provide a fantastic glimpse into the past of this fascinating city. In addition, there are plenty of museums, galleries and even a zoo. The Museum of Egyptian Antiquities in the center of Cairo is one of the world's most famous museums.
In addition to cultural sites and religious sites, you'll also find lots of shopping opportunities here in this bustling city. By the way, be sure to visit to the famous Khan el Khalili Bazaar which has been around since the late 14th century.
Private Guided Cairo Travel Packages
Can I Travel to Cairo Egypt during Covid?
Yes, as of 17 June 2022, the Egyptian government lifted all remaining Covid-19 travel restrictions. Tourists no longer need to show proof of Covid-19 vaccination or take a Covid-19 test before departure or on arrival in Cairo. However, if you develop Covid-19 symptoms you are expected to self-isolate in your hotel room for 14 days or until the end of your stay.
Can I Travel to Cairo Egypt as a Disabled Person in a Wheelchair?
Unfortunately, Cairo can be a very challenging destination for people in wheelchairs. However, with some proper planning, people in wheelchairs can still have a fantastic time in Cairo.
To begin with, most of the city's modern hotels have wheelchair access and the same applies to hotels in other major cities such as Aswan, Luxor and Alexandria.
Most of the Cairo's top tourist attractions are also relatively easy to navigate for people in wheelchairs. However, the biggest problem for disabled people is actually getting to the various sites. Without a personal helper to assist, public transport in Cairo is not really an option for disabled people.
The best way for a disabled person to visit and enjoy all that Cairo has to offer is by way of a private guided Egypt tour. Ideally, book your tour through a local Cairo-based Egypt tour operator, and check to see if your preferred tour package includes your own private guide and driver. Also, be sure to let your chosen tour operator know that you are disabled so that adequate arrangements can be made.
Can I Travel to Cairo Egypt with Young Kids?
If you're traveling with kids then Cairo should be right up their street. There are so many things to do in Cairo that it's hard to list them all!
You could start off at the Egyptian Museum where you can learn about the history of Ancient Egypt. Next stop would be the Pyramids of Giza. These two sights alone are enough to keep any child entertained for hours.
If your kids are very young, it would probably be better to visit during the somewhat cooler winter months rather than during the summer months when it can be unbearably hot. Also, remember that tap water is not safe to drink in Egypt, so you will need to make sure that there is always bottled water available.
What do I Need to Visit Cairo?
The first thing you need to do is check to make sure your passport is in order. As mentioned earlier, there must be at least two blank pages left. Your passport must also be valid for no less than six months as from the date of your arrival at Cairo International Airport.
Next comes your tourist visa for Egypt. You will first need to determine if you have to visit an Egyptian embassy for a tourist visa, or whether you are able to apply for your visa online, or get a visa on arrival at Cairo International Airport.
The citizens of many countries can apply for an Egypt visa online or get a visa on arrival when they arrive in the country. However, there are also many countries whose citizens can only obtain a visa by applying for one at an Egyptian embassy or consular office. Any good and well-established local travel agent should be able to provide accurate travel advice pertaining to visas and your nationality.
Get the Most out of your Trip to Cairo
So many people enter Egypt via Cairo International Airport, but for many of them, Cairo is just a gateway to other major cities or a Nile River cruise. Many only spend one night is the city. They visit the Giza Pyramids the next day, and perhaps the Egyptian museum, and then they take a coach, train or domestic flight to places like Luxor.
What many tourists don't realize is that there are some incredible archaeological sites located just a short drive away from Cairo. One example would be the Great Step Pyramid of Djoser, the very first pyramid ever built by the ancients Egyptians. There are also other ancient pyramids at Dahshur which is also only a short distance from Cairo. All the Dashur Pyramids are older than the Great Giza Pyramid. They are also open to visitors, meaning you can actually go inside them.
Recommended: Cairo Tours Packages
An Unforgettable Cairo Experience Awaits
Private guided tours are great if you're looking for a holiday experience which is truly special in every way.
At Egypt Tours Plus, our bespoke Egypt tour packages offer a unique experience unlike any other. They give you access to many of Egypt's most breathtaking attractions, not only in Cairo, but all over Egypt.
A private tour with your own Egyptologist guide and driver is the best way to see the sights of Cairo and Egypt as a whole without having to worry about crowds.
Start planning your epic private tour today!
Design Your Custom Egypt Tour
Explore Egypt and the Middle East your way by selecting only the attractions you want to visit