Diving in El Gouna is one of the resort's most popular draws, and it is no surprise. Learn more about it in pictures and words right here!
Whether you are looking for a unforgettable luxury Egypt tour or a truly magical cruise down the Nile, you should be able to find your dream trip right here on our site. But, since this post is about diving in El Gouna, let's focus on that.
The town of El Gouna is located along the eastern shore of Northern Egypt. It is actually a privately owned and operated vacation resort location. El Gouna is recognized as the most environmentally friendly location in all of Egypt and it continually works to be a top rated experience for all who choose to visit.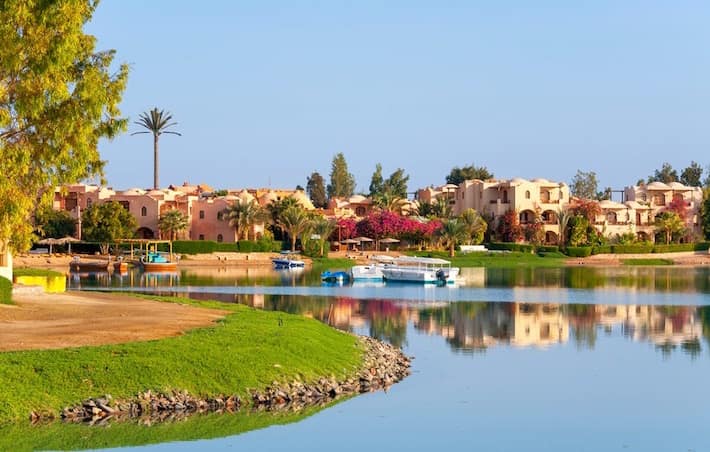 → Dreaming of the ultimate vacation in Egypt? Click here to find inspiration
Explore Egypt your way by selecting only the attractions you want to visit
While the El Gouna resort offers fourteen hotels, none with less than a three star rating, it also offers completely safe diver training programs in its own facilities and lagoon. This insures that all divers are fully trained and prepared to handle open water diving in the Red Sea.
If you browse through our private guided Egypt tour packages, you may notice that even those which include Red Sea diving, typically don't include diving at El Gouna. Most of our clients who book SCUBA diving holidays also want to enjoy a vibrant and very lively nightlife and a range of other activities. For this, places like Sharm El Sheikh and/or Hurghada are better suited. In short, El Gouna is a more "exclusive" destination, away from bustling crowds of tourists.
At Egypt Tours Plus, all of our travel packages are fully customizable and tailored to meet the exact need of our clients. This means that a visit to El Gouna can be added and/or worked into any and all of our existing pre-packaged tours.
Design Your Custom Egypt Tour
The Dive Training
Most divers undertaking training at El Gouna will experience heated pools and calm quiet reefs before heading out into the open waters. Entire families can receive complete training for SCUBA diving in El Gouna, which includes "junior" dive training and snorkeling programs.
Diving in El Gouna is also available to people with limited mobility or physical handicaps, with specialized trainers and equipment available to all who wish to become certified SCUBA divers. In fact, El Gouna has three resorts capable of training and diving with physically challenged guests.
The Underwater Sites
After receiving training and certification in El Gouna, guests get to enjoy exclusive access to dive sites which no other members of the public can view. This is due to the El Gouna property's private purchase and investment in the area's waters, all in cooperation with the Hurghada Environment Protection Agency.
The arrangement allows for no more than three dive boats to stop at any particular site at the same time. As one would expect, this results in a far superior experience. It also goes a long way in aiding preservation of the reefs and other wildlife habitat.
Syul Kebira
One of the most popular sites for diving in El Gouna is Syul Kebira. In addition to its private access for El Gouna residents only, it is also just far enough off shore to be unpopular with visiting divers from other areas.
This allows for a wonderful "secret" to be kept on the north side of the island, which is the location for one of the most well preserved and beautiful reefs in the entire region. It is literally teeming with almost every type of fish imaginable, and is also a nursery location for many of the same creatures, with juvenile morays and banded pipefish everywhere. It is also home to the extremely rare leopard shark, deep sea rays and sunfish.
Dolphin House
Another tremendously popular dive site is Dolphin House, which is exactly as it sounds: home to an enormous number of dolphins. Many lucky visitors actually enjoy the company of the resident pod of Bottlenose Dolphins during their visit, and some even get to catch a glimpse of the other unique inhabitants of the reef, including turtles and hard coral gardens.
Where Should I Go In Egypt?
If you are planning a trip to Egypt, why not let our travel specialists help you plan the most memorable and comprehensive experience possible? How about visiting Cairo to see some of the best Cairo tourist attractions, then enjoying a magical Dahabiya cruise before finally visiting El Gouna for a SCUBA diving experience you will well and truly never forget. Special themes and interests are welcome! Click here to begin planning your dream trip to Egypt today.
Design Your Custom Egypt Tour
Explore Egypt your way by selecting only the attractions you want to visit
Country Specific Egypt Tour Information
Looking for more information before you decide? We have a specific international guide covering the most important points you need to be aware of before traveling to Egypt.