Do I Need a Visa to Visit Egypt from USA?
Like nearly every country, you need a valid tourist visa to visit Egypt from the USA, with the only exception being South Sinai coastal resorts which you can visit visa-free for up to 15 days.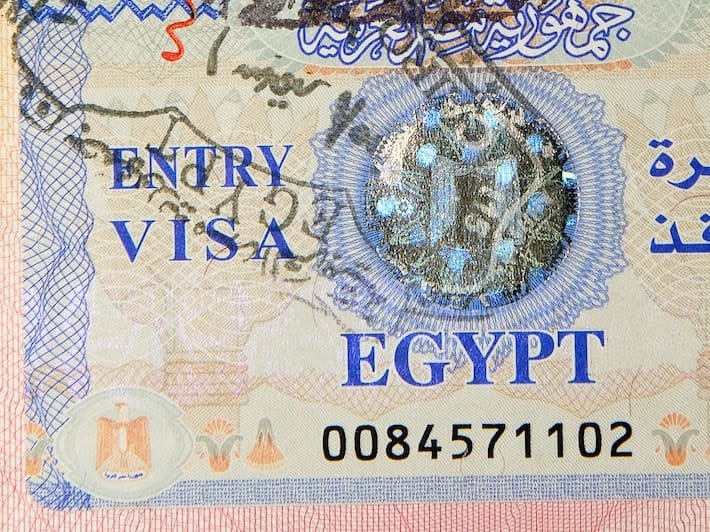 Design Your Custom Egypt Tour
Explore Egypt your way by selecting only the attractions you want to visit
Do I Need a Visa to Visit Egypt from USA?
Egypt is a truly amazing tourist destination that has something to offer for everyone. Whether you want to spend your entire vacation exploring the country's many ancient archaeological sites, or whether you simply want a relaxing beach holiday, Egypt is not likely to disappoint you. From adventurous desert safaris to world class snorkeling and SCUBA diving opportunities, you can always find something to make your stay in the Land of the Pharaohs more memorable than ever.
No matter what your reasons are for wanting to visit Egypt, you will need to meet the country's entry requirements. This means you will need to have the required travel documents in order to be granted entry into Egypt.
Fortunately for Americans, and anyone else traveling on an American passport, there are only two travel documents required – your passport and a valid visitor visa.
1. Egypt Passport Requirements
Egypt's entry rules require all visitors to be in possession of a valid passport. Your passport must also have at least one blank page, and at least 6 months validity remaining. This validity period is calculated based on the date of your arrival in Egypt.
If you are fortunate enough to deal with a pleasant immigration official when you arrive in the country, he or she may be lenient if you are a week or two less than the 6-month validity requirement. However, immigration officials are well within their rights to deny you entry if your passport validity falls short of the 6-month rule. It really is not worth taking the chance, so check your passport expiration date before you travel.
2. Egypt Visa Requirements and Visa Fees
If you are wondering, do I need a visa to visit Egypt from USA if I have an American passport, the answer is, yes you do. People traveling on an American passport can visit many countries without the need for entry visas, but Egypt is not one of them.
Let's take a look at the different types of entry visas available to you, the different ways you can obtain your visa, and how much it will cost you:
Choosing the Right Visa for Your Trip to Egypt
If you are traveling to Egypt for business, then you will need a business visa which you will need to apply for at an Egyptian embassy.
Assuming you are going to visit Egypt for tourism purposes only, then you will have the choice of a single entry visa or a multi-entry visa. As of the time of writing, single entry tourist visas cost US$25, while multi-entry visas cost US$60.
Single entry tourist visas are valid for 30 days. This means that you have 30 days in which to visit the country before your visa expires. You can visit at any time within this 30 day period and you will then be allowed to remain in the country for up to 30 days.
A multi-entry tourist visa is typically valid for 90 days. This means that from the date your visa was approved, you have 90 days in which to visit Egypt. During this 90 day period you can leave and re-enter the country as many times as you want. Each time you enter the country, can remain in the country for up to 30 days. This applies even if you re-enter the country one day before your 90-day validity is due to expire.
Obtaining a Valid Visa for Egypt
As someone who is traveling on a United States passport, there are three ways in which you can obtain a valid visa for Egypt:
Applying for Your Visa at an Egyptian Embassy
Like all nationalities, U.S. citizens and those who are going to be traveling on a U.S. passport, you can apply for your Egypt entry visa at your nearest Egyptian embassy. To do this, you simply need to fill in a visa application form, provide two passport-sized photos, and pay the visa fee. Be aware that the processing of visa applications at an Egyptian embassy can take up to two weeks or longer.
Visa on Arrival
U.S. passport holders can obtain a valid visa on arrival at any of Egypt's international airports, including Cairo International Airport and Sharm El-Sheikh International Airport. To obtain an Egypt visa on arrival, you will need to join a queue at one of the bank kiosks before you reach immigration.
When it's your turn, fill in your visa application form, hand over your two passport-sized photos and pay the visa fee. You will then be given a sticker which you must hand to an immigration officer, along with your passport. You will now have a valid single entry visa which will allow you to enter the country for up to 30 days.
NOTE: Multi-entry tourist visas and business visas are not available on arrival.
Recommended! The Egyptian e-Visa
As an American citizen, or someone traveling on an American passport, you can also apply for your visa online prior to traveling to Egypt. To apply for an Egypt e-Visa, you need to set up an account on the official Egypt e-Visa Portal. Once your account has been set up, you will receive an email notification asking you to confirm your account.
Once you have confirmed your account, choose what sort of visa you want, then complete the application form and pay the visa fee using a credit card or debit card. As of the time of writing, only Visa and MasterCard were accepted.
According to the Egypt e-Visa site, the processing time for an electronic visa is 5 to 7 business days, but very often it only takes two or three days. Once your application has been approved, simply log into your e-Visa account where you will now be able to download and print your visa. When you land at the airport in Egypt, just head straight to one of the immigration desks and hand your passport and your printed visa to the immigration officer.
Do I Need a Visa to Visit Egypt from USA if I have Dual Citizenship?
This all depends on what passport you will be traveling on. If you are going to be traveling on a U.S. passport, then technically you will need a visa for Egypt. If on the other hand, if you have a valid Egyptian passport, you should be able to enter Egypt without any need for a visa, and then re-enter the USA using your U.S. passport.
Visiting Egypt's Sinai Peninsula
The citizens of numerous countries can visit South Sinai coastal resorts for up to 15 days without a visa. Instead, they are given a free entry stamp which serves as a visa. However, if you enter the country by this means, you are prohibited from leaving the Sinai Peninsula, even if only for boat trips to nearby islands.
We've had many people asking us: do I need a visa to visit Egypt from USA if I only plan on staying at one of the South Sinai beach resorts? U.S. citizens can also visit the Sinai Peninsula for up to 15 days without a visa. So, if you are sure that you don't want to travel elsewhere in the country, and that you won't be staying for more than 15 days, then no, you do not need a visa.
Recommended: Egypt Tours Packages from USA
Book your Dream Vacation to Egypt Today
Are you ready for a once in a lifetime vacation in Egypt with lifelong memories guaranteed? If you have just answered yes, then we can help to make your dream come true. Start planning an unforgettable vacation in the Land of the Pharaohs here...
Design Your Custom Egypt Tour
Explore Egypt and the Middle East your way by selecting only the attractions you want to visit