How to Travel Safely in Egypt?
To travel safely in Egypt avoid walking alone at night, especially if you are a woman. Also, don't carry unnecessary valuables or cash with you, and avoid getting involved in religious or political debates.
Egypt is a truly fantastic destination for tourists. Fortunately, it is also a safe country to visit, with violent crimes against tourist virtually unheard of. Sure, there are a few potentially dangerous areas, but since there are no major tourist attractions in those areas, tourists have no reason to visit them.
As is always the case when traveling in a foreign country, by applying a bit of common sense you can enjoy a perfectly safe trip in the Land of the Pharaohs.
In this post we are going to share a few safety tips on how to travel safely in Egypt.
How to Travel Safely in Egypt Using Public Transport and Taxis?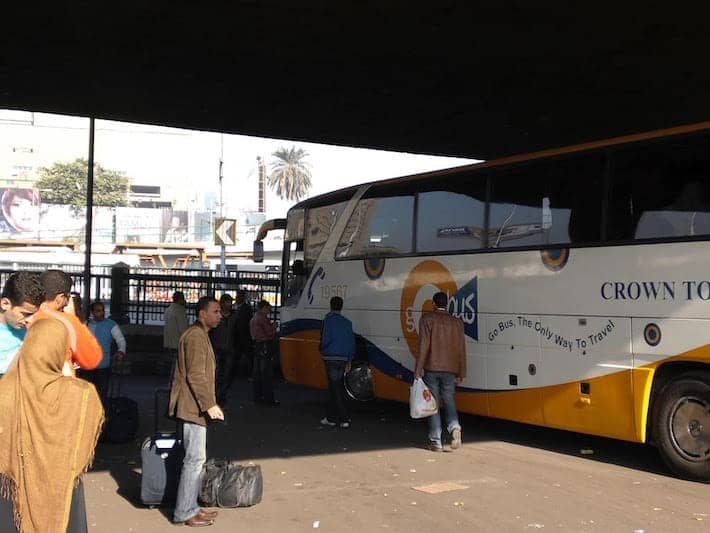 While you are in Egypt there is a good chance that you will at some point need to use public transport or taxis unless you visit by way of a private Egypt tour that includes your own driver and vehicle.
Let's look at three of your available options for getting around during your trip:
Taxis
Outside of the cities, most drivers have little regard for other road users, so traffic accidents are more common than they should be. Let's just say, there is no shortage of crazy drivers in Egypt, and this also applies to taxi drivers. For this reason, we don't recommend using taxis for long distance trips outside of the major cities.
If, for example, you want to travel from Aswan to Abu Simbel to see the breathtaking Abu Simbel Temples, it would far safer to book a group tour to the temples through a tour operator so you can travel by coach rather than by taxi. Traveling by coach is safer, more comfortable, and also cheaper.
If you find yourself needing to use a taxi in the cities, always try to use one of the legitimate taxi companies and insist on the meter being turned on. Alternatively, negotiate a price before you get in the taxi. Few taxi drivers outside of touristy areas speak English, but if you happen to find one that does, try to avoid conversations of a serious nature, such as religion and politics.
Buses
For many Egyptians, buses are the main form of city transport. Bus rides in Egypt are also extremely cheap by Western standards. Once you have the system figured out, getting around in the city by bus can be a very convenient option as well. Unfortunately, figuring the system out is no easy task for foreigners, and it is made more difficult due to the language barrier.
You can also use buses for getting from one city to the next. If you choose to do so, we would recommend booking your trip through one of the privately own bus companies rather than traveling on one of the ordinary buses.
Be aware that pickpocketing is one of the most common petty crimes in Egypt. Pickpocketing is not a problem on the long distance buses. But in places like Cairo, pickpocketing does happen, mostly on regular buses during rush hour when the buses are packed.
Trains and the Metro
Train travel in Egypt is cheap and relatively safe. Cairo may appear chaotic on street level, but head below ground and you will find a sleek and extremely efficient Metro system. These trains are fast, safe, and very convenient. The system is also easy to figure out, and the more you use the Metro, the easier it becomes.
As is the case with regular trains, the Metro gets packed during rush hour, which is when pickpockets like to strike. If you find yourself on a train or on the Metro during a busy time, exercise some extra caution; keep your belongings close to your side, and keep your wallet or purse secure and out of sight. As we've said before, a little bit of common sense can go a long way is helping you to avoid an unpleasant situation.
Unless you are a backpacker on a shoestring budget, we suggest you go for the most expensive option if or when using regular trains. The extra dollar or two that you spend is definitely worth the additional comfort you will have as a result. If you book a long distance train journey, for example, Cairo to Luxor, consider booking a private berth on an overnight train. This will include dinner and breakfast, and since you can lock your compartment door, you won't have to worry much about your belongings.
If you are a female traveller who is going to be traveling alone, or even with other female travellers, you will have the option of traveling on one of the "Women Only" carriages. All trains in Egypt have "Women Only" carriages.
Recommended reading: Is it Safe to Travel Egypt as a Woman
Design Your Custom Egypt Tour
Explore Egypt your way by selecting only the attractions you want to visit
Avoid Large Crowds
Another tip on how to travel safely in Egypt would to avoid large crowds whenever possible. Once again, it is a matter of large crowds being perfect for pickpockets. Of course, if you visit certain markets like the Khan el Khalili bazaar in Cairo, it is impossible to avoid crowds, especially during certain times of the day.
During peak tourist season it is also more or less impossible to avoid large crowd at some of Egypt's popular tourist sites. In situations like this, you simply need to be vigilant and alert, and also aware of your surroundings.
It goes without saying that you should avoid political protests, should any take place while you are in the country, and under no circumstances should you get involved in any protests.
Avoid Traveling Alone
Some people love group tours, and some people don't. In fact nearly all of the tours we have sold have been private guided Egypt tours, so experience has shown us that most travelers don't enjoy traveling as a group. However, a group could be as little as two people, perhaps a husband and wife, or just two or three friends. This makes life much harder for pickpockets.
Of course, there will always be solo travelers. So, how to travel safely in Egypt as a solo traveller? Apart from observing the various tips given in this post, solo travellers should consider booking guided tours so that you at least have someone to watch your back and keep an eye open for you. Petty criminals are less likely to target tourists who are being accompanied by a professional local guide.
Avoid Restricted or Partially Restricted Areas
The vast majority of terrorist attacks that have occurred in Egypt in the past have occurred on the Sinai Peninsula. Apart from visiting some of the coastal resort towns like Sharm El-Sheikh, all other non-essential travel in the South Sinai Governorate should be avoided. In the North Sinai Governorate, all travel should be avoided due to the risk of terrorist attacks.
In parts of South Sinai, and even more so in North Sinai, there is also a very real threat of attack by armed groups. Even security checkpoints are attacked, which is one of the reasons why there are ongoing military operations in the area. In short, attempting to travel through North Sinai is extremely dangerous and should be avoided at all costs.
Food and Water in Egypt
Ask anyone for advice on how to travel safely in Egypt, and one of the first things you will hear is that you should only drink bottled water, and never tap water. You may also be told that you should only eat at proper restaurants, and that you should avoid street food.
While we agree about the bottled water, we don't fully agree about not eating street food and snacks. Egypt has a vibrant food scene and it would be a shame not to try different foods, snacks and desserts while you are in the country.
Just focus on buying from busy vendors and/or eating in places favored by locals, and you should be fine.
Recommended reading: What to Eat in Egypt
Vaccines for Traveling to Egypt
Many people don't bother to get any vaccines before traveling to Egypt, but our advice is that you should discuss your travel plans with your physician and seek advice regarding vaccines. Alternatively, you could visit a travel clinic to get up to date information about vaccination for Egypt.
Consider Booking a Professionally Planned Tour
Egypt tours packages sold by reputable tour operators provide you with a seamless and hassle-free travel experience. A good quality tour package will include a guide, a vehicle, and a company driver, all of which can help to minimize the chances of running into problems, whether it may be petty crime, or whether it be misunderstandings due to the language barrier.
Hopefully this post has demonstrated how to travel safely in Egypt, but if you have any remaining safety concerns or any questions about safety conditions in Egypt, simply get in touch with us and we will do our best to help.
And, if you are ready for a trip of a lifetime, you should check out our spectacular range of Egypt cultural tours right now, or even book your dream holiday today.
Design Your Custom Egypt Tour
Explore Egypt and the Middle East your way by selecting only the attractions you want to visit