Luxury trips to Egypt in 2019 is the ideal thing to do! Egypt, as they say, is back! After several years of reduced tourism, the country's tourism industry is on the road to a full recovery and more and more travelers are returning to visit its many amazing sites each year. In fact, since 2016, the numbers of visitors to Egypt have just kept on climbing. 
Yet, what sort of vacations are a good fit for your needs? We suggest the different Egypt luxury tour packages. This is because they provide you with the kinds of opulent accommodations, transportation and tours you want, but they are also some of the most flexible and diverse.
What You Can Expect from Luxury Trips to Egypt  in 2019
After all, when you explore your choices in luxury trips to Egypt, you'll see that you can book:
Stunning

Nile

cruises

lasting more than two weeks

Combination

tours

with stops along the Nile, Cairo and the Red Sea

Tours with

Nile cruises and

Lake

Nasser sailings

Options for tours with

Hurghada scuba diving

as well as travel along the Nile and in Cairo
Tours that combine stops on both

Egypt and neighboring Jordan

, and more
In addition to the amazing range of tours for your Egypt vacations in 2019, when you book luxury trips in Egypt, you can count on fascinating lectures and tours of historic sites and attractions, world-class dining, premium service from the beginning to the end of the trip, and so much more.
A Few Examples of Ideal Luxury Egypt Trips
To get a better idea of just how amazing luxury trips to Egypt might be, let's take the time to look at a few of them.
Luxury Nile Cruise and Stay – 
15 Days of Exploration and Sailing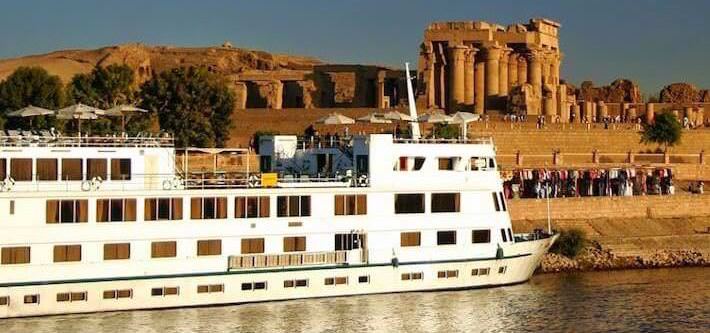 This journey of more than two weeks in length begins where any of the best Egypt vacations in 2019 should begin – gorgeous and historic Cairo. Arrive to a full greeting and escort to your 5-star hotel. Settle in and relax to prepare for your first day of travel beginning the next morning. Take in the sites of Cairo and its environs, including the Giza Plateau, the Egyptian Museum, Coptic Cairo with its famous Hanging Church, and the even more famous El Khalili Bazaar which dates to the medieval period.
From Cairo, you can travel northward to sites like Alamein outside of Alexandria, where a visit to a World War II Museum and a tour of the site of the final battle of the entire war occurred. You will enjoy ocean views and a trip towards the famous Old City of Siwa, home to a stunning and historic oasis. In Siwa, travelers can see temples, a famous spring, a museum and stunning scenery. Travel across the desert via 4×4 to another oasis, the Bahariya Oasis, where many luxury Egypt vacations in 2019 are sure to focus. This is because it is a site of constant discovery and home to the Museum of the Golden Mummies as well as other archaeological sites. You will cross the famed White Desert and the equally famous Black Desert, paying visits to Crystal Mountain before setting up your desert camp that evening.
Your next day takes you to Dakhla, stopping at hot springs and the Farafra Oasis along the way. Visit an ancient Roman temple and depart the next morning for another oasis, this one at Kharga. Here you see a Roman fortress and make your way to several Roman temples. After a final desert camping experience, you reach Luxor and it is from here your luxury cruise begins. Take a tour of the town and Karnak Temple and the Valley of the Kings.
Set sail the next day towards Edfu, stopping at sites like Kom Ombo before reaching famed Aswan. Spend time visiting Aswan's many sites, including the dam and the Unfinished Obelisk before finishing up your luxury tour and returning to Cairo or continuing with a Lake Nasser cruise and visit to Abu Simbel.
See detailed itinerary here > Luxury Nile Cruise and Stay
Cairo Sightseeing and Luxury Dahabiya Nile Cruise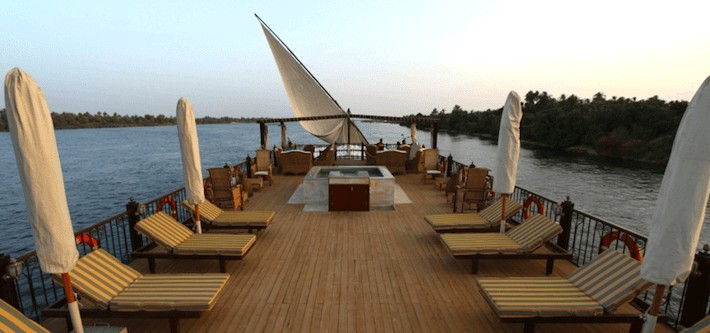 Of course, you may prefer to take things a bit more slowly and even more luxuriously, and there is little that can compare to the slow pace and utter comfort of a traditional 12-day dahabiya cruise and Cairo sightseeing.
A journey of this kind would also begin in Cairo and include a tour of the city and its surroundings, but on this sort of trip, you would focus a great deal on the historic sites along the river's banks. This could mean daytrips from Cairo to sites like Memphis and Saqqara, home to the oldest of all pyramids, the famed Step Pyramid. You would also see Giza and the city before boarding your dahabiya to begin the journey up the river.
Stops would include Karnak, Luxor and the West Bank sites that include the Valley of the Kings, the Valley of the Queens and Deir El-Bahri. You would sail towards Esna and make other stops at Edfu, Kom Ombo and then on to Aswan. You could opt to fly back to Cairo or continue with a cruise along Lake Nasser's waters where many other historic sites, including Abu Simbel await.
See detailed itinerary here > Luxury Dahabiya Nile Cruise
Your Dream Trip to Egypt Your Way!
As you can see, there are many ways to savor an exploration of Egypt in comfort, luxury and style. You might even decide to create an entirely bespoke or custom Egypt tour adventure.
Whether you want to spend days exploring the Western Desert and the stunning oases or you want to focus on the Nile and the ancient sites that are open for travelers to explore, there are many options for luxurious trips to Egypt. Egypt Tours Plus is home to a stunning array of options and has made Egypt an accessible and remarkably enjoyable destination for many travelers since 1955.
Offering premium service and world-class accommodations, we are happy to help you choose the dream luxury trip to Egypt that suites your needs or even help you arrange an entirely unique and custom itinerary.