Dare to be different, and head of into the sunset this festive season with one of our epic Morocco Christmas Holidays, tour packages which are designed to make dreams come to life. With luxury accommodation and your own personal guide and driver, you are guaranteed of a flawless vacation in one of Africa's friendliest and most welcoming countries.
Explore the most amazing historical monuments; visit quaint little villages high in the Atlas Mountains; and succumb to the natural beauty that you will pass through as you make your way from one part of Morocco to the next. If Morocco is calling you, nobody is better equipped than we are to ensure you experience the best and nothing less.
Escape from the cold, and get kissed by the warmth of the sun this festive season with a truly memorable 11-day Christmas Holiday in Morocco.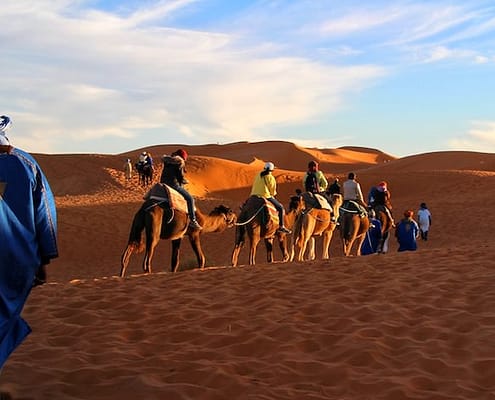 Secure your 8 Day Morocco Christmas Tour today and celebrate Christmas and New Year in one of Africa's most friendly and most enchanting destinations.
Note: All our Morocco Tour Packages are available during Christmas 2018 and can be customized to fit your exact needs and wants.
Learn more about our Morocco Christmas Holidays here...
Try Something Different With Morocco Christmas Holidays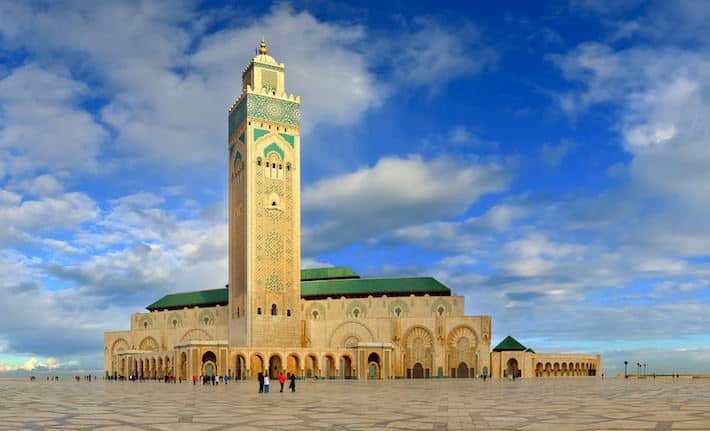 Have you been trying to find an interesting and different type of location to spend the holidays this year? If so, then you might want to consider Morocco Christmas holidays, as they can be quite fun and they are likely quite a bit different from what you usually have at home. When you think about a vacation destination for Christmas, it's okay if you didn't initially consider Morocco. Christmas holidays have certainly made their way to the country though, and it could be the perfect place to choose for your next vacation this Christmas. Let's look at some of the places you can go and things you can do for your holiday.
Where Should You Visit?
If you are visiting Morocco on the Christmas holidays, and you want to have a more traditional type of Christmas experience, you will want to stay in the larger cities including Fes, Rabat, and Marrakech. Due to the large number of people who celebrate the holiday in those cities, there tends to be more of a festive, holiday spirit.
When you are in the larger cities, you will find that many of the hotels, as well as the local restaurants will have Christmas items on the menu. Those who want to go to church will find there are a number of Catholic churches in the country.
Of course, you might not want to have a traditional Christmas, so you might want to choose one of the smaller areas to visit during the holidays. Some of the places to visit if you do not want the festivities include Dhakla and Mirleft. You might also want to head into the mountains to go skiing, or even take a trip into the Sahara.
Most Places Will Be Open
If you are coming from a country that has the majority of the people celebrating Christmas, you are accustomed to having many places, including shops and restaurants, closed on Christmas Day. That is not the case with most of the places in Marrakech and other large cities in Morocco. Christmas holidays are not celebrated by most of the residents of the country, so they are going about their normal business on Christmas Day.
This is true of restaurants, too. However, because there are likely many people who are traveling for the holidays, it is always a good idea to make sure you get a reservation to a restaurant on the holiday, just to be sure you have a spot.
Shop for Interesting Gifts
If you are traveling with your family or friends to Morocco, and you plan to exchange gifts, you might want to pick up a few things while you are in the country. Visit some of the markets and souks to see what interesting treasures you might be able to find. In addition, you might have some people at home that you want to buy for. There are plenty of great markets, and bartering is a part of the culture. There is a good chance of getting some beautiful and unique gifts while you are in Morocco for the Christmas holidays.
Visit a Beach
Keep in mind when you are traveling to Morocco for the Christmas holidays, even though it might be warmer than northern Canada, that does not mean it is swimming weather. The average temperature of Morocco in December is around 68 degrees Fahrenheit. You can still spend time exploring some of the nice beaches, such as those that are in Casablanca. However, you probably do not want to get into the water. Take some photos and be sure to enjoy the sunshine.
Places to Experience in Morocco
As mentioned, the big cities tend to have a more festive spirit during the holidays, including Rabat and Marrakech. If you would like to head to Rabat, which is not too far from Casablanca (which you might want to visit, as well), you can see some of the most famous sites in the country. These include Hassan Tower, Mechouar Palace, and just outside of Rabat are the ruins of Chellah. The city is located on the waterfront, and there are places to enjoy Christmas, as well as the history of the city.
Marrakech is one of the most popular cities in Morocco because it has so many places to visit. You might want to check out the Bahia Palace, which has souks with many types of products. You can visit the Museum of Marrakech, the Saadian Tombs, the Majorelle Gardens, and more, including the UNESCO Heritage site medina.
Fes offers some interesting attractions, too. While not all of these are going to be typical Christmas holiday fare for everyone, they are still interesting and worth checking out on your vacation. You can visit the Merinid Tombs, the Royal Palace Gate of Fes, the Copper Souk
Another city to visit on your tour is Meknes. Hundreds of years ago, this was the capital of the country. While it might not still be the capital, that in no way detracts from the power of the city or the attractions you may want to see on your Morocco Christmas holiday. The city is a short drive from Fes, and it might be a part of your tour already. Some of the locations you may want to visit include Bab Mansour, a massive gate that is the marker for the entrance to the old city.
Place Hedim in Meknes is the main square of the old city. The Dar Jami Museum, built in 1882, was originally a palace. Today, it is a museum that features amazing exhibitions that include rugs, jewelry, ceramics, and more. You can also visit the Mausoleum of Moulay Ismail, Habs Qara Prison, Bou Inania Madrassa the old Islamic school and so much more.
Casablanca was more than just the title to a movie. It's a city in Morocco that has some wonderful history aside from Rick's Café – which you can visit if you wish. You can also check out Hassan II Mosque, which is found just past the northern edge of the old city. This mosque is the second largest in the world, and it was completed in 1993. It is beautiful, and even those who are not Muslims can take guided tours of the site.
The old town area of Casablanca, or medina, is like stepping back in time. There are places selling all manner of goods, and it feels like a very authentic picture of what it mish have been like to live in this area many years ago. You can also head to the central plaza of the city, known as Place Mohamed V. you could also check out Cathedral du Sacre Cour, which was built in the 1930s. One of the interesting things about the cathedral is the architectural style. While there is certainly European styling in the design, there is also the influence of the Moroccans.
Casablanca also has beaches, ruins and fortresses, and more.
If you would like to visit one of the areas that tends not to get quite as much attention, consider heading to Chefchaouen, which is located in the Rif Mountains. This small, northwestern city was originally founded in 1471, when it was just a fortress. This fortress is still standing today, and the rest of the town has been build up in the area.
One of the reasons so many people like to visit this area is the beauty of the surrounding mountains and the contrast to the colorful old town area. Chefchaouen is a friendly area that has a range of cafés, as well as places to shop. This area is starting to become more popular with tourists, as well.
If you are looking to get out of the cities, and you want to have some beautiful scenery, consider taking a trip through the Dades Valley. This valley rungs between the High Atlas Mountain s and Jebel Sarhro. Throughout the valley are a number of traditional forts to visit. Interestingly, many of these have been turned into hotels, which is certainly an interesting place to stay. You can find areas to hike and walk here, and it should be a location where you can take some great photographs.
Tangier is considered to be the gateway to Africa, and the city has quite a few interesting places to visit. If you want to head to Morocco on the Christmas holidays and you are looking for a relatively quiet place to spend your time, this could work well. It is a famous city, but it is not as popular as it was in the 40s and 50s. However, you can still enjoy spending time in the old town area, the Kasbah Museum, and the harbor, which offers some stunning views of the Strait of Gibraltar. You can even see Spain across the water.
These are just some of the fantastic things you can do on your holiday, or any time you are in Morocco.
Choosing the Right Tour for Morocco on the Christmas Holidays
One of the great things about going to Morocco during the holiday season is that the tours tend to offer many of the same things that they do during other parts of the year. Most of the residents of the country do not celebrate the holiday themselves, but they do cater to the foreigners who do.
You can find a wealth of tours that can provide you with just the type of vacation you want in Morocco for the Christmas holidays. Perhaps you are interested in staying in some of the larger cities and experiencing all they have to offer. Maybe you would like to head toward the coast instead for the beaches, or for some of the entertainment in the coastal cities. Instead, you might be looking for a historical tour that can take you to ruins and other sites, or even a tour that will take you out into the beautiful Sahara desert.
Before you leave on your vacation, think about the type of vacation you would like to have this Christmas and then find the tour that will work best for your needs. If you want festive, the cities are great, and if you want to get away from it all, head to the desert. Get what you want from your vacation.
One of the things you will want to check when you are getting ready to take your tour is the name and location of the hotels where you will be staying. Check to see if those hotels might be doing anything special during the Christmas holidays or not. They might have an event, or they might only have some holiday items added to the menu. You will find that the larger and more luxurious hotels tend to offer more when it comes to events.
Keep Coming Back to Morocco
Morocco is a truly spectacular place to visit, and there are countless things to see, do, and enjoy while you are there no matter the time of year you are visiting. For those who are coming to Morocco for the Christmas holidays, determine where you want to go and what you want to do, and then see if you might be able to find a tour that can match your needs.
One of the nice things about going on a tour for your Morocco Christmas holiday is that you will have someone there who can help you with the language barriers, who can help you make your way around the markets, and who can make sure you see all of the destinations that you want. In addition, they have more familiarity with the area, and they may be able to provide you with access to locations that you would not be able to get otherwise.
No matter how long you are in Morocco, and no matter how many times you decide to return to the country, it will always feel fresh and exciting. You will never run out of beautiful places to visit and historical sites that are sure to enlighten you.