Tours to Egypt offer you a wonderful opportunity to enjoy the best that Egypt has to offer in terms comfort, convenience and safety. Steeped in history and folklore, with ancient pyramids, tombs and temples on the one hand and ultra modern buildings on the other, Egypt has lots to offer its many visitors. Enjoy a journey the the Land of the Pharaohs with one of our beautifully crafted Egypt tour packages.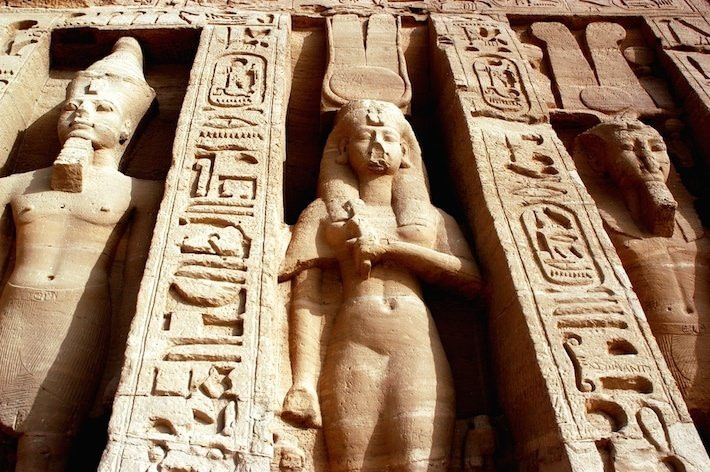 Egypt travel will leave you breathless and awestruck, and it's not just because of its many unique sights.
Believe us when we say that Egypt is different from any other country that you've ever seen. If this is the first time you are visiting, be prepared for a complete culture shock, even more so if you are from the West and this is your first visit to a Middle Eastern country
If you are planning to visit Egypt on any type of guided tours of Egypt, you can rest assured that you are in for a wild ride!  There will be lots of surprises in store for you from the time you step off the aircraft, so don't come with any preconceived notions.  Just book your ticket, along with your tours to Egypt, and get ready for the adventure of your life.
Breathtaking Classical Egypt Tours
Why Book Tours To Egypt?
That's probably the first thought that comes to your mind – do I really need to book guided Egypt tours? Why can't I simply just travel independently?
Well, you can but there are several advantages to booking a tour vs. making your own sightseeing plans:
First of all, when you book a pre-packaged tour, you have everything taken care of. You do not have to worry about how to get from one place to another or how far the various sites are from one another and their opening and closing times.
You do not have the hassle of trying to be understood by a non-English speaking taxi driver, and you don't have to worry about looking for the best places to eat or shop. There is no need to spend hours doing the research to find the best hotel and the best Nile cruise. It is already quality checked and reviewed for you.
If you take a look at the various pre-packaged Egypt tours you will see that they include all of the must-see sights on your list and they are scheduled in a time sensitive and comfortable manner, taking into consideration the distance between the sites, and their opening and closing times.
Moreover, because we make group bookings, you get to enjoy the luxury of staying in established reputable hotels at hugely discounted rates.
Another important feature of Egypt vacations is that you are accompanied by an experienced, multi-lingual tour guide who is familiar with all of the sights and their history and special features. This allows you to get an insight that you can never get when touring independently.
Consider a well designed Nile cruise holiday package. Everything is taken care of for you. This frees your energy to really explore and take in Egypt in the best possible way … Your Way!
During Nile River cruises, what you have is a floating hotel that takes you from site to site. If you do all the shore excursions offered on a cruise you will be doing some great ancient Egypt site hopping, and a great opportunity for taking pictures. And, if the large tourist cruise ships are too touristy or too crowded for you, then you would surely love a Dahabiya cruise instead.
Important Advice For The Independent Traveler
Our sincere advice to anyone wanting to travel on their own in Egypt is not to do it unless you are an experienced traveler. We cannot stress this enough – sightseeing in Egypt is not easy and is not for the novice traveler. It should be carefully planned.
If you do decide to travel independently make all your travel plans and itineraries first, and only then travel.
Don't make the mistake of first arriving in Egypt and then making plans as you will find this very difficult on several different fronts.
Language is the biggest barrier here and this can complicate things when you are trying to make any plans. While you may not find this a big problem in big cities like Cairo, Luxor and Aswan, you won't find many people who speak English in the rural areas.
When you are in Cairo, do consider taking a taxi drive at early sunrise for a few hours. This is a great way visit some of the top attractions in Cairo without getting caught up in heavy traffic at the same time. Also plan a taxi drive down/up the shore of the Nile River. This one can be done while you are in Cairo, Luxor or Aswan.
Safety Precautions for the Independent Traveler
A few safety precautions that you should pay heed to while in Egypt:
Egypt is a country in political transition, which can cause things to change pretty quickly. With that in mind, it is advisable to stay away from demonstrations and large gatherings.
Ladies should never travel alone. It is safest to have an escort, or else travel in groups – personalized or group tours to Egypt is a generally a good idea
If you are planning on hiring a car and driving around, be aware that traffic is a major issue and is generally not safe.
Be prepared to be hassled by vendors at some of the more popular tourist sites like the Giza Pyramids for example.
In the markets, you will find that the vendors are persistent and will not leave you alone till you visit their shop and buy something. If you are not interested, say so firmly and just walk away.
Is It Safe To Travel To Egypt
In our opinion it is still just as safe for tourists in Egypt as it has been in the past.
There is no heightened sentiment felt by Egyptians toward visitors to the country. In general, life in Egypt continues as usual. While some recent events give us pause and are upsetting to our hopes for stability, security and more effective governance in Egypt, we don't believe that they significantly affect the security situation for tourists in Egypt.
Since the beginning of the Egyptian movement for political and social change began on January 25th, 2011, our company has never had any problems guaranteeing the security of our customers in Cairo or any other part of Egypt.
Our guides and tour staff are sure never to take a client to an area when it might be unsafe or if it generates anxiety for our clients. They use the most current information about events in Egypt to make sure that they are informed.
In practice however, only a small number of our tours to Egypt in the past 7 years have ever had to even adjust their schedule for issues of this nature.
We understand the anxiety that can be associated with traveling to Egypt right now, but we are confident that you will find Egypt as friendly a place as ever when you arrive here, and we look forward to the opportunity to show our country to you!
Please do not hesitate to contact us with any other concerns or more specific questions.
Egypt Tours = Peace of Mind and Best Sites to Visit
However you choose to travel to Egypt, taking tours to Egypt can offer you the peace of mind and the experience of a trusted guide, who will make sure that you visit most of, or all of these highlight sites…
Giza Pyramids and the Giza Plateau in Cairo (top site)
The Nile River – Especially the stretch from Luxor to Aswan (top experience)
Valley of the Kings in Luxor – Pharaoh's Gateway to the Afterlife
Beautiful Philae Temple on Angilika Island in the Nile River near Aswan
Ancient capital city Thebes (now Luxor) – Monuments Overload
Impressive Karnak Temple – the world's largest religious site
Abu Simbel Temples on the border of ancient Nubia, deep south
Walking and spending time in these ancient Egyptian sites is an extraordinary experience that is spiritual, meditative and active. Make sure your tour guide gives you enough time for this and be sure to wear comfortable shoes and clothing when sightseeing. Bring a bottle of water and never ever forget your camera because our Egypt tour packages are experiences you will never want to forget.