What to Visit in Alexandria Egypt?
The top 3 places to visit in Alexandria include the Bibliotheca Alexandrina, the Qaitbay Citadel and the Catacombs of Kom El Shoqafa. However, there is so much more to see and do in Alexandria.
Continue reading to discover the best of Alexandria in Egypt.
What to Visit in Alexandria Egypt?
When Alexandria was found by Alexander the Great in 332 bce, it soon became one of the Mediterranean world's greatest cities. It remained this way until it was captured by the Arabs in 642 ce.
If you only want to see and explore ancient pyramids, temples and tombs, then Alexandria is probably NOT the best place for you to visit. However, if you need a short break from the chaos of Cairo, then Alexandria is a great place to visit, despite being Egypt's second-largest city.
While Alexandria can't compete with places like Cairo and Luxor in terms of ancient monuments, it certainly does have several historical sites that are definitely worth seeing.
So, if you are wondering what to visit in Alexandria Egypt, continue reading.
Consider Visiting the Bibliotheca Alexandrina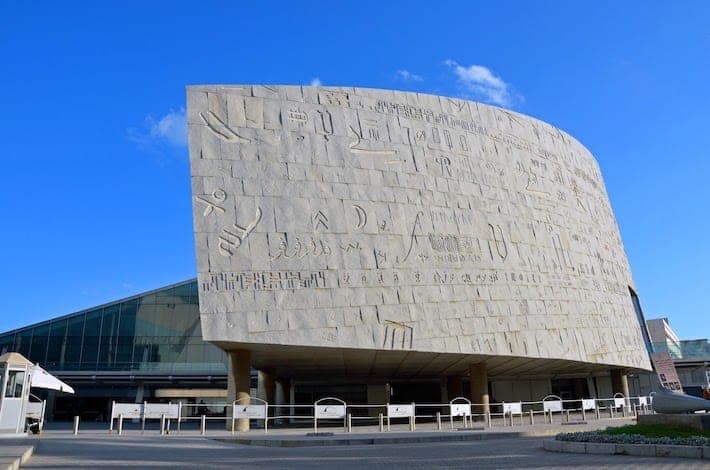 Also known as the New Library of Alexandria, Bibliotheca Alexandrina is one of the top tourist attractions in this huge cosmopolitan city. Alexandria Library is so much more than just a library, and we definitely recommend that you visit if you find yourself in Alexandria.
The main library area and reading room can accommodate up to 8 million books, but for most tourists, the fun starts beneath the main library where you will find a number of museums and curated exhibition areas.
Be sure to check out the Alexandria Antiquities Museum. The main highlights at this museum are a fascinating display of artifacts that have been recovered during the excavation of underwater ruins in the harbor.
We also recommend visiting the Manuscripts Museum, the Science Museum, and the Planetarium. The Science Museum and the Planetarium have been designed more for children than for adults, but they are still worth checking out. At the time of this post being written, a ticket for Biblioteca Alexandrina cost EGP 70 ($3.73) per/person. Okay, what to visit in Alexandria Egypt after your visit to the library.
Make Sure to Visit the Qaitbay Citadel in Alexandria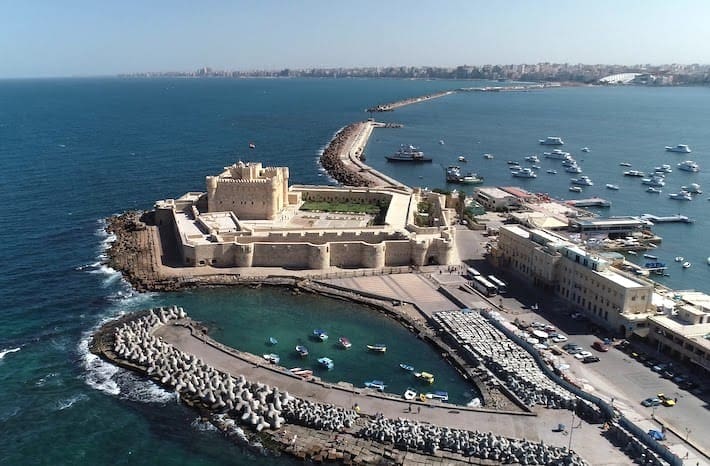 The Citadel of Qaitbay is another famous attraction in Alexandria, and a place we would certainly recommend to visitors. The huge and imposing fortress was built in 1477 on the northernmost tip of Pharos Island at the mouth of Alexandria's Easter Harbor.
In its heyday, the Citadel of Qaitbay was one of the most significant defensive strongholds on the Mediterranean Sea coastline. It was built on the same site where the Pharos Lighthouse (Alexandria Lighthouse) once stood before it was completely destroyed by an earthquake during the 14th century.
The fortress's primary purpose was to help protect Egypt from the Ottoman Turks who were become increasingly powerful in the region. For the best and most rewarding experience, visit with a tour guide and also go for a boat ride around the citadel.
As of the time of writing, admission tickets for the Citadel of Qaitbay cost EGP 60 ($3.20) for adults and EGP 30 ($1.60) for foreign students.
The Souk District in Alexandria
If you are still wondering what to visit in Alexandria Egypt, then you should head to Alexandria's souk district where you can dive right in and lose yourself amongst the countless shops and market stalls. If you want to see and experience the real Alexandria as it was centuries ago, this is the place to be.
It can be terrific fun, and if you have honed your haggling skills and can haggle hard, you can get some excellent bargains. The key to haggling in Egypt is to be firm but polite, and to adopt a light hearted attitude.
Relax and Unwind on Mamoura Beach
Tourists who visit Egypt to enjoy the country's beaches tend to head straight to coastal resort towns like Hurghada and Sharm El-Sheikh. They certainly don't visit Alexandria to spend time on the beach, but this is exactly why going to the beach in Alexandria is so nice, because you often have the beaches almost all to yourself.
Alexandria has several beaches but Mamoura Beach is the nicest and cleanest. It's a great place to go for a stroll, and since you are right here on the Mediterranean coast, why not go for a refreshing dip in the Mediterranean Sea.
Alexandria Corniche
The Alexandria corniche fronts the Mediterranean sea. It is essentially just a long walkway where you go to enjoy a leisurely stroll, and to get your bearings when you first arrive in Alexandria. Strolling along the corniche is best done early in the morning or late afternoon/early evening. However, since there is usually a gentle breeze blowing in off the Mediterranean Sea, you can enjoy a stroll more or less any time you want. Just remember to use some form of sun protection.
Catacombs of Kom El Shoqafa
The underground catacombs of Kom El Shoqafa are one of the most significant archaeological sites in Alexandria and are one of the Seven Wonders of the Middle Ages. The site was used for burials from the 2nd century to the 4th century. From the 4th century onwards, the site basically vanished from sight until it was rediscovered at the beginning of the 20th century.
Its discovery in 1900 was also accidental and happened only because a donkey fell down one of the access shafts. Many of the underground rock-cut tombs show depictions or had artifacts that illustrate a mixture Egyptian, Greek and Roman influence.
As of the time of writing, an admission ticket for the catacombs of Kom El Shoqafa cost EGP 80 ($4.26) for adults and EGP 40 ($2.13) for students.
Yet More Tourist Attractions i Alexandria 
If none of the above mentioned places appeal to you, or if you have already seen them and you are still wondering what places to visit in Alexandria Egypt, then here are a few more archaeological sites and other attractions to consider:
Take a stroll across the 400-meter Stanley Bridge, one of the city's most iconic sights.
Visit the Alexandria National Museum.
Visit Pompey's Pillar – one of the last remnants of the original ancient city founded by the Greeks.
Visit the ruins of Kom El Dikka, a Roman-era archaeological site.
Visit the beautiful Ras El-Tin Palace.
Explore the exquisite gardens at Montaza Palace
Admire the breathtaking architecture at the relatively modern Abu Abbas Al-Mursi mosque.
Visit a good local seafood restaurant and enjoy the best fresh fish in Egypt.
Book your Dream Trip to Egypt Today
If you are longing to visit Egypt, and you want it to be a dream holiday with lifetime memories guaranteed, we can help. We have an epic range of private guided Egypt tour packages , and we can customize them any way you want. And, if you don't see anything you like, we can help you to create your own personalized travel itinerary from scratch.
With more than half a million tours already sold, we know how to make travel dreams come true.
Design Your Custom Egypt Tour
Explore Egypt your way by selecting only the attractions you want to visit