How Do I Travel To Dahab?
It is part of the Red Sea Riviera so travel to Dahab is astonishingly convenient given its secluded feel. If you're planning to include Dahab in one of our Egypt vacation packages, then you have nothing to worry about because we will get you to Dahab in comfort and style.
If, on the other hand, you are going to be traveling independently, let us show you how to get to Dahab with the least amount of fuss.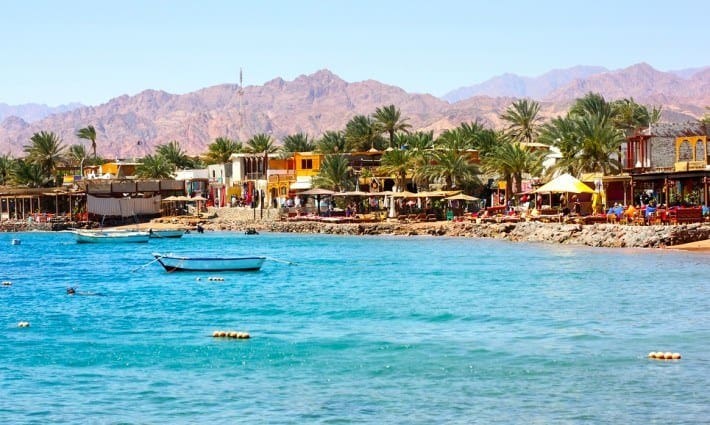 Dahab, Egypt
Are you wondering how to travel to Dahab? Dahab is a town in Egypt just north of Sharm el-Sheikh and near the southern tip of Sinai. That means that like those other communities, Dahab is a tourist-friendly vacation resort town.
Dahab was once fairly isolated but has more recently grown into a commercial resort attraction among other things, largely because of its great marine life.
Design Your Custom Egypt Tour
Explore Egypt your way by selecting only the attractions you want to visit
The North and South Side of Dahab
There are two sides to Dahab. The north is the former Bedouin village of Assalah on a fairly small beach. This side is more of the original Dahab, a laid back coastal region, cheap, and full of backpackers. The south side is more of the modern Dahab, which holds all of the hotels, banks and other pricey amenities one would expect from a resort town.
If you are going to be visiting Dahab after enjoying a Nile River cruise, and you want to enjoy the same level of comfort when you get to Dahab, then you will probably want to head to the southern side of the town.
Getting to Dahab
How can you travel to Dahab? The best way to get to Dahab is by air via Taba International Airport, or from one of the other nearby airports.
There is no Dahab Airport, as this is a fairly small coastal community. Thus, Americans would travel to Europe, stop off at Frankfurt Germany, the most common airport for Middle East and African transfers, and then land in the vicinity.
Buses
Locals, as well as many tourists, may not want to pay for a flight just to get to a nearby area they could just as soon drive to. Fortunately, buses connect Dahab with cities like Sharm el-Sheikh, and Cairo, and even Suez on a daily basis.
Furthermore, from Dahab you can also connect to Eilat, the resort town oddity, and the Israeli border at Taba. These cities are only a two-hour drive away, whether you go by taxi or bus. Folks are fairly easy going here so you can either book bus tickets with a hotel or hostel stay, or just turn up at the last minute and beg for a hand-out. (With your money in hand, of course)
Taxis
Tourists say that if you must take a taxi, then do just that and avoid "jeep transportation" since these are usually overzealous locales that are planning to overcharge you to the max.
You can't even trust some bus drivers in these parts, since they will often demand more money to take you to the border from the station. Whenever things get too silly, just start walking – it'll be a good exercise and at a comfortable pace.
Bicycles
Last but not least, you can rent bicycles as this is a great area to trek along and enjoy yourself. Travel to Dahab and enjoy both the "softer side" and the beachside the kids first fell in love with.
Our Recommended Travel Itinerary
For the ultimate Egypt travel experience, we recommend spending at least two or three days in Cairo before heading out to other parts of the country. There are lots of fabulous tourist attractions in Cairo, including the legendary Giza Pyramids and the Sphinx.
When you are finished in Cairo, we would recommend a Nile cruise from Aswan to Luxor. Besides the enjoyment of a cruise, it will also allow you to see several more of the top attractions in Egypt. Sites like Karnak, Temple of Horus, and the Valley of Kings are just a few of the places you will get to explore during your cruise.
After your cruise, you can then travel to Dahab from Luxor, or you could choose to spend a day or two at Sharm before heading on to Dahab. Whatever you choose, you are bound to have an amazing vacation.
Amazing Ancient Egypt Tours
Explore the best of Egypt. Find and book your dream trip today.
Design Your Custom Egypt Tour
Explore Egypt your way by selecting only the attractions you want to visit
Country Specific Egypt Tour Information
Looking for more information before you decide? We have a specific international guide covering the most important points you need to be aware of before traveling to Egypt.