Lake Nasser cruises enables you to leave a world of stress and worries behind, and instead enter a world of carefree luxury and comfort. Lake Nasser is one of the largest man-man lakes on the planet, covering an area of around 5,250 square kilometers.
Many of Egypt's ancient wonders, including the iconic Abu Simbel Temples, are located on the shores of this magnificent lake, waiting to be explored and enjoyed by all who cruised Lake Nasser. With a variety of cruise ships to choose from, any Lake Nasser cruise promises to be an experience like no other.
→ Click here to see all our Nile cruise holidays
FAQ: Lake Nasser Cruises in Egypt
Are Lake Nasser cruises safe?
Yes, Lake Nasser cruises are very safe. Every precaution has been taken to ensure the safety of passengers, both on board the vessel and at the attractions you visit.
Is a Lake Nasser cruise worth it?
Definitely, and especially if you have already experienced a Nile River cruise. Lake Nasser cruises also tend to be cheaper than Nile cruises although you don't visit quite as many sites. 
Do Lake Nasser cruise boats have Wi-Fi?
Some Lake Nasser cruise boats have internet access and Wi-Fi, but on some you may only have Wi-Fi while the boat is docked. This is something you should inquire about before booking.
What to wear on a Lake Nasser cruise?
You can wear more or less whatever you want and whatever makes you feel comfortable. Lightweight clothes made from cotton or linen are probably the most comfortable due to the weather.
What is Lake Nasser?
Lake Nasser is one of the world's largest manmade lakes and reservoirs in the world. It was created as a result of the Aswan High Dam being built across the Nile River in the 1960s.
Where is Lake Nasser located?
Most of Lake Nasser is located in southern Egypt, while the remainder is located in northern Sudan. The lake measures roughly 500km in length, of which 150km is in Sudan.
How big is Lake Nasser?
With a length of just under 500km and a width of around 16km at its widest point, Lake Nasser covers an area of roughly 5,250 km2 and can hold about 132 cubic kilometers of water.
How was Lake Nasser formed?
Lake Nasser started to form when the Aswan High Dam was built across the Nile during the 1960s. It took six years to fill, during which time several ancient monuments were moved to higher ground.
Click here to learn more about Lake Nasser Cruises.
A Brief Guide to Lake Nasser Cruises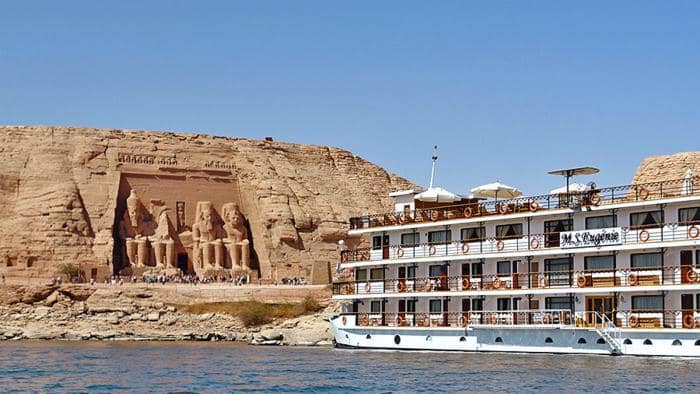 Lake Nasser cruises offer you the opportunity to enjoy carefree days in the sun, visiting some of Egypt's most treasured relics of the ancient world in luxury and style. Whether you choose an Aswan to Abu Simbel cruise, or have it the other way around, your days will be full of fun and adventure from dusk till dawn.
Lake Nasser cruises allow you to see all the best ancient sites which cannot be visited with regular Nile River cruises, and with an impressive variety of cruise ships operating on the lake, you can be sure that there are cruise to suit your taste and budget.
About Lake Nasser
Lake Nasser is an enormous man-made lake measuring approximately 340 miles (550km) in length, and around 22miles (35km) wide at its widest point near the Tropic of Cancer. The lake was intentionally created by the construction of the Aswan High Dam between 1958 and 1970. Most of this giant lake (83%) is located in Southern Egypt, while the remaining 17% lies in Northern Sudan, where it is known locally as Lake Nubia.
Today, Lake Nasser can hold about 32 cubic miles (132 cubic km) of water; it plays a vital role in Egypt's agricultural sector, and the water flowing into the lake from the Nile River provides Egypt with around 10 billion kilowatt-hours of electricity. Apart from all its practical advantages, Lake Nasser has also become famous for its leisure time opportunities, including luxurious Lake Nasser cruises on its tranquil waters.
The Nubian Monuments
A cruise on Lake Nasser is a magical experience even if you never set foot ashore during the cruise, but it's all the ancient monuments you visit and explore with our Lake Nasser cruises that make your time on the water all the more unforgettable.
Nubia, the region that lies beneath Lake Nasser, was home to many ancient structures, including forts, temples, and tombs, all of which would have been lost forever following the construction of the Aswan High Dam and the subsequent creation on Lake Nasser.
An international effort got underway to save the best ancient structures; dismantling them and then rebuilding them on higher ground. These are the sites that you will get to visit and explore with our range on luxury Lake Nasser cruises. All of these sites, stretching from Abu Simbel, all the way to Aswan, are now part of "Nubian Monuments, a UNESCO World Heritage Site.
Ancient Sites Featured in Cruises on Lake Nasser
Undoubtedly, the most impressive and most famous ancient site featured in our Lake Nasser cruises is Abu Simbel Temples at Abu Simbel. This archeological treasure is the largest structure to have been moved in its entirety to higher ground. It is also considered by many to be Egypt's second most iconic relic of the ancient world, preceded only by the Great Pyramids of Giza.
These massive rock temples were built by Pharaoh Ramesses II. They were essentially built to serve as lasting monuments of Ramesses II and his wife Queen Nefertari, but they were also a symbol of power and strength.
While Abu Simbel is without question a magnificent site, there are so many other spectacular sites to be seen and appreciated during our Lake Nasser cruises, including the ancient relics located at Amada; Wadi El Sebou, and Aswan.
At Amada, you can visit and explore sites such as the Temple of Amada that dates back to the time of Pharaoh Thutmose III of the 18th Dynasty, although some sections of it were added later by 19th Dynasty rulers, including Seti the 1st and Ramesses the 2nd. You can also explore the Temple of Derr and the wonderful rock-cut Tomb of Penout.
Quality Lake Nasser cruises will also stop as Wadi El, usually spending a night, with a fascinating excursion to historical sites such as the spectacular Wadi El Sebou Temples which were also built by Pharaoh Ramesses II of the 19th dynasty. You will also visit the historically significant Temple of Dakka which served different purposes over the years, including being a temple fort for the Romans, and later a Christian place of worship.
In Aswan, visit the splendid Kalabsha Temples that were built in 30BC, and also the astonishing rock-cut Temple of Beit el-Wali, which like many temples in the region, was built under the orders of Pharaoh Ramesses II.
5-Star Service from Beginning to End
When you book a Lake Nasser cruise through us, you are guaranteed 5-Star service from the moment you arrive, to the moment you depart. On arrival at Aswan or Abu Simbel, we always have one of our tour representatives standing by to meet you at the airport or railway station, and to escort you in air-conditioned comfort to the place where you will be boarding your luxury cruise ship.
Once on board, you can expect a level of hospitality like nothing you have ever experienced before; you can expect world-class cuisine; world-class amenities; luxurious accommodation, and so much more. All transfers throughout your cruise vacation take places in modern air-conditioned vehicles, and on all excursions you are accompanied by an extremely knowledgeable and friendly English speaking Expert guide. At the end of your cruise one of our friendly tour representatives will once again be standing by to meet you, and to escort you to the airport or the railway station so that you can continue on your way.
Every cruise ship featured in our Lake Nasser tours is different and unique in their own way, but all are luxurious and elegant. Just like luxury Nile cruises is the ultimate way for anyone to experience the ancient wonders of the Nile River Valley, Lake Nasser cruises is the ultimate way to visit and explore the ancient monuments of Nubia.