Luxury Nile cruises in Egypt provides visitors with one of the very best ways to explore the magical Land of the Pharaohs. It is also worth remembering that most luxury Nile river cruises are quite literally floating 5-Star hotels, thereby enhancing your travel experience even more.
Scroll down to explore, find and book your dream luxury Nile cruise experience.
Luxury Nile River Cruises
Egypt Tours with Luxury Nile Cruise
FAQ: Luxury Nile River Cruises
Are Nile river cruises safe?
Yes, Nile cruises are an important part of Egypt's tourism industry and they are protected by the Egyptian government. There is also high security at all the historical sites you visit during your cruise.
What is the most luxurious Nile cruise?
The Oberoi Zahra Nile cruise is largely recognized as being the most luxurious Nile cruise, closely followed by the Oberoi Philae Nile cruise. However, children below the age of seven are not permitted on board either of these two vessels.
Is a Nile cruise worth it?
It is more than worth it, especially a 5-Star Nile cruise. With excellent accommodation and amenities, 3 daily meals, and tours to many of Egypt's best historical sites, lifetime memories are guaranteed.
What to pack for a Nile cruise?
Pack in whatever sort of clothes you feel comfortable in, along with a light jacket for the evenings. Also be sure to pack in some sunscreen lotion, a good quality pair of sunglasses, a hat and a comfortable pair of walking shoes to wear when visiting archaeological sites.
How much to tip on Nile cruise?
As of the time of writing, the average was about $10 per person per day for your Egyptologist guide, and about $10 to $12 per person per day as a collective tip to be shared with all staff members aboard the vessel.
Can you drink on a Nile cruise?
Yes, you can drink alcohol but spirits are local spirits of an inferior quality so consider stocking up beforehand. Aswan and Luxor have duty-free shops where you can buy up to 3 bottles of alcohol.
Can women bathe topless during a Nile Cruise?
Strictly speaking, topless sunbathing is not allowed although it is tolerated on some Nile cruise ships.
Learn more about Luxury Nile Cruises in Egypt here
Luxury Nile Cruises in Egypt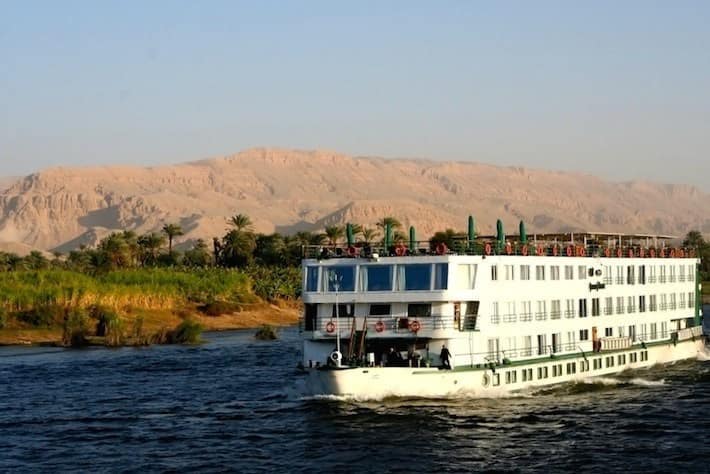 There are many ways to tour Egypt in the lap of luxury, but for those interested primarily in the ancient and Pharaonic history of the country and its magnificent temples, and other ancient sites, luxury Nile cruise holidays are among the best of choices for a truly memorable experience. This is because a visitor will essentially be following the same route that people have been following for thousands of years.
Visitors also get to enjoy daily excursions along the way to view several of Egypt's most cherished ancient sites, and even some lesser known sites, including majestic temples and ancient royal tombs. In short, luxury Nile cruises give visitors the opportunity to enjoy an exclusive experience which they will well and truly never forget.
Luxury Nile cruises are the best option for people who want to explore the ancient temples and tombs of Upper Egypt and learn about the rich history of Egypt's past while traveling in absolute comfort and style. In addition to professionally guided shore excursions to many historical sites, luxury cruises also provide visitors with opulent surroundings, three delicious meals a day, and a range of world-class amenities.
Amenities typically include a sun deck, an outdoor swimming pool, , fitness center, spa and massage facilities, a lounge bar, a library and cigar lounge, a club lounge and even a dance floor for those who want to dance the night away. Nearly all luxury Nile cruises also include enjoyable nightly entertainment such as belly dancing shows and folkloric shows.
The number and variety of on board amenities varies from one luxury cruise ship to the next, but all of the modern luxury cruise boats have all the amenities you could possibly need or want.
Cabins to suit all Tastes
Most of the modern cruise ships have spacious cabins with elegant interiors. Passengers can also choose between regular cabins, deluxe cabins, presidential suites, and royal suites, thereby ensuring that you can enjoy a truly luxurious cruise on  the River Nile, and a totally unforgettable experience. As is to be expected, cabin choices do vary from one cruise boat to the next.
On some of the Nile cruise ships Some cabins will also have floor to ceiling windows which afford passengers with absolutely breathtaking panoramic views of the Nile and its banks. Even those cabins which don't have floor to ceiling windows will have large panoramic windows. Some cabins will also have atheir own private terrace.
Luxury Dahabiya Nile Cruises
Dahabiyas are traditional river yachts which has been used as a means of transport on the River Nile ever since the time of the pharaohs. They are instantly recognizable by their two sails, one at the rear and one at the front. Due to their small size, these beautiful boats typically only have around 8 to 12 cabins and limited amenities. Don't expect to find an outdoor pool although most will at least have an outdoor jacuzzi, a sun deck, a bar and lounge, etc.
The biggest draw of a luxury dahabiya Nile cruise is the fact that it provides a far more intimate atmosphere compared to the large Nile cruise ships. For those who want to enjoy blissful serenity and tranquility while exploring the wonders of ancient Egypt that line the banks of the River Nile in Upper Egypt, a dahabiya Nile cruise is the perfect choice.
Typical Luxury Nile River Cruise Routes and Itineraries
The routes for luxury Nile cruises run from Luxor to Aswan or from Aswan to Luxor, although most of our packages include a comprehensive guided tour/s in Cairo area before departing, by air, to Aswan or Luxor where cruises get underway.
If luxury Nile cruises don't include Cairo, what can a visitor see?
Many people unfamiliar with the land or history of Egypt may not realize that the pharaohs ruled the entire length of the country, even extending south into Nubia. There were periods when upper and lower Egypt were ruled separately, and this is where such locations as Luxor, Edfu, Kom Ombo and Aswan come into discussion. Many of Egypt's most famous ancient sites are located in Upper Egypt along the banks of the Nile between Aswan and Luxor, so you can be sure that there is plenty to see during a luxury Nile cruise holiday even if you don't do any sightseeing in Cairo.
With the above having been said, we definitely recommend booking a Nile cruise package that includes one or more guided tours in Cairo. This will ensure that you get to visit attractions like the famous Giza Pyramids and Sphinx, the Egyptian Museum, and more.
Experience History while Cruising Down the River Nile
Guests of luxury Nile cruises will be able to sail past, and visit areas that were incredibly important during the thousands of years of Egypt's Pharaonic rule.
At Luxor, for example, guests can go ashore and view significant sites on either side of the Nile River. On the western shore they can visit the famous Valley of the Kings, the final resting place of such pharaohs as the young Tutankhamen; they can hike to Hatshepsut's gorgeous and elegant temple, or they can visit the eastern bank with the easily recognizable temple complexes of Karnak Temple Complex and Luxor Temple.
Heading south, luxury Nile cruises will provide visitors with opportunities to see large and small temples, and usually provide transportation to one of the most impressive of all, the enormous Abu Simbel monuments south of Aswan, which finishes off most luxury Nile cruises with an incredible finale.
Luxury Nile Cruise and Stay Holidays
All our luxury Egypt tours include a breathtaking luxury Nile cruise and an amazing holiday experience in Cairo and/or on the Red Sea coast. Furthermore, they are private and fully customizable. You can immerse yourself in ancient Egyptian history and have your luxury Nile cruise holiday your way when you travel to Egypt with us. So, What are you waiting for? Contact us now to begin planning your trip to Egypt or to book an epic luxury Nile cruise today.
Luxury Nile Cruises – Lifetime Memories Guaranteed