Long Nile Cruises from Cairo to Luxor and Aswan
Experience Ancient Egypt in a way you never imagined possible, with our unforgettable Nile cruises from Cairo to Luxor and Aswan. Live in the lap of luxury as you cruise along this vast stretch of river, stopping numerous times to visit and explore Egypt's most famous antiquities, along with many ancient temples and tombs that are beyond the reach of regular Nile River cruises sailing between Luxor and Aswan alone.
Enjoy daily excursions; onboard entertainment; fine cuisine, and 5-Star luxury accommodation, from the moment you arrive, to the moment you leave. Now you well and truly can follow in the footsteps of great pharaohs, and you can do it in absolute style.
Click to learn more about Nile Cruises from Cairo to Luxor and Aswan
Nile Cruises from Cairo to Luxor and Aswan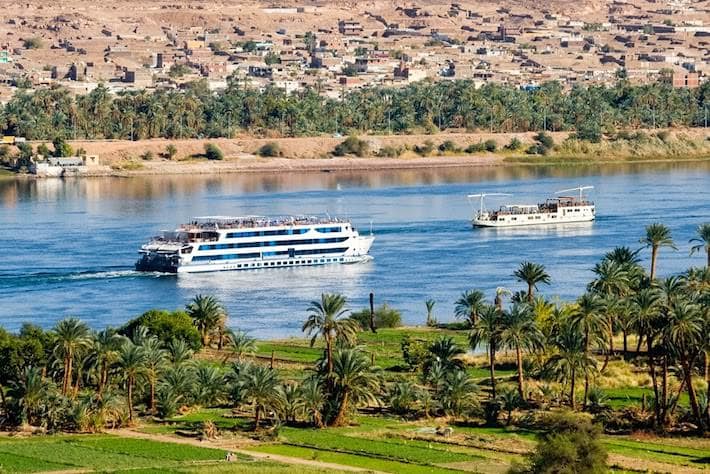 Nile cruises from Cairo to Luxor and Aswan have been meticulously planned and structured specifically for people who want to fully immerse themselves in Ancient Egypt's fascinating history. Most Nile River cruises sail from Luxor to Aswan and from Aswan to Luxor, which unfortunately means that most Nile cruise passengers never get to visit and explore the many ancient monuments that are located between Cairo and Luxor.
Boarding Your Nile Cruise in Cairo
When you arrive at Cairo International Airport, you will be met in person by your dedicated tour manager. Once you have passed through immigration, your tour manager will assist you in any way they can, and then they, along with one of our drivers, will escort you in a modern air-conditioned vehicle to the port area where you will board a luxury Nile River cruise ship.
After embarkation, passengers typically have the remainder of the day for themselves, unless stated otherwise in your chosen tour itinerary. This free time allows passengers to relax and familiarize themselves with the ship and its many amenities. A good 5-Star dinner is provided onboard the vessel in the evening, after which you can continue relaxing or head out into the city on your own.
On the second day of your cruise vacation, you will enjoy a visit to two fascinating attractions: the world-famous Egyptian Museum, and the iconic Giza Plateau where you will have time to explore the Great Pyramids of Giza and the massive Sphinx statue which are located on the outskirts of Cairo. Today's sightseeing is broken into two, with the museum featured in the morning, and the pyramids featured in the afternoon, following lunch at a good local restaurant.
Once your sightseeing tour is over, you will be taken back to the cruise ship in time for dinner. Your cruise ship will remain in Cairo for the night, so guests are welcome to venture out on their own in the evening, or they can simply relax onboard.
Let the Nile Cruise Sailing Begin
As a general rule, cruise ships make an early morning departure from Cairo on the third day, and they spend the day sailing to Beni Suef, a journey which takes approximately 12 hours. This makes today a wonderful day for relaxing out on the water, while you are watching the world go by. By the time you arrive at Beni Suef, it will be too late for any sightseeing tours, so those only take place the next day, when you will be taken to see the wonderful Maydom Pyramid, and also the amazing Dahshour Pyramids.
Both these sites are only a short drive from Beni Suef, and both are definitely worth visiting. They are also good examples of ancient monuments which are not usually visited by people who book regular Nile River cruises that only run between Luxor and Aswan.
While cruise itineraries can and do vary from one specific cruise to another, all our Nile cruises from Cairo to Luxor and Aswan dock at multiple destinations along the way.
After spending one or two nights on the ship at Beni Suef, cruise ships then continue on their way, stopping at stopping at numerous other places such as:
Minya
Tel El Amarna
Asyut
Sohag
El Balyana
Qena
Luxor
If you have booked a Nile cruise from Cairo to Aswan, then the vessel you are on will continue on from Luxor, stopping at:
Nile cruises from Cairo to Luxor and Aswan include significantly more sightseeing opportunities when compared to most other Nile River cruises, simply because most cruises only run between Luxor and Aswan.
As can be seen above, cruise ships generally only make two stops between Luxor and Aswan, while they can make six or more stops between Cairo and Luxor. However, it should also be noted that cruises from Luxor to Aswan and Aswan to Luxor include visits to some of Egypt's most famous and most treasured ancient sites, including Valley of the Kings, Valley of Queens, and Philae Temple, to name only a few.
Nile Cruises from Cairo to Luxor and Aswan – Top Attractions
As has been mentioned at the top of this page, you will enjoy visiting some of the Ancient World's most iconic monuments, even before you set sail from Cairo, and once you leave Cairo, the sightseeing literally doesn't stop until you disembark in Aswan. Below, you will find a list of the various places where these cruise ships stop, and what attractions you will be visiting during these places:
Beni Suef
Your stop at Beni Suef typically includes two excursions, one to the Maydom Pyramid and one to the Dahshour pyramids. Located just a short distance from Beni Suef, is a site that is home to one large pyramid and several smaller mastabas. The large pyramid, also known as the Maydom Pyramid, is believed to be the second pyramid ever built in Egypt, and it was originally constructed for Pharaoh Huni who was the last pharaoh of the 3rd dynasty.
Your second excursion will be to the Dahshour pyramids at an ancient royal necropolis which is also only a short drive from Beni Suef. The necropolis is best known for two particular pyramids, the Bent Pyramid and the Red Pyramid, both of which are amongst the oldest and best-preserved pyramids in the country. Both were built during the reign of Pharaoh Sneferu who ruled between 2613 BC and 2589 BC.
Minya
While docked at Minya, you can expect to visit Tuna El Gebel and Ashmunein. Tuna El Gebel was the royal necropolis of Khmun. The area is home to several antiquities, including the treasured Boundary Stelae of Akhenaten. Because of this relic's historical significance, it has since been enclosed with glass in order to try and prevent further erosion. The necropolis is also home to various other interesting sites, including the catacombs that were dug under the necropolis for the purpose of storing mummified falcons, baboons, and etc.
Your next excursion of the day will be to an area which is home to several tombs, including the Tomb of Baqet III, the Tomb of Khety, the Tomb of Amenemhet, and the Tomb of Khnumhotep II.
Tel El Amarna and Asyut
You won't be staying at Tel El Amarna overnight, but you will enjoy an excursion to see a collection of ancient tombs known as the Northern Tombs. These include the tombs of Ahmose, Meryre, Pentu, Panehesy. After these tombs, you'll visit the Royal Tomb of Akhenaten, the Great Palace of King Akhenaten, and finally the "Small" and "Great" temples of Aten.
After your sightseeing opportunities at Tel El Amarna, cruise ships continue on to Asyut, where they usually tie up for the night. Asyut is essentially just a stopover, and ships continue on their journey the following morning.
Sohag and El Balyana
The trip from Asyut to Sohag takes approximately 8 hours which means you get to enjoy another wonderfully relaxing day on the water. Nile cruises from Cairo to Luxor and Aswan typically include an overnight stop at Sohag, and then they leave for El Balyana the following morning. The cruise to Balyana only takes a couple of hours, usually arriving shortly after breakfast.
If your chosen Nile cruise itinerary includes a stop at El Balyana, you will enjoy a visit to Abydos Temple, also known as the Temple of Seti. This is considered to be one of Egypt's most important ancient sites, not least because of the fact that it had gained a cult-like status at one point in history. Sadly, not much remains of the actual city, other than the temple.
After this excursion, cruise ships continue on towards Qena, usually arriving in the late afternoon or early evening.
Qena
Your stop in Qena includes a visit to Dandarah Temple which is located only a short distance away from the area where the cruise ships dock. Rather than being a single temple, this site is a temple complex, and it is one of the best-preserved temple complexes of Ancient Egypt. There really is a lot to see at this site, and almost the entire site is accessible to visitors. In fact, visitors could once explore the entire site, including the crypts and the roof for example. However, the second stage of the roof, along with the highest part of the roof, has now been closed to tourists after a tourist fell to her death more than a decade ago.
Luxor
Sightseeing at Luxor takes place over a period of two days. One day will be reserved for sightseeing on the East Bank where you will enjoy visiting places such as Luxor Temple and the sprawling Karnak Temple complex. Karnak in particular is one of the most popular and most visited ancient sites in the country.
What started off as a temple, later went on to become an entire city of temples, an undertaking which lasted for more than 2,000 years. Today, most of the city lies in ruins, but there is still so much to see. In fact, some solo travelers revisit the site several times during their stay in Luxor.
Your second day in Luxor will see you visiting the West Bank, where you will enjoy visiting more of Egypt's most treasured sites, including Valley of the Kings and the mortuary temple of Queen Hatshepsut. Queen Hatshepsut's temple was dedicated to the sun god Amun, and it was once also known as Holy of Holies. This impressive shrine was painstakingly carved out of the cliffs on the west bank of the Nile. It is fair to say that this must be one of the most striking and most fascinating ancient temples ever discovered.
Valley of the Kings features in all our Nile cruise itineraries because it is one of many sites which nearly all visitors long to see. It is a sprawling ancient necropolis where archeologists have uncovered more than 60 royal tombs, including the tomb of King Tutankhamen.
Nile Cruises from Cairo to Luxor and Aswan will make sure you get to explore all the top attractions in Luxor.
Edfu
All cruises heading to or from Aswan will stop at Edfu. Some cruises include an overnight stay, while others only stop long enough to allow for a tour to Edfu Temple. This temple lay buried beneath the desert sands for more than 2,000 years, and as a result, it is one of the country's best-preserved ancient temples, and one which is definitely well worth seeing.
Kom Ombo
At Kom Ombo, passengers will be taken to see the wonderful Kom Ombo Temple which was dedicated to two gods, Horus the falcon-headed god, and Sobek the crocodile god. What makes this temple so incredibly fascinating is the fact that it is essentially a twin temple complex, with one being a mirror image of the other. Other than this, they were built identically in every way so as not to offend either of the two gods to which they were dedicated.
Aswan
Our Nile cruises from Cairo to Luxor and Aswan terminate at Aswan, but nonetheless, you will still get to enjoy some sightseeing while you are here. Enjoy a wonderful outing that will see you visiting places such as the spectacular Aswan High Dam, Philae Temple, and the Colossi of Memnon. Philae Temple is particularly fascinating, and it features in virtually all good quality Nile River cruise itineraries.
You will experience the highlights of Aswan with our amazing Nile Cruises from Cairo to Luxor and Aswan.
Some cruise packages will also include one or more other attractions in and around Aswan. Also, it is quite often possible for passengers to book an optional tour to the famous Abu Simbel temples while they are in Aswan. Finally, you will be transferred to the airport for your flight back to Cairo where you will be met by one of our tour managers who will then escort you to international departures for your flight back home.
Board and Lodging
All our Nile cruises from Cairo to Luxor and Aswan focus on luxury and comfort. If your chosen tour itinerary includes one or more nights in a hotel, you can be sure that you will be staying only in the very best luxury hotels. However, most board and lodging will be onboard whichever cruise ship features in your chosen itinerary.
Once you embark for your Nile Cruise from Cairo to Luxor and Aswan, will enjoy full board and lodging for the duration of your cruise. The cruise ships that feature in our tours are all luxuriously furnished and beautifully decorated in order to ensure that all passengers enjoy a true 5-Star experience across all services and amenities. Spend your nights sleeping in a luxury cabin or suite, dine on fine world class cuisine, and feel free to use all the many amenities which are available on these select river boats.
5-Star Service
From the moment you arrive in Egypt for your Nile Cruise from Cairo to Luxor and Aswan, to the moment you leave, our unwavering commitment to our customers means you are guaranteed a bespoke experience which you will never forget.
For your comfort and convenience, all transfers throughout our tours are done in modern air-conditioned vehicles, and all excursions take place in the company of a certified multilingual Expert guide who is always more than happy to share their vast amount of knowledge with whoever wants it.
If you like the idea of spending a relatively long time on the water in absolute comfort and style, and you really want to see as many ancient sites as possible, then our Nile cruises from Cairo to Luxor and Aswan are definitely worth checking out.
NOTE:
Some of these extended Nile River cruises depart from Aswan and Terminate in Cairo, rather than the other way around. However, both options include visits to all the places mentioned in the above post.
The cost of your Nile Cruise from Cairo to Luxor and Aswan package includes domestic airfare for flights if mentioned in the itineraries.
Design Your Custom Egypt Honeymoon Tour Package
Explore Egypt your way by selecting only the attractions you want to visit