Dahabiya Nile cruises might not be the cheapest option for those who are longing to cruise the world's longest and most famous river, but they are well and truly in a league of their own.
Dahabiya boats plying the Nile in one form or another have been a sight for thousands of years. When you decide to go to Egypt yourself, you should really consider joining the privileged number of people who have already enjoyed the magic of a private Dahabiya Nile cruise. They are all about the memories…
Dahabiya Nile Cruise Tour Packages
The Best Dahabiya Nile Cruise Boats
Frequently Asked Questions
What is a Dahabiya?
Dahabiyas are traditional river yachts that typically have two masts, one front and one rear. They rely entirely on wind and have no engines apart from a generator for on-board electricity. 
Are Dahabiya cruises safe?
Yes, they are very safe. All cruises, including Dahabiya cruises, are protected by the Egyptian government as are the attractions you visit during your cruise along the Nile.
Is a Dahabiya Nile cruise worth it?
Absolutely! If you want luxury and exclusivity, then there is no better way to sail on the Nile River than to do so aboard one of these traditional two-mast river yachts.
Do Dahabiya boats have Wi-Fi?
Most tourist Dahabiyas have free Wi-Fi available on board, sometimes throughout the boat and sometimes only in public spaces. The quality can vary wildly depending on location.
What to wear on a Dahabiya cruise?
There is no specific dress code, so just wear whatever makes you feel comfortable. Many passengers tend to dress somewhat conservatively since Egypt is a conservative country.
What to expect on a Dahabiya Nile cruise?
Expect peace and quiet, excellent dining, and lots of breathtaking sightseeing at numerous ancient monuments. You may also visit places that are off limits for the large passenger cruise boats.
Click here to learn more about Dahabiya Nile Cruises...
Dahabiya Nile Cruises – This Side of Paradise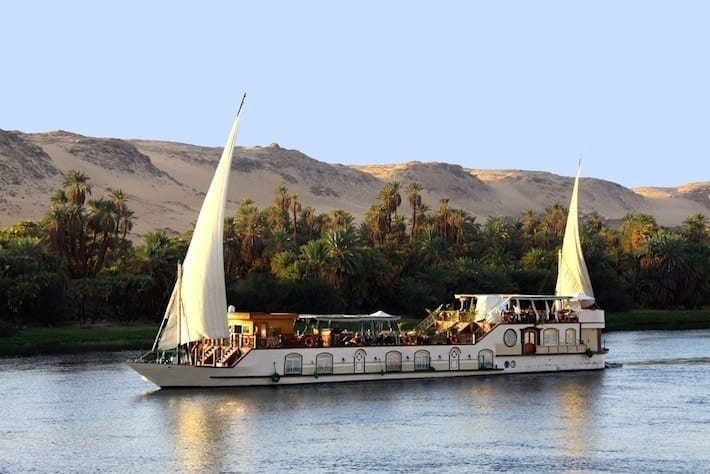 The Nile River is famous as the world's longest river, but is also known for the history that seems to spring up along its Egyptian shores.
If a traveler sailed from Cairo to Aswan, affectively traversing the entire length of modern Egypt, they would encounter ancient temples, monuments and other historical sites constructed over a period of 5,000 years and more.
It is this fascinating history that makes Egypt, and especially the Nile Valley, such a popular destination, and many people opt for a cruise on the Nile in order to experience the land in the same way as the ancients. One way to ensure an experience similar to the ancient Egyptians is to take advantage of today's luxurious Dahabiya Nile cruises.
Today, private Dahabiya Nile cruises are rising in popularity among those who are longing to explore the River Nile and its fascinating shores, but be warned: they are quite expensive.
Routes And Itineraries Of Dahabiya Cruises
Dahabiya Nile River cruises in Egypt will generally follow the same routes as the larger luxury Nile cruise ships – meaning points of departure at Luxor or Aswan and then several days or weeks sailing between the two points. Even though felucca are smaller boats, they too are not able to make the long trip from Cairo and south to Luxor or beyond.
This is primarily due to the locks and cataracts that make it nearly impossible for boats and ships to pass. This does not mean however, that a visitors will have to miss out on Cairo since there are many felucca tours and other sailing options in the area each day.
Just like passengers on the large cruise ships, travelers who book private Dahabiya Nile cruises will also be able to visit the legendary Valley of the Kings, and see the tomb of Tutankhamen among many other important sites.
They will likewise get to visit the temple at Philae, Karnak Temple, and depending on the type of tour package you book, you may also get to see the fabulous Abu Simbel temples, which were rescued from oblivion during the flooding of Lake Nasser and the construction of the Aswan Dam.
Keeping It Simple
One of the benefits in choosing Dahabiya Nile River cruises is the small size of the boats. Generally there will be from eight to twenty passengers aboard the Dahabiya which can mean a far more attentive experience as well as a bit more time and control over visits to specific sites.
For example, anyone on a larger Nile cruise ship may have to visit areas in group tours and stick to very strict schedules and time constraints. The private Dahabiya Nile cruises however can be a great deal more flexible, and a visitor hoping for some "solo" time at a site will generally be able to arrange for such an experience.
Create Your Dream Dahabiya Nile Cruise Package
All our cruise and stay holidays are private and fully customizable. You can have your Dahabiya Nile cruise your way when you travel with Egypt Tours Plus.
Dahabiya Nile cruises can also be incorporated into any of the Egypt tour packages currently offered on our site, including package tours that feature a trip to other Middle Eastern destinations such as Jordan; Israel, Turkey or Dubai.
Dahabiya Nile Cruises = Lifetime Memories Guaranteed!