Holidays to Egypt at Christmas 2022 – Amazing Egypt Tours & Nile Cruises
Holidays to Egypt at Christmas: Nile River cruises and amazing tour packages provide you with a wealth of different options for planning your holiday to Egypt at Christmas, depending upon your particular tastes and interests. Christmas in Egypt means endlessly sunny weather, easier access to some of the most popular sites of ancient history, and days and nights of 5-star accommodations. Enjoy next Christmas in the Land of the Egyptians.
All Holidays to Egypt at Christmas are Small Group Tours.
Note: Our private guided Egypt tour packages are of course also available during Christmas and New Year 2022.
Egypt Christmas Tours 2022
Design Your Custom Egypt Christmas Holiday
Explore Egypt your way by selecting only the attractions you want to visit
Egypt Christmas Nile Cruises 2022
Egypt Christmas Holidays - What to Expect
Holidays to Egypt at Christmas
These days, more and more people are breaking away from their traditional Christmas routine by going on a vacation instead. If you are considering doing the same thing, keep in mind that Egypt is one of the most highly recommended destinations where you can enjoy not only plenty of sunshine, but also a meaningful and memorable experience.
If the idea of relaxing on a pristine beach during your holiday sounds appealing to you, then there is no better option than Sharm el Sheikh, the popular Red Sea beach resort. Here, you can relax on the glistening white sands and enjoy temperatures that are several degrees warmer than what you would expect back home at Christmas time; all the while soaking up additional hours of sunlight.
For that extra special touch, why not add an incredible Nile River cruise to your holiday itinerary and discover just how magical all inclusive Egypt Christmas holidays can be?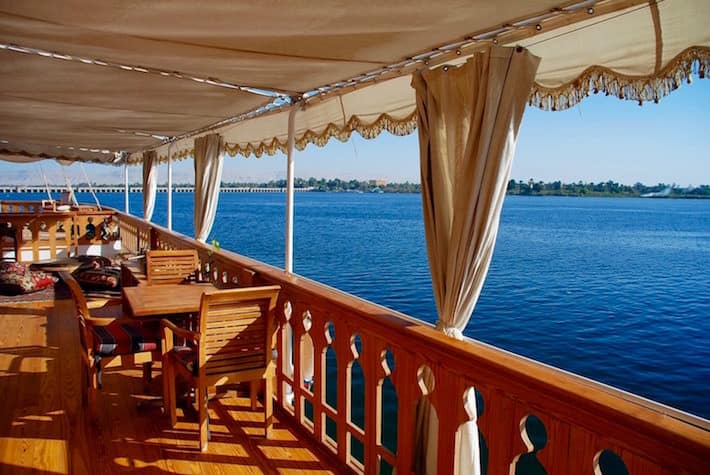 While there are plenty of opportunities to relax on the beach and catch up on some swimming, or even for taking a all inclusive Christmas Nile cruise, you will find that our carefully structured Egypt Christmas holidays also provide you with ample chances to celebrate Christmas as well in a truly meaningful experience.
Alternatively, if you can't find the ideal Christmas package holiday, then you can design your personal tour of Egypt for the Christmas season by exploring our flexible Egypt tour package options.
You can be sure that our experienced tour consultants will help you to make this an Egypt Christmas holiday you will never forget.
Spectacular Sightseeing in Cairo and Beyond
As you no doubt already know, there is so much history and culture to explore during your stay in Egypt, Land of the Pharaohs. Depending on which package tour you choose, your visit to Egypt might include visits to many incredibly popular attractions, such as the Valley of the Kings; the Great Pyramids and the Sphinx; the Egyptian Museum; Khan al-Khalili Bazaar; Temple of Karnak, and so many more.
These sites are found in and around cities such as Cairo, Luxor, Aswan, and Alexandria, where you will find a delightful blend of both the old as well as the new.
There is also plenty of sightseeing opportunities to be had in the Sahara Desert. Again, most of the ancient tombs, temples and monuments are found in or closes the various oases, while out in the open desert natural wonders are plentiful.
After your sightseeing extravaganza, head to the Red Sea coast and enjoy world famous snorkeling and SCUBA diving opportunities, or opt for a luxury Nile cruise instead and explore the ancient treasures of the Nile River Valley.
→ Click here to discover Egypt's best vacation spots and attractions
Egypt Christmas Holidays Your Way
For a truly unique and memorable gift to yourself as well as the whole family, consider customizing your all inclusive Christmas holiday in Egypt. There are many "standard" Egypt tour packages available today that will give you a hint of all there is to enjoy in Egypt and the surrounding region, but if you truly want to travel on your own terms, and see this beautiful land the way "YOU" want to see it, then let us help you to create the ultimate Christmas vacation.
At Egypt Tours Plus we recognize that every person is unique and has different interests and tastes. That is why we personally work with each and every guest to help them tailor a tour that will not only meet their expectations, but also exceed their expectations. After all, your vacation and tour through Egypt should not be based on what someone else finds enjoyable or interesting.
Egypt – Diverse and Vibrant
The sights and attractions, as well as the experiences of Egypt are diverse, vibrant and rich. Perhaps you are interested in immersing yourself in the spirituality of the region during this holy time of the year? Or, maybe you are enthralled by the idea of wandering through the markets, soaking up the culture and seeing the ancient wonders of Egypt first-hand?
It could be that you are looking to relax on the beach, do some SCUBA diving or snorkeling, and completely unwind during this Christmas holiday. Whatever it is that interests you, our expert travel advisors will gladly work with you to design a customized tour that will ensure this Christmas is one you will never forget.
The options for an Egypt Christmas holidays are truly limitless. You decide where you want to travel, what you want to do, and how long you wish your adventure to last. Immerse yourself in the history and the ancient wonders with a visit to the Great Pyramids of Giza or include a trip to Jordan, Israel, Turkey or Dubai.
Visit the Dead Sea, explore ancient rock carved cities frozen in time, or tour numerous early Christian holy sites, including sites mentioned in both the Old and the New Testaments. Regardless of which sights you choose, the many attractions in Egypt and the surrounding area will be sure to make a last impression.
Explore Egypt and Beyond
Reserve Your Christmas Holiday in Egypt Today
There is truly no better gift this holiday season than memories that will last a lifetime, and that is precisely what you will be able to take home with you when you book Egypt Christmas holidays All Inclusive.
Contact us today and we will immediately begin working with you to plan a tour of Egypt this holiday season that will provide you with memories to cherish for the rest of your life. Customize your tour to suit personal tastes and discover for yourself the enjoyment a tailored, private Egypt tour package can bring.
Egypt Christmas Holidays – Lifetime Memories Guaranteed