Senior Travelers In Egypt – Enjoying Egypt Regardless Of Age
Senior travelers in Egypt can experience all the fun and excitement this magical land has to offer. Venture into ancient pyramids, tombs and temples; explore historical churches, mosques and monasteries; sail the Nile in style or camp under the stars in the world's greatest desert, the Sahara.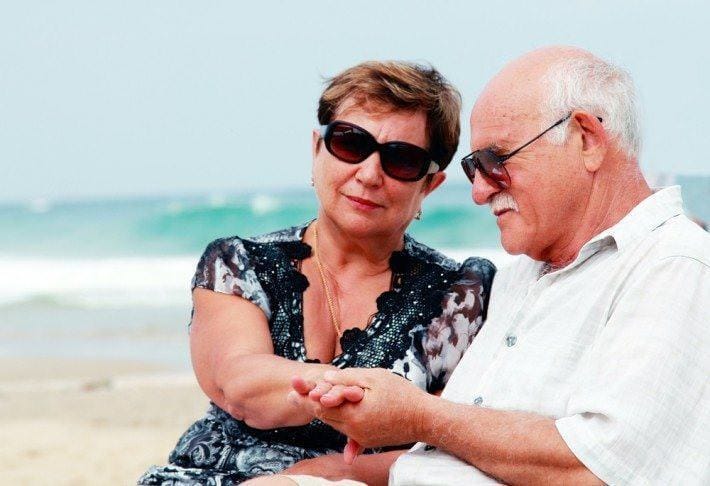 Generally speaking, a person's age is virtually irrelevant when traveling in this ancient Land of the Pharaohs. Nonetheless, there are a few exceptions. Read more to find out how senior travelers in Egypt can avoid encountering unpleasant experiences…
Can Senior Travelers Enjoy Tours in Egypt?
Egypt remains one of the world's top tourist destinations, attracting millions of visitors each year, and a surprisingly large percentage of them are senior citizens. This begs the question: do senior travelers in Egypt encounter more difficulties than younger travelers? In some regard, this is somewhat of a difficult question to answer because there are so many variables.
Older people vary tremendously in terms of health and mobility; some might suffer from ailments such as arthritis, while others are still gym fit. As we can see, overall health and wellbeing is more relevant than age. For the average elderly traveler, a vacation in Egypt should be a smooth and hassle free experience, and even those who are no longer enjoying perfect health can have a holiday of a lifetime if they choose their Egypt vacation packages wisely.
Senior Travelers in Egypt – Activities and Excursions
Most Egypt package vacations are centered on sightseeing which can involve a good deal of walking, but if your tour is booked through a reputable tour operator, you will be driven from one attraction to the next, and to what extent you wish to explore those attractions is up to you. For example, if you have mobility issues, then it might not be a good idea for you to venture into any pyramids, but you could still explore them from the outside just as millions of other people do.
As surprising as it might seem, most senior travelers in Egypt can also enjoy Sahara desert adventures just as much as younger travelers, providing they choose a tour package with a suitable itinerary. Many desert adventure tours involve very little physical exertion, so it would only be the heat to contend with, but even that is largely avoided because all transfers take place in air-conditioned vehicles.
Many elderly travelers tend to choose Nile cruise holidays since these typically include visits to most of the best attractions in Cairo; Luxor, Aswan and everything in between. Additionally, during the cruise, passengers have the option of declining any or all tours along the route. When the ship docks for onshore excursions, many simply opt out of the tour and they remain on the ship instead.
Another good option for senior travelers would be to book a combination tour such as Nile and Lake Nasser cruise packages or an Egypt and Jordan tour. Here again, more traveling means less time walking, and it also affords travelers with more time to rest.
Health Concerns
There are certain health concerns that all visitors to the country should be aware. For example, some immunizations are suggested for travelers regardless of where they come from, and some African and South American guests are actually required to present proof of Yellow Fever immunization when they arrive in the country. Senior travelers in Egypt should also take enough "back up" prescription medications in case of any mishaps.
Vaccinations
Currently Egypt recommends that everyone entering the country have both polio and typhoid vaccinations. All travelers should also be aware of West Nile Virus, and avoid swimming in the fresh water at lakes, rivers or streams due to certain native parasites and bacteria. As is often the case, a small measure of common sense will go a long way in protecting senior travelers in Egypt from some of the most common complaints or health issues.
Eating and Drinking
It goes without saying that one should only drink bottled water during your stay in the country. Again, under no circumstance should you drink tap water. Eating at sanitary restaurants or snack bars in the markets is the best way for you to avoid stomach problems. If you want to eat at local Egyptian style restaurants then it is best to eat at ones which have many customers. Remember, they have many customers for a reason.
Forgoing alcoholic beverages in the heat of the Egyptian climate is also a good idea since alcohol can contribute to the onset of dehydration. Many visitors tend to enjoy cold Hibiscus tea (karkade) which is a very popular beverage among Egyptians. Do note however that consuming large amounts of it can lower blood pressure which in turn could be problematic for people with blood pressure problems.
Nearly all potential health problems for seniors traveling in Egypt can be eliminated entirely simply by making sure they book a package vacation that includes a trained and highly experience personal guide. These individuals are carefully selected based on their knowledge and their competence, and they can effortlessly keep you out of harm's way.
The Importance of a Local Guide for Tours
It is highly recommended that" independent" senior travelers in Egypt hire the services of a licensed local guide, most of whom are trained by the government. This is a good way to avoid difficulties in reaching the most popular sights. It can also make life easier at restaurants and in the markets, which in turn can lead to a much richer overall experience. Again, if you don't intend booking a package vacation that includes a personal guide, you will find that most hotels are usually able to help their guests with arranging a licensed guide.
Money Exchange and Currency Tips
Finally, travelers are encouraged to exchange some funds into the local Egyptian currency to use for tipping and for purchasing food and merchandise in the markets. Other than that, most travelers will find that their credit cards or travelers checks (American dollars, Euro and English pounds) will be accepted almost everywhere else in any and all major cities.
Egyptian Vacations for Lifetime Memories
Explore the best of Egypt your way. Come find and book your Egypt dream trip today.
Country Specific Egypt Tour Information
Looking for more information before you decide? We have a specific international guide covering the most important points you need to be aware of before traveling to Egypt.