How to Plan a Trip to Egypt – All the Tips You Need to Know!
Are you looking to plan a trip to Egypt? Then you've come to the right place. Egypt is a fascinating and adventurous destination that's steeped in rich history and culture. From exploring the ancient pyramids at Giza to the bustling markets in Cairo and the spectacular archaeological sites located along the banks of the Nile River in Upper Egypt between Aswan and Luxor, there's an array of experiences to enjoy in this vibrant country.
This article provides a comprehensive guide to planning a flawless Egypt itinerary. It covers the essentials, such as finding the best tour packages, the best times to visit, dealing with street vendors, and the top must-see attractions. It also offers tips on navigating the country's culture and customs, bearing in mind that Egypt is a somewhat conservative Muslim country.
So, if you're ready to explore the Land of the Pharaohs, continue reading…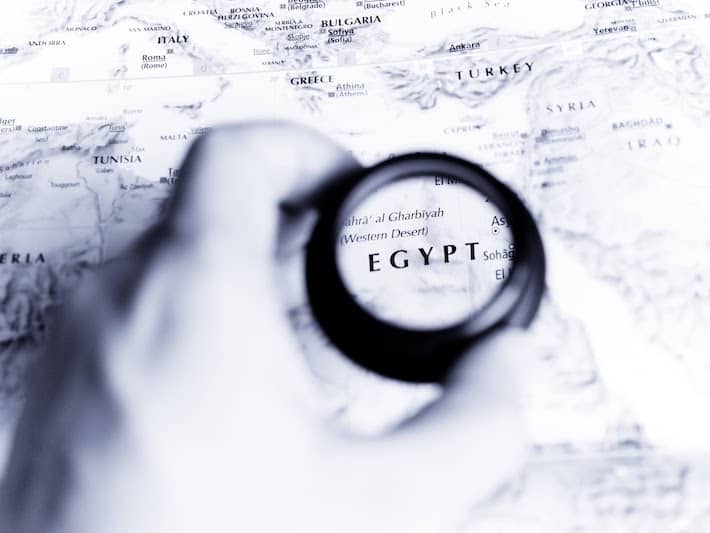 How to Plan a Trip to Egypt – The Essentials
It's time to plan your trip to Egypt. If you plan ahead and do your research, you'll soon be ready to embark on the journey of a lifetime to Egypt.
1. Decide on the type of Egypt itinerary you would like to enjoy
When planning your trip to Egypt, there are two types of travel to consider. You can choose to explore the country independently or opt for a private tour package.
Independent travel allows you to customize your itinerary and explore at your own pace.
Private tours,  on the other hand, typically include experienced guides, private drivers and modern air conditioned vehicles. and a personalized experience of Egypt.
Both options offer unique benefits. We recommend Egypt private tours for travelers who want the most out of their journey, as they provide expert knowledge and insight into the culture and history of the country.
The benefits of private tours are:
Expert guidance and knowledge from experienced tour guides during tours at sites listed in your chosen Egypt itinerary.
Getting to and from your hotel/s to nearby attractions without difficulty.
Personalized itineraries tailored to your own personal interests and preferences.
Access to exclusive sites and attractions not available to independent travelers.
Quality accommodation and clean and modern transportation during all day trips and road trips.
Flexibility to choose your own pace and change your itinerary schedule as you wish.
Support from a professional team who can help with any issues.
Delicious local cuisine and authentic experiences.
Guaranteed safety and security.
Less hassle and stress of planning your own itinerary.
Less hassle and stress, and a better understanding of Egyptian society and Egyptian history.
The drawbacks of private tours are:
Cost – private tours can be more expensive than independent travel. At the end of the day it really depends on your personal travel style.
The benefits of independent travel are:
Cost Savings: When travelling independently, you can (depending on your travel style) save money by avoiding high tourist prices, researching the best deals, and being open to various accommodation options.
Flexibility: Independent travel gives you the freedom to design your own route and explore whichever destinations you choose. You can be spontaneous and follow your own schedule, so you can make the most of your trip.
Cultural Immersion: Travelling independently allows you to fully immerse yourself in the culture of your destination. You will have the opportunity to meet and interact with local people and learn more about their way of life. This can be one of the most rewarding aspects of independent travel.
The drawbacks of independent travel are:
Language barrier– Egypt is a Muslim country where the vast majority of the population don't speak in English so if you can't speak Arabic, it can be difficult to communicate with locals and make bookings.
Difficulty in finding reliable information– although the internet has made it easier to research places, it is still important to get accurate and up-to-date information from reputable sources to ensure a safe and comfortable experience.
Security concerns– travelling alone in a foreign country can be risky, and it can be difficult to stay safe when you are unfamiliar with the area.
Limited access to tourist attractions– some attractions may require pre-booking or may be inaccessible to independent travellers.
Difficulty in getting around– public transportation options in Egypt are limited, making it hard to get around without a private driver or guide.
2. Decide on Dates
The next step in planning a trip to Egypt is deciding when to go. The best time to travel depends on your personal interests and budget. Egypt has two distinct seasons – the summer months of June to September are hot and humid, while the winter months of December to February are mild and dry.
The winter months are the prime time to enjoy outdoor activities and explore ancient sites, while the summer months are ideal for beach vacations on the the Red Sea coast at places like Sharm El Sheikh. Places like Hurghada and Sharm El Sheikh and Naama Bay are Egypt's most popular beach destinations and are incredibly popular among snorkeling and scuba diving enthusiasts thanks to an abundance of pristine coral reefs.
The shoulder months of spring and autumn offer the best of both worlds, with mild temperatures and less crowds.
If you are still undecided on when to plan your trip to Egypt, consider taking a look at this extensive guide on when is the best time to visit Egypt.
3. Decide on an Egypt Itinerary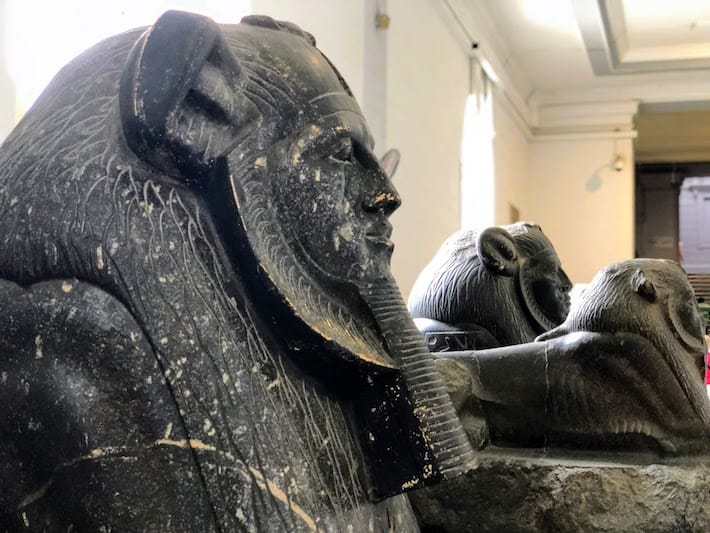 Once you have chosen your dates, the next step is to decide on your itinerary. Egypt is a huge country with so much to see and do, so it's important to do some research and plan out the places you want to visit. Consider how much time you want to spend in each city, and if there are any specific activities, attractions, or experiences you want to include.
Cairo is a must-see destination for history buffs. As Egypt's capital and largest city, it is home to some of the most iconic historical sites in the world, from the Pyramids of Giza, and the legendaryEgyptian Museum near Tahrir Square, to the bustling Khan el Khalili Bazaar. Even if you do not need to do any shopping, be sure to visit the centuries-old Khan el-Khalili market during your stay in Cairo.
Luxor is another important sightseeing destination for those interested in the history of ancient Egypt. It has some of the most spectacular monuments in Egypt, including theTemple of Karnak and Luxor Temple on the east bank of the Nile River, and the Valley of the Kings where many of the Pharaohs were buried. This site, along with the Temple of Queen Hatshepsut, is located on the west bank.
Aswan is an ideal destination for those interested in both Ancient Egyptian and Nubian history. Here you can explore many temples and tombs, including the breathtaking Philae Temple. If you have the time, and if your budget allows for it, you should definitely also consider booking a half day trip from Aswan to Abu Simbel to see the magnificent rock hewn Abu Simbel Temples.
A multi-day Nile cruise on board a five star cruise ship is by far and away the best way to discover all the main attractions located on the banks of the Nile River between Luxor and Aswan.
We highly recommend a Nile cruise!
In this guide, we will take you through some of the must-visit places in Egypt. From the iconic pyramids sites and museums in Cairo to the majestic temples in Luxor and Aswan, and the stunning beaches of the Red Sea, we'll help you plan the perfect trip.
An Optimal Itinerary Includes Cairo and a Luxor/Aswan Nile Cruise!
Are you looking to explore ancient Egypt? From the mesmerizing Great Pyramids of Giza, to the iconic obelisks in Luxor, and the stunning temples along the Nile, there's a lot to see. Here's an optimal itinerary to get the most out of your trip to Egypt, covering Cairo, Luxor, Aswan, and plenty of other attractions:
Cairo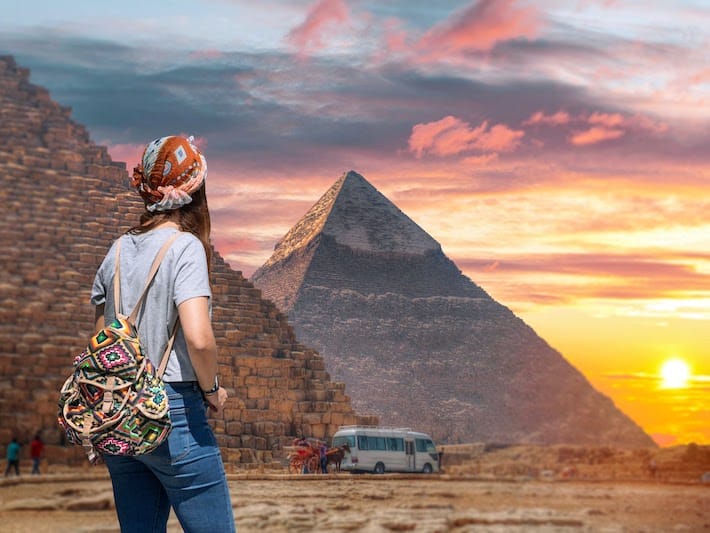 Start your trip in Cairo, where you'll find some of the world's most iconic landmarks. Spend a day exploring the wonders of the Giza plateau, including the Great Pyramid of Khufu, the Sphinx, and the smaller pyramids of Khafre and Menkaure. Afterwards, head to the Egyptian Museum for a hands-on look at ancient artifacts. While in Cairo you could also consider booking a day trip to Alexandria, Egypt's second largest city and one which was founded by Alexander the Great.
Recommended: Top 6 Most Popular Egypt Tours
Nile Cruise
Next, take a Nile Cruise from Luxor to Aswan. On the way, you'll be able to explore some of Egypt's most impressive ancient sites, such as the Temple of Karnak, the Valley of the Kings, and the Temple of Hatshepsut. Also, don't miss the opportunity to hop off the boat and explore the Nubian villages along the Nile. All Nile cruises listed on our site include full board on five-star Nile cruise ships which are quite literally like luxury hotels. There really is no better way to experience ancient Egypt than by way of a Nile river cruise.
Recommended: Top 10 Best Egypt Tours with Nile Cruises
Luxor to Aswan
In Luxor, visit the Karnak Temple Complex, the Temple of Luxor, and the Valley of the Kings. Consider adding a hot-air balloon ride! Afterward, make your way to Aswan and explore the many temples, tombs, and ruins from the Pharaonic, Roman, and Islamic periods. A relaxing felucca ride on the Nile is a great way to take in the city's natural beauty.
Red Sea Beaches
On the way back to Cairo, make sure to stop at the Red Sea for a few days to soak up the sun. Whether you're looking for a quiet beach to relax or an exciting reef for snorkeling or scuba diving, the Red Sea has something for everyone. From Hurghada to Dahab and Taba, there are plenty of beaches to choose from and some of the most remarkable underwater scenes in the world.
Suggested: Red Sea Hollidays
4. Choosing a Flight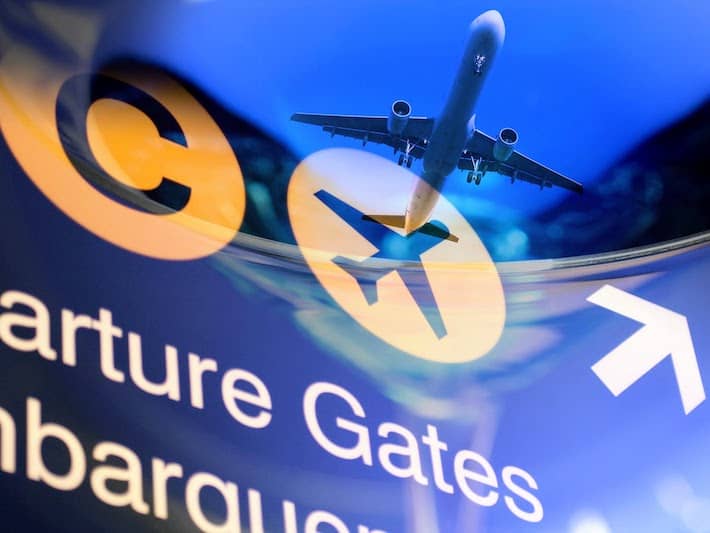 The next move to make in order to reach Egypt is to book your international flights. There are direct flights from many major cities to Cairo International Airport, such as London, Paris, and New York. It's best to book international flights in advance to get the best price. You can also compare prices on different websites to make sure you get the best deal.
Skyscanner is a great place to find and compare prices for international flights to and from Egypt. At Egypt Tours Plus, our tour packages typically do not include the cost of international flights although we can book flights on your behalf if requested.
If you choose one of our itineraries that feature domestic flights, these will be included in the cost of your chosen itinerary. We typically book our clients on to Egypt Air flights.
NOTE: December and January are the peak months for visiting Egypt so if you intend visiting at this time of the year it really is essential to book hotels, flights and etc well in advance. The same applies if you intend going for a Nile cruise.
5. Travel Insurance
It is always important to make sure you have valid travel insurance in case of any accidents or emergencies. Make sure you read the fine print to determine what is and is not covered by your insurance plan. Travel insurance should be your priority when planning a trip abroad and it is definitely worth the extra cost.
Travel insurance is an essential part of any trip abroad, as it can offer protection in the case of an unexpected event. It can provide you with coverage for medical expenses, flight cancellations, lost or stolen luggage, and more.
When choosing a travel insurance policy, it is important to consider the type of coverage you need, as well as the length of your stay. Depending on the length and type of coverage, you can either purchase a single policy or an annual policy. If you're planning a short trip abroad, a single policy may be sufficient.
It's also important to read the details of the policy carefully to make sure you understand what is and isn't covered. Common exclusions may include pre-existing medical conditions, extreme sports, and more. Make sure you're aware of any exclusions and are comfortable with the coverage before purchasing a policy.
Lastly, you should always compare different policies and rates to find the best deal for the coverage you need. Make sure to check reviews and ratings from other travelers and read the fine print of each policy before making a purchase.
With the right travel insurance policy in place, you can rest assured knowing that you're covered in the case of an unexpected event or emergency. Proper travel insurance can save you time, money, and stress when it comes to your travels abroad.
>> Refer to this guide to determine if you require travel insurance for your trip to Egypt.
6. What to Pack
When packing for your trip to Egypt, it's important to keep in mind the climate and the activities you plan to do. Here is a list of the essential items you should pack for your Egyptian adventure.
Lightweight, breathable, comfortable clothing
Sun protection such as hats, sunglasses, and sunscreen
Comfortable walking shoes
A scarf or light jacket in case of cooler temperatures
A power bank to charge your electronics
Basic medical supplies like bandages and antiseptic
A reusable water bottle
A universal adaptor for different types of outlets
A small daypack to carry your essentials
Any medications you need
Necessary Documents
Last but not least, make sure you have all the necessary documents such as a valid passport (minimum 6 months validity), tourist visa, and any other travel documents you may need to enter Egypt. In most cases visas can be obtained in person upon arrival in Egypt. The citizens of many countries can also apply online for an Egypt E-Visa prior to traveling to the country. It's best to check the visa requirements for your country so you can plan accordingly.
7. Currency exchange
Egyptian Pounds are the official currency in Egypt, however, US Dollars and Euros are widely accepted in tourist areas. You will be able to exchange money at banks, airports, and hotels. Make sure you check the exchange rate before exchanging to ensure you get the best rate.
It's also a good idea to bring some emergency cash with you during your trip to Egypt. You will be able to find ATMs in major cities and tourist areas where you can withdraw Egyptian Pounds. Make sure to check the fees for using ATMs abroad before you leave and inform your bank of your travel plans. That way, you can make sure you don't run into any issues while on the go.
Last but not least, you should always try to have some local currency with you, either coins or bank notes for tipping and for when buying goods from street traders. While tipping is generally not mandatory, Egypt does have a very strong tipping culture.
8. Vaccinations and health precautions
Before leaving for Egypt, make sure you are up to date on any necessary vaccinations for the region. Check with your doctor to see if you need any additional vaccinations, such as Hepatitis A or Typhoid, as these are commonly recommended for travelers to Egypt.
Read this guide if in doubt: What vaccines are required to travel to Egypt?
Design Your Custom Egypt Tour
Explore Egypt your way by selecting only the attractions you want to visit
Frequently Asked Questions
Planning a trip to Egypt can be overwhelming, but with the right preparation and research you can have a stress-free and enjoyable experience. Below you will find answers to some of the most frequently asked questions about planning a trip to Egypt not already covered.
What is the best time of year to visit Egypt?
If you want to experience the best of Egypt, the best time to visit is during the winter months, from November to March. During this time, the temperatures remain relatively mild and you can explore tourist attractions such as the Great Pyramids and the Valley of the Kings without having to battle the extreme heat of summer. This is also the peak season for tourists, so you can expect to find a great selection of cultural activities, such as local bazaars, vibrant cafés, and historical landmarks. With lower humidity and more comfortable temperatures, this time of year is the perfect time to experience Egypt's many amazing sights. Just be sure to book your vacation through a reputable Egyptian travel company.
In-depth: When is the best time of year to visit Egypt?
What are the must-see attractions in Egypt?
Egypt is a country filled with ancient landmarks, monuments, and other attractions that are must-sees for any traveler.
Some of the most popular attractions in Egypt include the Great Pyramid of Giza, the Great Sphinx, the Valley of the Kings, Karnak Temple Complex, Luxor Temple, and Abu Simbel. No visit to Egypt is complete without a visit to these icons, as they provide a glimpse into the ancient civilization that once ruled the country.
Additionally, there are many smaller attractions to explore, such as the Catacombs of Kom el Shoqafa, the Museum of Egyptian Antiquities, the Egyptian deserts, and the Nile River. Each of these attractions offer a unique insight into the history of Egypt and the incredible sights it has to offer.
Are there any safety concerns when planning a trip to Egypt?
When planning a trip to Egypt, it's important to be aware of the potential safety risks that can come with traveling to a foreign country.
It's often a good idea to research the local laws, customs, and travel advisories before visiting, as they can often change.
It's also important to avoid any areas near the Israeli border, as it is a politically sensitive area.
When visiting cities and towns, you should stay in well-lit and populated areas.
Exercise caution when using ATMs, as pickpocketing and other forms of petty theft can occur.
Avoid traveling alone late at night, and always let someone know where you are going.
It's also important to be aware of the political climate, as protests and demonstrations can occur. If you find yourself near a demonstration, remain calm and leave the area as quickly as possible.
Finally, be sure to register with your local Embassy or Consulate in Egypt when you visit. They can provide information about local conditions, help you with an emergency, or assist you if you have any problems.
Recommended reading: How to travel safely in Egypt?
What health precautions should I take in Egypt?
When organizing a journey to Egypt, it is essential to take the necessary steps to guard one's health so that the journey can be fun and risk-free.
Be sure to check the most up-to-date vaccine requirements for Egypt, and get any recommended vaccinations before you travel.
Additionally, it's important to stay hydrated and protect yourself from the sun when exploring outdoors.
Consider wearing light, breathable clothing and a hat when out and about, and use plenty of sunscreen.
Be sure to drink only bottled water because tap water is unsafe for drinking. Bottled water is plentiful and cheap in Egypt so you should always try to have a bottle of water with you when out and about. For a slightly more refreshing drink, consider adding some lemon juice to your water.
Finally, consider buying travel health insurance before your trip to protect yourself in the event of any medical emergencies.
Recommended reading: What vaccines are required to travel to Egypt?
Are there any special cultural considerations to keep in mind?
Yes, there are some cultural considerations to keep in mind when visiting Egypt. First, it is important to be mindful of local customs and traditions. For example, it is important to dress modestly and to respect religious sites. It is also important to be aware of the local laws, such as not taking photographs of government or military buildings. Finally, it is important to remember to keep a respectful distance from sacred artifacts and monuments. When in doubt, it is best to err on the side of caution and follow local customs.
Are there any restrictions on what I can bring into Egypt?
If you're planning to visit Egypt, it's important to know the restrictions on what you can bring into the country.
It's illegal to bring any objects that are of cultural or historic value, including artifacts, into Egypt, and they will be confiscated by customs.
Any firearms and ammunition must be declared and are strictly regulated. You must also declare any currency or valuable items (such as jewelry) worth more than $10,000.
Additionally, certain food items, seeds and plants, and animals will need to be declared and may need to meet certain requirements before allowed in.
Finally, certain items, such as alcohol and pork products, are strictly prohibited. It's best to check with your local customs authority for the most up to date rules and regulations before entering the country.
Recommended reading: What to pack for Egypt?
How can I find affordable accommodation in Egypt?
If you're looking for affordable accommodation in Egypt, there are a few things you can do to find a good deal. Firstly, it's worth researching online to see what kind of prices and deals are available. Many budget-friendly hotels and hostels list their prices and amenities online, so you can quickly compare what is available.
It's also worth consulting travel websites or online forums for tips from other travelers. Many of these will have information about budget-friendly accommodation, as well as reviews from people who have visited the area. This can help you get an idea of what kind of accommodation is available and which places are good value for money.
Finally, it can be worth contacting local tourist offices or holiday companies to find out what deals they have available. They may be able to provide discounts, or have insider knowledge of cheaper accommodation options that you wouldn't be able to find online.
With a bit of research, you should be able to find affordable accommodation in Egypt. Good luck with your search!
What type of documentation do I need to enter Egypt?
If you're planning to visit Egypt, you'll need to make sure that you have all of the correct documentation in order to enter the country. Generally speaking, most foreign nationals need to have a valid passport, an entry visa, and a confirmed return ticket to be allowed entry into Egypt.
Your passport will need to be valid for at least 6 months from the date of entry into the country, and will need to include at least two blank pages for visa stamps. Depending on the country of your origin, you may be able to obtain an entry visa online before you travel, or you can obtain it at the airport on arrival. For security reasons, the Egyptian government no longer permits entry visas to be issued at the land borders.
Additionally, you may be required to show proof of sufficient funds to cover your expenses during your stay. This will vary depending on the length of your stay, so make sure to double check the requirements before you travel.
Finally, if you're travelling with children, you may need to provide birth certificates and a parental authorization letter, depending on the ages of the children.
By ensuring that you have all of the correct documentation before you travel, you can ensure a smooth journey to Egypt. Have a great trip!
In-depth: What are the requirements to travel to Egypt?
How can I get around Egypt?
Exploring Egypt is a great way to get an authentic experience of this ancient civilization. With its rich array of historical sites and culture, you can have an amazing time discovering the country.
The best way to get around in Egypt if traveling independently is by using public transportation. The country has a wide network of buses, trams, and metro systems that can get you to destinations across the country. Taxis are also available, but can be more expensive than public transportation.
If you're looking for a more adventurous way to get around, you can also rent a car in Egypt. Many international car rental companies have offices in major cities like Cairo, allowing you to rent a vehicle and explore the country.
It's important to note that the traffic in Cairo can be quite chaotic, and navigating Egypt's roads requires a certain level of expertise and a strong stomach.
Finally, you can always take a tour of the country. There are a variety of tour packages you can choose from that will take you to all the major sites and attractions in Egypt. You can even take a Nile River Cruise.
No matter how you decide to explore Egypt, you'll be sure to have an unforgettable trip.
In-depth: What is the best way to travel in Egypt?
What are some great souvenirs to bring home from Egypt?
Egypt is full of amazing souvenirs and gifts that you can bring home with you to remember your trip. Some great souvenirs to bring back from Egypt include traditional items like papyrus paintings, handmade jewelry, and ceramics. You can also find a range of traditional clothing, such as galabeyas and hijabs.
For something a bit more modern, you can find some great modern Egyptian trinkets such as keychains, home decor items, and tools.
Please be aware that it is strictly prohibited to purchase and remove any ancient Egyptian artifacts, including statues, from the country.
Some Final Tips to Keep in Mind
To wrap up your Egypt trip planning, here are some final tips to keep in mind. Make sure to plan your budget and book accommodation in advance. Egypt is a relatively inexpensive country but the costs of traveling in the country can soon mount up if you don't watch your spending. Most importantly, use ATMs and credit cards from established banks to avoid being scammed. When you're out and about, use common sense and be aware of your surroundings. Avoid traveling at night and stick to well-lit areas.
Finally, remember to have a great time and soak up all the beauty Egypt has to offer. Have a great trip!
Explore the Best of Egypt Your Way!
Ready to see the best of Egypt? Book your private guided tour today to experience all the beauty and culture that the country has to offer! From exploring the ancient ruins to sailing down the Nile, you'll be sure to have an unforgettable and safe journey. So what are you waiting for? Book your private guided tour of Egypt now!
Design Your Custom Egypt Tour
Explore Egypt your way by selecting only the attractions you want to visit