Egypt Day Tours and Excursions
Egypt day tours and excursions offer visitors one of the best opportunities for exploring this ancient land. Take advantage of the huge amount of knowledge provided by your very own private local guide while you are exploring all the best places to visit in Egypt.
Egypt Pyramids Day Trips
Egypt Excursions in Cairo
Egypt Excursions from Cairo
Egypt Excursions from Sharm El Sheikh
Egypt Excursions from Hurghada
Preparing Your Egypt Day Tours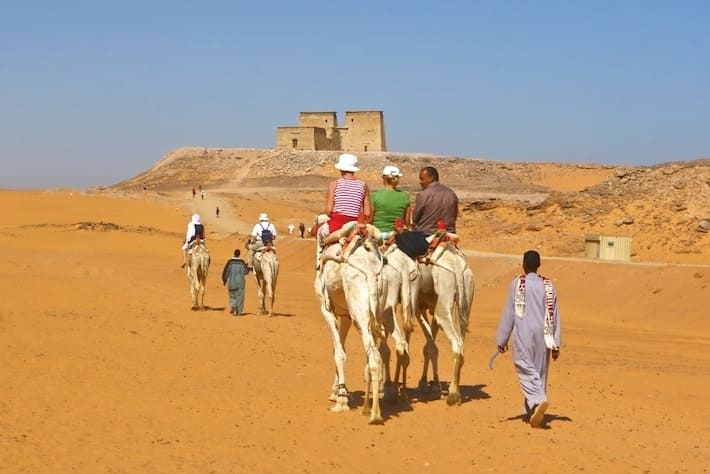 Anyone planning a trip to Egypt will probably have their "must see" list of places and sites they intend to visit during their stay in the country. Many visitors will also prepare themselves by reading about the country, and about those attractions which appeal to them the most. Even though there is so much information readily available on the internet and in guidebooks, it still isn't quite the same as visiting these sites as part of a private guided tour.
While all of this is an excellent way to prepare for such a journey, it might also be a wise idea to explore some of the many breathtaking tourist attractions in Egypt. Most people who visit the country tend to book Egypt tour packages that last for several days or even a couple of weeks. These private tours of Egypt are fantastic and very flexible, but they are not perfect for everyone.
Sometimes Egypt day tours offer traveler a higher degree of freedom when compared to regular tour packages.
Everything you need to know about Egypt tours:
The Importance of a Tour Guide
Why should someone rely upon a tour guide for a full day? Generally, most foreign visitors to Egypt will find it remarkably reassuring to have a knowledgeable and multilingual guide to help them reach their chosen destinations, explore them and experience some interesting areas or activities that they may not have known about.
Luxor for example is incredibly popular and well traveled. Visitors will benefit from a tour guide's assistance with taking in the entire area, and getting across the river to head over to the Valley of the Kings. Additionally, a pre-arranged Egypt day tour of the area could allow a visit into one of the tombs open to tourists, especially if plans are made through a reputable tour provider.
Many visitors are disappointed to find that the tomb of King Tutankhamen is not always open to the public, and usually limits visitors to no more than four hundred a day. This is only because its popularity, because large number of visitors were causing the tomb to deteriorate rapidly.
As with the Giza Pyramids, visitors need to purchase a special ticket on-site in order to enter the tomb of King Tutankhamen. Generally speaking, visitors are required to purchase their tickets in person, and tour operators are no longer allowed to purchase tickets for group tours. However, with a private Egypt day tour, your guide will quite often be more than happy to secure a ticket for you.
The Most Popular Egypt Trips
Some of the most popular Egypt day tours include Cairo tours; Pyramid tours; Luxor tours and Aswan tours.
Cairo day tours can basically be divided into two categories: those which focus on the pyramids, and those that focus on urban attractions such as the Museum of Egyptian Antiquities; the Hanging Church; Cairo Citadel, and a stop at the famous Khan el-Khalili Bazaar. Most Nile River cruises will also include day tours both in Luxor and in Aswan.
The Red Sea Riviera
These days, many visitors to Egypt are people who have already visited the country's numerous ancient sites, and they are no longer coming to learn about the country's history. Instead, they come for the marvelous beaches, luxurious hotels, dazzling night life and world-class deep sea diving along the Sinai Peninsula and Red Sea coastal areas.
While enjoying such Egypt vacations however, many guests cannot resist the urge to explore some of the beautiful and historical sites which they might previously have missed, and many will choose an Egypt day tours to St. Catherine's monastery at the foot of Mount Sinai, or they take a quick flight to Cairo or Aswan for a full day of sightseeing.
No matter what your budget is or what your restrictions are, we can provide you with the perfect Egypt day tour. In addition to all the quality tours you see listed on our site, we also offer custom tours which put you in full control of the itinerary. Furthermore, all of our existing Egypt tour packages are also flexible and can be adjusted to fit your exact needs.
Egypt Day Tours – Another Great Way to Explore the Spectacular Sights of Ancient Egypt
Breathtaking Egypt Tour Packages
→ Go here to see all Egypt tours packages
Design Your Custom Egypt Tour
Explore Egypt your way by selecting only the attractions you want to visit