14 day Egypt tours are among the most popular of all Egypt tour packages, largely because of the fact that they allow visitors to experience all the best attractions in Egypt within 2 weeks in Egypt. And, if you want to take your vacation to a whole new level, be sure to check out our Egypt multi-country tours that include destinations such as Jordan, Morocco, Dubai, Jerusalem or even Turkey.
Our 2 week Egypt itineraries also often include a 5-Star Nile River cruise, and perhaps even a Sahara Desert adventure before moving on to visit Egypt's many ancient tombs and temples located along the length of the Nile River Valley.
Design Your Custom 14 Day Egypt Itinerary
Explore Egypt your way by selecting only the attractions you want to visit
Click here to learn more about our 14 day Egypt tours...
Amazing 2 Weeks in Egypt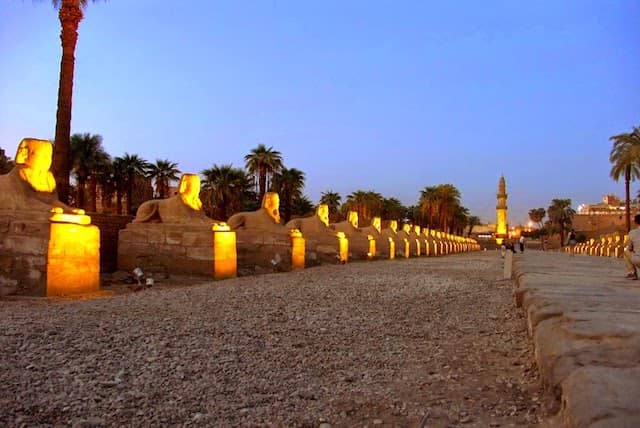 Enjoy the magic of Egypt, North Africa and Asia with our bespoke range of private tour packages. Experience the best of Egypt and beyond, and do it in style. Virtually all of our 14 Day Egypt tours are multi-destination tours, meaning you get to explore not only the wonders of Egypt, but also the wonders which are to be found in places like Jordan, Dubai, Istanbul, Abu Dhabi, and Israel.
Regardless of which 14 day Egypt itinerary you choose, you can look forward to almost daily sightseeing tours and excursions with a profession guide by your side to make your vacation as rewarding as it possibly can be. Let us take a look at some of the options that are waiting for anyone who wants to enjoy a two week vacation that they will never forget.
Highlights of Cairo in Comfort and Style
No matter which of these tour packages you choose, your itinerary is going to include a brief stay in Cairo. This is because experience has taught us that most travelers, and especially those who are visiting the Land of the Pharaohs for the first time, want to see some of the sites that are located in and around Cairo. After all, everybody who travels to the country wants to see the famous Giza Pyramids and the Sphinx which are located on the outskirts of Cairo.
Our tour itineraries typically also feature a visit to places like the Egyptian Museum and the vibrant Khan el Khalili Bazaar which has been around ever since the 14th century. This is one of the biggest and oldest bazaars in the entire Middle East. It is extremely popular among everyday Egyptians living in Cairo, and it is always a big hit with travelers as well.
Of course, the Egyptian Museum in Cairo is another firm favorite among travelers visiting Cairo. At the time of this being written, the museum was home to well over 100,000 ancient Egyptian artifacts. These included all the priceless relics and treasures that were recovered from King Tutankhamun's tomb when it was discovered in the Valley of Kings near modern-day Luxor.
A large proportion of the museum's existing collection will however be moved to the all-new Grand Egyptian Museum at Giza. The new Grand Egyptian Museum will be the biggest and only museum devoted entirely to a single culture/civilization.
Most of our tour packages will also include a visit to Memphis and a visit to an ancient royal necropolis at Saqqara. This particular necropolis is most famous for its Step Pyramid which belonged to Pharaoh Djozer. This was the very first pyramid ever built by the ancient Egyptians. When the Giza Pyramids near Cairo were built, the Step Pyramid would itself already have been ancient.
All tours in Cairo are private guided tours. You will have your own English speaking Expert tour guide and your own personal driver. Together, they will make sure that your tours in Cairo are as comfortable and as rewarding as they possibly can be. It goes without saying that our clients are picked up from their hotels, usually shortly after breakfast, then dropped off back at their hotels after their sightseeing tours.
Aswan to Luxor Sightseeing
Some of the coutry's most cherished ancient monuments are located along the banks of the Nile River between Aswan and Luxor. When you book your Egypt tour and cruise through us, you can count on seeing several of these timeless wonders. We only partner with the very best 5-Star cruise ship operators, so you will be sailing along this mighty river in absolute comfort and style on board a vessel which is quite literally like a floating hotel.
When we have booked client onto a cruise, we also book one of our guides onto the same cruise. He or she will then be your tour guide during your cruise, and will accompany you to all the various sites you visit. These will typically be small group tours, assuming that we also other clients booked onto the same cruise as you. Let's take a look at some of the breathtaking sites you can look forward to visiting during your days on the water:
Aswan
Aswan is probably no match for Luxor in terms of ancient monuments, but there are a few interesting this to see, and besides, just about every cruise either begins or ends in Aswan. If you have booked your trip through us, your guide will take you to see three popular sites. Usually you will visit the Aswan High Dam first. This dam quite literally changed the face and future of Egypt. It also gave birth to Lake Nasser, one of the world's largest man-made lakes.
After visiting the Aswan High Dam, you will then usually be taken to see the huge Unfinished Obelisk which is located in the ancient stone quarries. Queen Hatshepsut had commissioned what would have been the largest obelisk ever made. Unfortunately a crack appeared in the obelisk and the project was then abandoned. If it had been completed, it would most likely have ended up at Karnak Temple in Luxor.
Before you leave Aswan, you will also be taken to see the ancient Temple of Philae. It is hard to imagine that this ancient temple was completely dismantled and then reassembled at its current location. Had the temple not been moved, it would have vanished beneath the water of Lake Nasser following the completion of the Aswan High Dam. Depending on which tour you choose, you may visit Philae Temple by way of a small motor boat ride.
If your trip on the Nile ends in Aswan, you will be transferred to Aswan Airport at the appropriate time so that you can board a flight back to Cairo. Alternatively, if your chosen tour includes some time in Sharm El Sheikh or Hurghada, you will head there instead of back to Cairo. On the other hand, if your journey along the Nile begins in Aswan, then your next stop will be at Kom Ombo or possibly Abu Simbel
Abu Simbel
Some of our tour itineraries include a trip to Abu Simbel to visit the breathtaking Abu Simbel Temples, while some of our other itineraries offer it as an optional extra. These two magnificent rock-cut temples were constructed for Pharaoh Ramses II and his wife, Queen Nefertari. The drive from Aswan to Abu Simbel takes approximately 4.5 hours but it is a trip well worth undertaking.
Kom Ombo
After leaving Aswan, your boat's next stop will typically be at Kom Ombo. Here your guide to take you to see the remains of a very unique temple which today is known as Kom Ombo Temple. This was essentially a twin temple complex, with one side being identical to the other. One side was dedicated to Horus the falcon-headed god, while the other side was dedicated to Sobek the crocodile god. It believed to have been the only temple of its kind ever built by the Ancient Egyptians.
Edfu
As you continue sailing towards Luxor, you will also stop at Edfu to see the beautiful Edfu Temple which is also known as the Temple of Horus. This temple is one of the biggest ancient temples in the country and also the best-preserved ancient temple. The temple was seized by the Romans who later abandoned it. With time, the entire complex became buried under the sand. It remained buried for more than 2,000 years, hence the reason for its remarkable level of preservation.
Luxor
Luxor is truly a treasure trove as far as ancient sites are concerned. We can't show all of them to you during you trip, but we will show you some of the very best ones. You can look forward to two tours in Luxor, one on the East Bank and one on the West Bank. During your East Bank tour your guide will take you to see Luxor Temple and the Karnak Temple complex.
Unfortunately, history has not been kind to Karnak Temple, and today only ruins remain. Nonetheless, there is still plenty to see. A long line of pharaohs all added to the original site. By the time the last bit was added, the Karnak Temple complex had been growing for more than 2,000 years. It was and still is the biggest place of worship ever built.
When you visit the West Bank, your guide will typically take you to see three ancient sites: the Valley of Kings, the mortuary temple of Queen Hatshepsut, and the Colossi of Memnon. The Valley of Kings is an ancient royal burial ground. More than 60 tombs were discovered here, including the tomb of King Tutankhamun. This is where royals and nobles were laid to rest during the New Kingdom era.
Most of the tombs were looted by tomb raiders in antiquity. In fact, Tutankhamun's tomb is one of the only tombs that were found still sealed and intact. It is believed that his tomb had been entered at some point after his death but it wasn't looted. Several of the tombs are now open to visitors. Basic tickets allow you to enter certain tombs but not those that have been designated as "special" tombs.
Tickets for the "special tombs, including the tomb of King Tutankhamun can only be purchased in person at the site. This is done to prevent certain tour operators from buying large amounts of tickets for their clients, bearing in mind that only a certain amount of tickets are sold each day for some of the tombs.
Your visit to Hatshepsut Temple will be another highlight of your trip. It is without question the most breathtaking ancient temple ever discovered in the country. Hatshepsut wanted her mortuary temple to be the biggest and grandest temple, and one that sent a clear message out to all who she ruled over. Her temple delivered on all fronts. It is today considered to be one of the Incomparable Monuments of Ancient Egypt.
If you have booked one of our multi-country Egypt tour bundles, and if your trip along the Nile ends in Luxor, you will then be transferred to Luxor Airport after you Luxor tours, and you will then fly back to Cairo where you will usually spend one night in a hotel before you leave Egypt to visit your next destination.
2 Weeks in Egypt – and Beyond
14-Day Dubai, Abu Dhabi and Egypt Trip
Arrive in Dubai and enjoy visiting some of the city's most impressive sites and vibrant souks. Sit back and relax while you enjoy a cruise on Dubai Creek, and then stroll through the narrow lanes and alleys of Old Dubai to get a taste of how people once lived in what is now one of the world's most opulent cities.
Enjoy a day trip to Abu Dhabi, and then board your flight to Egypt for nonstop sightseeing and an unforgettable Nile River cruise from Luxor to Aswan before you travel back to Cairo for your flight out of Egypt.
Learn more: 14-Day Dubai, Abu Dhabi and Egypt Tour
14-Day Egypt and Jordan Combined Tour
Our 14 Day Egypt and Petra tours will see you visiting the very best attractions in and around Cairo, such as the Great Pyramids and the Sphinx, before you travel to Aswan for more sightseeing and a luxurious Nile cruise to Luxor, with multiple stops along the way. After visiting countless ancient sites, you will head to Sharm El Sheikh for your flight to Jordan via Cairo.
In Jordan, you will enjoy a nice blend of sightseeing and relaxation, but for most people, the highlight of the Jordan tour is the visit to the ancient rock-carved city of Petra.
Learn more: Day Egypt and Jordan Combined Tour
13 Days of Egypt, Jordan, and Israel Tours
Experience an unforgettable tour of Ancient Egypt that begins at Cairo, and continues as you sail along the Nile from Aswan to Luxor, visiting numerous ancient monuments along the way. Travel to Jordan by road, and enjoy visiting a number of spectacular attractions, including the Ancient City of Petra. Finally, transfer to Israel by road, and follow in the footsteps of Jesus, visiting some of the same places he visited all those years ago.
Learn more: Egypt, Jordan, and Israel Tours
2 Week Egypt Itinerary: Sahara Desert and Nile Cruise Adventure
This is the ultimate 2 week Egypt itinerary for people who wish to remain in the Land of the Pharaoh for the duration of their tour. During your 2 weeks in Egypt stay, you will see all of the best ancient attractions which are located in and around Cairo, and then you will head out into the desert where you will be visiting even more attractions and at least one oasis although you will typically visit a few different one. Your days in the desert will also see you visiting several attractions which many tourists never get to see.
Finally, you will enjoy a bespoke Nile River cruise between Luxor and Aswan which will once again see you visiting many famous sites. After your trip along the Nile ends, you will return to Cairo for some relaxation and one more night in a Cairo hotel before your final departure the following day.
NOTE: To read a more in-depth description of our various 14 Day Egypt Tours, please see the individual tour itineraries. Also, remember that our 14 day Egypt tours can be tailored and customized to suit your own exact needs. Simply tell us what you want, and we will do everything we can to accommodate your wishes.
Create Your Dream 14-Day Egypt Tour
With several decades of experience behind us, and with thousands of tours already sold, we are a trusted leader in high quality tours to Egypt and beyond. Contact us now to find out more about our 14 day travel packages to book your dream tour today.