10 day Egypt tours offer travelers an amazing opportunity to visit some of the very best Egyptian attractions found in the Land of the Pharaohs. Prepare yourself for ten of the most memorable days of your life as we take you on an incredible journey through Egypt.
Most 10 day Egypt tour packages will include sightseeing in all the top destinations, including Cairo, Aswan and Luxor, but as with most of out other Egypt tour packages, most will also either include a desert adventure; a Nile cruise, or perhaps a few days of unforgettable snorkeling or scuba diving in the Red Sea. Our Egypt multi-country tours will also include a visit to Jordan, Morocco, Dubai or Turkey.
Design Your Custom 10 Day Egypt Itinerary
Explore Egypt your way by selecting only the attractions you want to visit
Click here to learn more about our 10 day Egypt tours.
10-Day Egypt Tours – Lifetime Memories Guaranteed!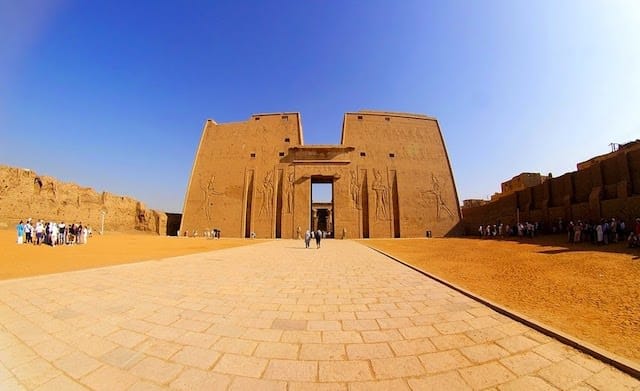 Enjoy 10 days of never ending magic in Egypt with our spectacular selection of 10 Day Egypt Tours. Whether you are looking for adventure, or whether you want to embark on a journey of discovery through Ancient Egypt, our 10 day tour packages never fail to please. Go diving in the Red Sea; trekking in the mighty Sahara, or follow in the footsteps of Pharaohs, as you cruise the Nile in Style.
Private Sightseeing Trips in the Egyptian Capital
For some people, Cairo is a chaotic and congested city that can quickly leave one feeling overwhelmed and desperate for some peace and quiet. For others, the Egyptian capital is simply lively, vibrant and certainly never boring. Whether you love Cairo or whether you hate it, it is definitely a city worth visiting, even if only for some incredible sightseeing and an opportunity to enjoy some amazing Egyptian street food.
Whether you choose an Egypt only tour or whether you choose an Egypt multi-country package, such as an Egypt and Jordan tour, your trip through Egypt is likely to either begin or end in Cairo. While our tour itineraries vary from one to the next, some Cairo attractions are featured in nearly all of our Egypt holiday packages that include time in Cairo.
All sightseeing trips to sites in and around Cairo are private guided tours. In other words, you will have your own professional Expert tour guided as well as your own personal driver. Your guide and driver will collect you from your hotel in the morning at the agreed time, and they will drop you off back at your hotel following each tour.
Egyptian Pyramids Tour
Some of our tour packages include one day of sightseeing in Cairo, while other packages might include two days of sightseeing in Cairo and the surrounding area. Most sightseeing trips begin with a visit to the legendary Giza Pyramids and the Sphinx on the outskirts of modern day Cairo. You will usually spend most of the morning at the pyramid.
At least one or two of the pyramids are open to visitors. However, if you want to actually enter one or more of the pyramids you will need to purchase admission tickets at the site. Our tour packages only include admission to the necropolis itself. The truth is, there really is not much to see inside the pyramids other than empty chambers and lots of stairs.
In addition to the famous Giza Pyramids, several of our packages also include a visit to the Great Step Pyramid of Pharaoh Djoser at Saqqara. Saqqara is only a short drive from Cairo, and as usual, you will have your own driver and your own English speaking guide for this trip as well. The Step Pyramid was the very first pyramid ever built by the ancient Egyptians.
By the time the first of the pyramids at Giza were built, the Step Pyramid was already ancient. The Dashur Pyramids which are also just a short drive from Cairo are also older than those at Giza. However, those at Dashur are not currently featured in any of you existing ten-day travel packages.
Other Cairo Monuments and Attractions
Other attractions that feature in most of our tour packages include places such as the Egyptian Museum and the vibrant Khan el Khalili Bazaar. The museum is one of the most visited attractions in Cairo, and one which features in just about all of our travel packages. The same can be said of the Khan el Khalili bazaar.
Located right in the heart of Islamic Cairo, the bazaar is one of the biggest and oldest in the entire Middle East. It has been around since the 14th century and it is still the shopping venue of choice for most everyday Egyptians living in Cairo. If you are going to be traveling to Cairo, spending an hour or two at the bazaar is likely to be one of the highlights of your trip regardless of whether you want to buy anything or not.
Cruising the Nile in Style – Luxor to Aswan
We only book our clients on to the very best 5-Star Nile River cruise ships, where luxury and comfort are the order of the day. All of our existing 10 day packages tend to feature a Nile cruise on board one of these 5-Star river boats. Some begin in Aswan and end in Luxor, while others begin in Luxor and end in Aswan.
No matter which tour package you choose, if it includes a Nile cruise, you can be sure that your holiday is going to be a travel experience of a lifetime. Regardless of whether you cruise begins in Luxor, or whether it begins in Aswan, you can look forward to seeing the same magnificent ancient Egyptian monuments.
Luxor Sightseeing Excursions
The area around Luxor is home to many of Egypt's top ancient sites. Our itineraries typically include two excursions in Luxor. One tour will see you visiting the East to see Luxor Temple and the sprawling ruins of the Karnak Temple complex which was built over a period of more than 2,000 years.
Your other excursion in Luxor will see you visiting the West Bank. During this tour you will typically visit the Valley of Kings, Queen Hatshepsut's mortuary temple, and the Colossi of Memnon. The Valley of Kings is an ancient royal necropolis where many Egyptian pharaohs and other highly influential people were entombed during the New Kingdom era.
More than 60 tombs were discovered here, including the tomb of King Tutankhamun which was discovered by Howard Carter in 1920. It is one of the few tombs discovered that was still sealed and intact. Nearly all the treasures and artifacts that were found in his tomb are now on display in a museum in Cairo. The king's mummy, however, is on display inside his tomb in the Valley of Kings.
Edfu Sightseeing
When your boat stops at Edfu, you will be taken ashore to see the magnificent Edfu Temple which is also known as the Temple of Horus. At some point in history, this temple fell into the hands of the Romans who then later abandoned it. It was eventually completely buried under the sand and remained that way for more than 2,000 years. Being buried beneath the sand meant that it was protected against the harsh desert conditions. As a result, Edfu Temple is today Egypt's best-preserved ancient Egyptian temple.
Kom Ombo Sightseeing
When your boat docks at Kom Ombo, we take you to see the remains of another amazing ancient temple. This time we visit Kom Ombo Temple. Although this appears to be a single temple, it is actually a twin temple complex, with one being a mirror-image of the other. Both halves had to be 100 percent identical because the site was dedicated to two different gods.
One side was dedicated to Sobek the crocodile god, while the other side was dedicated to Horus the falcon-headed god. The ancient Egyptians didn't want to offend either one of the gods by make one side better than the other. Kom Ombo Temple is believed to be the only twin temple ever built by the ancient Egyptians.
Aswan Sightseeing
In Aswan we typically take you to see three different attractions. More often than not, your tour will begin with a visit to the Aswan High Dam to see the dam itself, and also to enjoy spectacular views of Lake Nasser which formed as a result of the dam being built. From here, we usually make our way to the ancient stone quarries to see the giant Unfinished Obelisk, and then we end the tour with a visit to the amazing Temple of Philae.
Philae Temple was moved in its entirety to its current location. It originally stood on Philae Island which is now submerged beneath the water of Lake Nasser. The island was once considered so sacred that only high priests were allowed to step foot on it.
Like several other ancient monuments in the area, Philae Temple was essentially rescued from the rising water of Lake Nasser by moving it to higher ground.
Small Group Tours while Sailing on the Nile
All sightseeing excursions during our Nile cruise itineraries are small group tours that you share with some of our other clients, assuming that we also have some other clients aboard the boat as well. Regardless of whether we have other clients on board or not, you will still get to enjoy all the same excursions, and as always, you will have one of our Expert guides with you during your excursions.
At least one of our tour guides will sail with the vessel, and he or she will be the one accompanying you on your excursions during your Nile cruise.
SCUBA Diving, Snorkeling and Relaxing on the Red Sea Coast
For those who want to enjoy some SCUBA diving or snorkeling, or simply get a nice tan, the country's Red Sea coast is the perfect place to be. The coastline around places like Sharm El Sheikh and Hurghada is home to many world-class dive sites. There are also plenty of nice beaches and no shortage of resorts that cater for all budgets. Not surprisingly both places are very popular destinations for a relaxing family holiday.
Those travelers who want to go diving or snorkeling can also take comfort in the fact that we only work and partner with the very best fully certified dive boat operators. SCUBA diving trips include all equipment, certified dive guides, and on-board lunch and soft drinks.
This region of Egypt may not be able to compete with places like Luxor, Aswan and Abu Simbel in terms of ancient temple complexes and ancient tombs, but it is a fantastic part of the country to visit if you just want a relaxing break near the sea.
Traveling Beyond Egypt
We also offer a number of 10 day Egypt tours that include time in Jordan. While there are certainly lots of things to see and do during your trip in Jordan, nothing can compare to Petra, also often called the Rose Red City of Petra. No amount of words can describe this ancient rock-cut city which was carved out of the sides of a deep and long rock gorge.
In short, no visit to Jordan is complete if it doesn't include a visit to Petra, which is undeniably one of the world's most spectacular Ancient attractions. For this reason, a visit to Petra is included in all of our Egypt and Jordan travel itineraries. While you are in Jordan you will also have your own driver. However, you won't always have a guide with you throughout the time you are in the country. Instead, you will meet up with a specialist local guide at each of the major sites you visit.
NOTE: Any and all domestic travel which is mentioned in our itineraries, including train travel and air travel, are included in our tour prices. However, our quoted prices do not cover visa related expences. Our prices also do not include the cost of international flights. All accommodation is included, as are all meals as specified in our various itineraries.
All our 10 day Egypt tours are also customizable. Just let one of our tour representatives know exactly what you want or don't want, and they will be happy to assist you in any way they can. Are you ready to go sailing along the Nile; to stand before the Great Pyramid; to stroll among the ruins of the largest temple ever built? If you are, contact us now to find out more or to book your dream trip to Egypt today.
FAQ: 10 day Egypt tours
What to See In Egypt in 10 Days?
Set aside 3 days for Cairo to see the pyramids and the Egyptian Museum, then head to Luxor and visit the Valley of the Kings, Karnak, Hatshepsut Temple, preferably as part of a Nile cruise package.
How Much Does a Ten Day Trip to Egypt Cost?
Prices for a 10-day Egypt trip with 5-Star accommodation, a 5-Star Nile cruise and professionally guided tours in Cairo and throughout your cruise start at around $2,300 as of the time of writing.
How to Pack For 10 Day Trip to Egypt?
Be sure to pack in sunscreen lotion, a good pair of sunglasses and a wide-brimmed hat. As far as clothing is concerned, focus on loose fitting lightweight clothes made from breathable fabrics.
Is 10 Days in Egypt Enough?
If you plan your trip properly, or if you book a pre-package to from an experienced Egypt tour operator, 10 days in Egypt is ample time to have an amazing vacation with lifelong memories guaranteed.