Enjoy Egypt And Morocco Tours that bring dreams to life: See two awe-inspiring countries; immerse yourself in their unique and different cultures; explore ancient historical sites and admire breathtaking natural beauty. Discover the very best sites of antiquity in Egypt; cruise the Nile and then head off to experience the magic of Morocco's imperial cities.
Come explore the ancient wonders of Egypt and then lose yourself in magical Morocco!
Design Your Custom Egypt And Morocco Tour
Explore Egypt and Morocco your way by selecting only the attractions you want to visit
Click here to learn how to choose Egypt and Morocco tours
Choose Egypt And Morocco Tours And See It All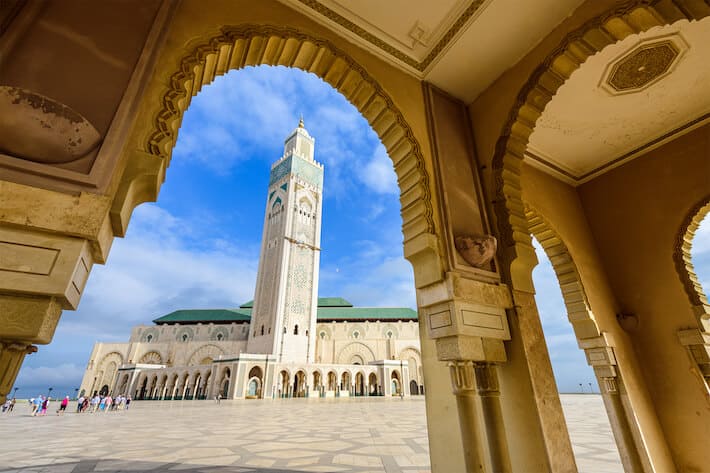 Cairo and Casablanca, Marrakech and Luxor…the names of these wondrous cities of both East Africa and North Africa stir up the imagination in almost anyone who hears them, and yet few people believe that you might see all of those historic and legendary places all combined in a single and totally flawless travel package.
Fortunately, we have several options for people who want to see and enjoy the very best Egyptian and Moroccan highlights. In this post we'll explore just what to look for in order to choose the ideal travel package that will make your dreams come true.
From the Land of the Pharaohs to Magical Morocco – An Unforgettable Travel Experience
One thing to consider when you want to find companies offering Egypt and Morocco travel packages is that these two countries have very distinct cultures. Though both are situated in Northern Africa (and also the Middle East), they are unique and truly original. This is why you should only book your vacation through a company that is familiar with both countries and respectful of the many differences there are between the two.
In order to fully enjoy both of these two fascinating destinations, you need to find the right balance. Unfortunately, many travel agents will tack a short stay in Egypt on to an in-depth visit to Morocco. When this happens, travelers may feel that they saw and experienced far more in one country than they did in the other.
A lack of balance can also present in the way a tour is conducted in each of the countries you visit. For example, your itinerary may include a visit to multiple historical sites in Morocco's imperial cities, such as Casablanca, Rabat, Fez and Marrakech. However, that same itinerary may not provide you with any opportunities to explore and shop in the country's famous souks and bazaars, or the opportunity to mix and mingle with locals.
Yes, travelers should get to see all the best attractions, but they should also get the chance to mix with the locals and to try some world renowned Moroccan cuisine. When you book your vacation through a company that is enthusiastic about both destinations and one which has experience with both, lifelong memories are guaranteed.
What to Expect in Morocco's Imperial Cities
If you book your Morocco tour through us, you will fly to the coastal city of Casablanca. More often than not, you will be taken to see the old medina (market) as well as one of the largest mosques in the world. From Casablanca you will head to a city like Fez, where you will encounter a true medieval city. Fez is among the oldest cities in the world.
After Fez, your next main attraction will be the city of Marrakech. One of the first things you will notice here is that Marrakech is a perfect blend of the new and the old worlds with enormous markets and one of the largest plazas in the world. Most travelers rate Marrakech as being the most fun and most fascinating city they visited during their Morocco tour.
The natural beauty of Morocco actually surprises many people who have never visited the country before. With its mountains, orchards, unique cities, and lovely coastal areas, it is like traveling through a picture postcard from a fairy tale land. All of our itineraries include multiple scenic drives. When visit with us, you get to experience history, culture, and plenty of natural beauty.
To Cairo and Beyond – Sightseeing, Nile Cruises, Red Sea Diving and Desert Safaris
The Egyptian phase of our combo packages always begins in Cairo, the bustling Egyptian capital. When you land at the airport in Cairo, one of our tour manages will be there to meet and assist you. He or she will then accompany you to your hotel in Cairo in one of our deluxe air-conditioned vehicles. You will typically spend two or three nights in Cairo.
While you are in Cairo, you will enjoy some excellent sightseeing. These are private tours with one of our Expert guides and one of our drivers. We want to make your visit to the Land of the Pharaohs as rich and rewarding as possible, and this includes your stay in Cairo.
One of the first places you will visit in Cairo is the Giza necropolis to see the iconic Giza Pyramids and the Sphinx. If you had a window seat during your flight, you will most likely have seen the pyramids as your flight approached Cairo. Now you will have the chance to stand right in front of them, or even go inside one to have a look around.
If you have booked one of our combination packages, you will also be taken to visit places like the Egyptian Museum and the famous medieval Khan el Khalili bazaar in Cairo. You will most likely also visit Memphis. Memphis was the capital of the Old Kingdom. Lastly, most of our packages also include a trip to Saqqara, an ancient royal burial ground.
Saqqara is home to the Great Step Pyramid of Pharaoh Djozer. This was the first Phaoronic pyramid ever built. By the time the Giza Pyramids were built, this one would already have been considered ancient.
Why Your Trip Should Include a Nile Cruise
A trip to the Land of the Pharaohs can never be complete without experiencing the magic of a Nile cruise from Luxor to Aswan or from Aswan to Luxor. When you book an Egypt – Morocco bundle through us, you can look forward to an unforgettable 5-Star cruise that includes plenty of sightseeing trips with one of our experienced English speaking Expert guides.
You will typically fly to Luxor or Aswan on your third day in the country, at which point you will be met and taken to board your Nile cruise ship. Your trip on the river is booked on a full-board basis, meaning that it includes your accommodation and three meals per day. Your cruise on the river will be a perfect blend of sightseeing and relaxation.
Whether your cruise begins in Luxor, or whether it begins in Aswan, you will get to visit several of the most cherished ancient monuments in the country. For example, when you are in Luxor you will visit places like the Valley of Kings; Queen Hatshepsut's mortuary temple; the Karnak Temple complex, and Luxor Temple. In Aswan you will visit the ancient Philae Temple. Your cruise ship will also stop at Edfu and Kom Ombo where your guide will take you to visit two other ancient temples.
Sahara Desert Safaris and Red Sea Diving and Snorkeling
If you book a package that also includes SCUBA diving or snorkeling on the Red Sea coast, you will usually head to Hurghada or Sharm El Sheikh after disembarking from your cruise ship. We only work and partner with the very best fully certified dive boat operators. Midday meals and soft drinks are typically included during a dive trip. Of course, you will also have a certified diving guide with you during dives, most of which take place near some islands.
If your chosen package includes a Sahara Desert safari or spending a few days in the Sahara Desert to visit different oases, this will usually take place before your cruise. Because the desert can become very hot, our Sahara Desert adventures are typically not recommended for people who are traveling with very young children.
Let Your Dreams Come Alive
If this brief explanation of how to begin choosing Egypt and Morocco tours sounds appealing to you, then it is time for you to consider booking your own amazing trip. Though we would say that fifteen days is the minimum amount of time in order to get the most out of your trip, we can still give you a comprehensive travel experience in as little as seven days.
We can do this because we understand the interests of travelers and also because we have a deeper understanding of these two distinct destinations. As an example, at EgyptToursPlus we offer several different types of Egypt and Morocco tours that provide travelers with rich experiences in both countries.
Our packages follow the model given above, with time spent in the best Moroccan cities, as well as time spent in Cairo and then on to the Nile and its amazing sites. Deciding which of our bundles is a good match for your dreams, is fairly simple. Just browse through our different itineraries and choose one that suits you best.
Keep in mind that one of the most important things to have when touring exotic Middle Eastern destinations is a guide or tour provider with history and experience in the regions you are visiting. In this modern era of online business, travelers can not always be certain that they are booking Egypt and Morocco tours with firms that are experienced or even familiar with their chosen destinations. With us, this is not something you need to be concerned about.
Close Your Eyes and Visit Egypt And Morocco
In other words, when you begin to plan your visit to Egypt and Morocco, start by closing your eyes and imagining what you want to see, do, taste, smell, and witness. If you are automatically transported into the magical and mysterious setting of a souk, with its spices and silks, be sure you choose a tour that ensures you see those markets and stalls.
If your vision includes dawn on the Nile or sunset in Rabat, be sure that you are guaranteed such unforgettable opportunities. A trip to this amazing part of the world should be all that you have been dreaming of, and choosing a tour provider that understands and appreciates the uniqueness of the two countries as well as the needs of many world travelers from North America, Australia, and Europe is a good way to begin. Explore our Egypt and Morocco tours and prepare to enjoy your dream visit to these two timeless destinations.
Morocco-Egypt Tours – To Infinity And Beyond