Multi-Country Tours – Egypt and Beyond
Set your spirit free with one of our epic multi-country tours; tours which are designed to thrill and excite, from the day you arrive, to the day you fly back home. When you book a multi-country tour through Egypt Tours Plus, you are booking so much more than just a holiday; you are booking a life-changing experience that will see you visiting some of the world's most fascinating destinations.
From the ancient monuments and historical sites that await you in Egypt, Morocco, Jordan, Turkey, Dubai, India and Greece to the unspoiled wilderness of Kenya; our multi-country tours have it all, and if you don't find one which is a perfect fit, we will tailor one just for you.
Customizable Multi-Country Tour Packages
Except for our small group tours all multi-country tours are private guided travel packages that can be customized to fit your exact dreams and wishes. Let us help make your travel dreams come true.
Why Should You Travel With Egypt Tours Plus?
Why Should You Travel With Egypt Tours Plus?
For many people, multi-country tours are a once in a lifetime undertaking, and nobody better understands this than we do. We believe that a multi-country tour should be more than just a tour; it should be a life-changing experience that you can cherish forever. When you book your tour through us, you can enjoy complete peace of mind, knowing that your tour has been designed and crafted by people who have been making travel dreams come alive ever since 1955.
With such a vast amount of experience behind us, we don't believe there is anyone else who is better equipped than we are to provide you with the ultimate travel experience. Here are just a few of the reasons why so many people choose us for their multi-country tours, and they come back to us time and time again:
1. Unsurpassed Experience
Every single one of our multi-country tour packages have been created and structured by a company which has been offering unforgettable tours for more than half a century. Our expertise in this field is a result of nothing other than real-life experience – We are travelers too.
2. Value for Money
Unlike many of our competitors, we don't promise to provide the cheapest tours possible. At Egypt Tours Plus, we refuse to compromise the quality of our tours in order to offer unrealistic prices. Instead, we strive to provide the ideal balance between quality and affordability. Still, we can proudly say that the prices of our multi-country tours are typically 15% lower than the industry standard.
3. Unrivaled Hospitality
When you travel with us, you are never alone. We will always be there to meet you when you arrive for your vacation, and we will be there to bid you farewell when you leave. We will also be standing by to help you and assist you throughout the full duration of your tour in the unlikely event that you encounter any problems along the way. In short, we are never more than a phone call away.
4. Comfortable Travel
Whether you are touring the ancient monuments of Egypt; navigating your way through the High Atlas Mountains in Morocco, or enjoying a desert safari in the mighty Sahara, your comfort is of the utmost importance to us. In order to ensure maximum comfort, all transfers and tours are undertaken in clean and modern air-conditioned vehicles.
5. Luxurious Cruises
Virtually all of our multi-country tour packages include a Nile River cruise, and in order to make an already magical experience even more magical, we only book our clients onto the very best 5-Star cruise ships, including ships such as the Movenpick Royal Lily; the Sonesta St. George; the Steigenberger Minerva, and the Oberoi Zahra.
6. Great Accommodation
When you book multi-country tour packages through Egypt Tours Plus, you are booking your tour through people who really do care about your comfort and wellbeing. For this reason, we work almost exclusively with 4-Star and 5-Star hotels.
7. Bilingual Guides and Drivers
Our guides and driver guides all speak fluent English, while some can also speak other languages as well. Also, if you are going to be traveling with a group of non-English speaking relatives or friends, you can let us know what your preferred language is, and every effort will be made to find guides who are fluent in the language of your choice.
8. Tailored and Customized Tours
If you cannot find the perfect tour for you among our 21 top-rated multi-country tours, our team of tour specialists will be more than happy to work with you to create the ultimate tour based on your own individual preferences. We can either customize one of our existing tours to meet your needs, or we can work with you to build a tour unique tour from scratch. With Egypt Tours Plus, nothing is impossible.
Top Attractions to See On Our Multi-Country Tours
Top Attractions to See On Our Multi-Country Tours
Our multi-country tour packages only feature the very best attractions to be found in the various countries you visit, so no matter where about you are, you can be sure that every day is going to be a memorable day. While it simply wouldn't be feasible to try and list every attraction featured in our range of multi-country tours, here are some which you can look forward to seeing and exploring when you travel with us:
Multi-Country Tours Visiting Egypt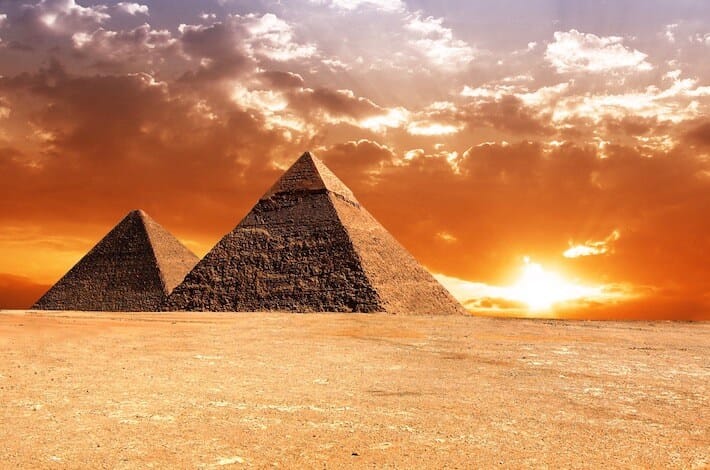 The Great Pyramids of Giza (Cairo) – Located in the ancient Giza necropolis on the outskirts of modern-day Cairo, the Great Pyramids of Giza and the iconic Sphinx are probably the most instantly recognizable historical monument in the world, and it is fair to say that no trip to Cairo would be complete without a visit to this site. And, if you are feeling a bit adventurous, it is usually possible for visitors to actually go inside at least one of the pyramids, although it should be noted that our tour packages don't include admission tickets for the pyramids. Visitors who wish to go inside a pyramid need to purchase a ticket at the site when they visit.
Valley of the Kings (Luxor) – Most, if not all of our multi-country tour packages, include a Nile River cruise, either from Aswan to Luxor, of from Luxor to Aswan. Regardless of which direction you sail in, you can be sure that you will be visiting Valley of the Kings, an ancient royal necropolis located on Luxor's West Bank.
To date, more than 60 royal tombs have been discovered at this site, including the most famous tomb of all, that of King Tutankhamen. Unlike most of the other tombs in the area which were looted in antiquity, Tutankhamen's tomb was still sealed and intact when it was discovered, and a fantastic collection of artifacts was recovered from within, most of which are on display in the Treasures Room at the Egyptian Museum in Cairo.
It should be noted that only a small number of tombs are open to the public, and they tend to be opened on a rotational basis in an effort to minimize damage from tourism. Tutankhamen's tomb itself is one of the tombs which are sometimes open for visitors. However, tour operators such as ourselves are not allowed to purchase admission tickets in advance on behalf of our clients. Instead, visitors who to enter his tomb are required to purchase a ticket in person on the day of their visit. It should also be noted that only a limited number of tickets are sold each day, and visitors who want to enter his tomb generally have to be at the site very early in the day, particularly during the high season.
Abu Simbel Temples (Abu Simbel) – Located approximately 240km from Aswan, on the western bank of Lake Nasser, the Abu Simbel temples are two gigantic rock temples which were carved out of the mountainside in the 13th century BC, during the reign of Pharaoh Ramesses II. Ramesses had the temples constructed to serve as a lasting monument to himself and his wife, Queen Nefertari, and also to commemorate his impressive victory at the Battle of Kadesh.
The rock relief figures that adorn the two temples are as iconic as the pyramids and the sphinx at Giza, and the site is without question the second most recognizable ancient monument in the country. Interestingly, this vast complex was moved in its entirety from its original location to its current location in 1968. Had it not been moved, it would have ended up being completely submerged beneath the water of Lake Nasser when the vast manmade lake formed after completion of the Aswan High Dam.
Other Top Attractions to Look Out for in Egypt
Egypt is home to such a vast amount of fabulous historical attractions. In addition to those discussed above, we also highly recommend the following attractions:
The Egyptian Museum (Cairo) – Located in Cairo, this fantastic museum is home to the world's largest collection of ancient Egyptian artifacts, including most of the artifacts that were discovered in the tomb of King Tutankhamen.
Khan El-Khalili Bazaar (Cairo) – Located in Cairo's Islamic Quarter, this vast bazaar which has been open since the 14th century is quite literally overflowing with charm and character.
Karnak Temple (Luxor) – Rather than being a single temple, Karnak is a vast complex of ruins; the remains of what were once a small city of temples and other structures. Karnak, which is located on Luxor's East Bank, is generally seen as being the second-most visited site in Egypt.
Kom Ombo Temple (Kom Ombo) – This fascinating site is unique in that the temple was dedicated to two different gods: Sobek the crocodile god, and Horus the falcon-headed god. This really is a remarkable site, and one which features in nearly all Nile River cruises.
Edfu Temple (Edfu) – Another fascinating temple that features in nearly all Nile cruises, Edfu Temple enjoys the reputation of being the best-preserved ancient temple ever discovered. Its near-perfect condition is thanks to the fact that it lay buried beneath the desert sand for more than 2,000 years.
Hurghada (Hurghada) – Hurghada is located on the Red Sea coast, and it is most famous for its pristine sandy beaches and its close proximity to a number of the world's best snorkeling and SCUBA diving sites. The area enjoys very pleasant weather throughout the year, thereby making it a great year round destination.
Multi-Country Tours Visiting Jordan
Petra, the Rose Red City (Petra) – Petra, which is also often called the Rose Red City or the Lost City, is an ancient city that was carved out of the cliffs of a long and deep mountain gorge by the Nabateans, a nomadic tribe which once inhabited the area. The Nabateans recognized the area's potential to become a major trading hub due to its proximity to major trade routes.
It wasn't long before the Nabateans were getting considerable revenue the trading business, and this wealth was then used to create Petra. It is generally believed that work on the city first began as early as the 4th century BC. Apart from being very successful with business, the Nabateans were also masters of design, carving an entire city out of the rock, a city which even enjoyed having ample running water which was distributed around the city via a complex network of aqueducts and etc.
In 106 AD, the Roman army forced the Nabateans to surrender their capital city, and this period is often seen as the beginning of the city's decline. Sea trade routes also started emerging soon after; thereby further reducing the city's trade-related wealth. By 700 AD, the city of Petra had been almost entirely abandoned.
Petra really did become a forgotten city, and in fact, Europeans never even knew it existed prior to 1812 when it was rediscovered by a Swiss explorer. If you book one of our multi-country tours that feature some time in Jordan, your chosen tour itinerary will almost certainly include a day tour at Petra. It should be noted that these tours include a lot of walking, so visitors are strongly advised to wear shoes that are comfortable and well-suited for walking.
Other Top Attractions to Look Out for in Jordan
Anyone who has visited Jordan will already know that the country is home to countless wonderful attractions. We have only singled out Petra because it is Jordan's premier attraction. Other amazing attractions in Jordan, and ones which we try and include in our multi-country tour package include:
The Roman Theater (Amman) – Located right in the heart of Amman, the ancient Roman Theater still hosts various events each year, and it is a great place to take some incredibly photographs.
Wadi Rum – An incredibly beautiful desert area which shot to fame following the release of the Hollywood blockbuster, Lawrence of Arabia.
The Ruins of Jerash – Jerash was an ancient Roman provincial city, and the ruins which remain today are remarkably well-preserved. In fact, the site is considered to be the biggest and best-preserved collection of ancient Roman architecture outside of Italy.
The Dead Sea – A visit to the Dead Sea in Jordan always proves to be an amazing experience, and particularly if you have never before experienced what it is like to float on the Dead Sea's incredibly salty water.
Multi-Country Tours Visiting Morocco
The Tanners (Fez) – If you have a very keen sense of smell, a visit to the tanners in Fez is likely to be an experience you are not likely to forget in a hurry. Nonetheless, many people would agree that no trip to Fez is complete with spending at least a bit of time at the tanners. It really is fascinating to watch the locals treating and dyeing hides in exactly the same manner it's been done for centuries already. Morocco may not have ancient sites comparable to those one can see in places like Egypt, but the country still have an abundance of wonderful attractions in virtually every area you visit.
Djemaa El-Fna (Marrakech) – Definitely worthy of a place on any list of must-see attractions in Morocco, Djemaa el-Fna has served as the main square in Marrakech ever since the city started forming. In fact, one could even argue that without the square, the city may never have come to be. It really is one of the top attractions in Marrakech, and one which we recommend visit at various time of the day because the activities which take place there continue to change throughout the day.
In the mornings, you can expect to find snake charmers; storey tells, dancers and more keep both locals and foreigners alike entertained. As temperatures rise, these entertainers move out, and are slowly but surely replaced by other people, including countless people sell fresh orange juice and other chilled refreshments. As evening starts arriving, the market then begins to fill with an endless number of stalls where you can buy delicious meals and a wide variety of foods.
Other Top Attractions to Look Out for in Morocco
Morocco is the sort of country where you really do need to travel around in order to enjoy the country's best attractions, not least because of the fact that some of the best sights you are likely to see are really attractions in the true sense of the world. This includes a spectacular mountain pass and a number of other incredibly scenic drives. One thing you can be absolutely certain about is that if you choose one of our multi-country tours that feature Morocco, you are definitely going to visit many of the best attractions, including places such as:
Majorelle Gardens (Marrakech) – A sprawling botanic garden which started out as a living work of art, and continued to form and evolve over a period of several decades.
Sadiaan Tombs (Marrakech) – Located just a short walk from Marrakech's famous square, this is another attraction which features prominently in many of your package tours.
Koutoubia Mosque (Marrakech) – Despite the fact that this historical mosque is not open to non-Muslims, it is still very much visiting, even if you are only allowed to take photos from the outside.
Museums – Morocco has too many museums to mention individually. Very few visitors would be able to visit all of them in a single vacation, but if you are the sort of person who like visiting museum, then we highly recommend that you visit a few of them . Many are relatively small family run places which help to give them a very unique sort of feels.
Multi-Country Tours Visiting Turkey
Hagia Sofia (Istanbul) – The Hagia Sofia is one of the most famous and most visited attractions in Turkey, and when you visit, you will quickly realize why. This vast basilica was initially an orthodox church, but probably one of the most magnificent churches ever built.
When the Ottoman forces where invading the area, they would typically want all Christian site demolished, but their ruler at the time was so impressed with the Hagia Sofia that it gave the orders to convert the site into a mosque.
This spectacular building then served as a mosque up until 1931, at which point it ceased to be a mosque. Following its closure, the building was then renovated and opened as a museum shortly afterwards so that people of all religions could enjoy it.
Topkapi Palace (Istanbul) – If your preferred multi-country tour package includes some time in Istanbul, you can be sure that it will almost certainly include a visit to Topkapi Palace, and quite rightly so because everyone who visits this site is left feeling bewildered by the sheer opulence of what was once the official residence for the sultans who ruled the country for more than roughly 400 years.
In addition to the countless number of antiquities which are on display at the palace, you can also expect to see gold thrones and a number of priceless treasure collections that were accumulated over the years, as one powerful sultan was replaced by the next.
Basilica Cistern (Istanbul) – Located just 150 meters away from the Hagia Sophia, the Basilica Cistern is another wonderful attraction which is definitely worth a visit if you are in Istanbul. There are literally hundreds of cisterns beneath Istanbul, but none are as big and as elaborate as the Basilica Cistern which was built during the 6th during the reign of Justinian, a Byzantine emperor.
The basilica-sized cistern occupies an area of roughly 9,800 square meters, and was capable of holding up 80,000 cubic meters of water. According to historical records, some 7,000 slaves were used to build the cistern, with hundreds of them perishing during the construction process. The Basilica Cistern has undergone several renovations and restorations, and vast quantities of mud have also been removed.
In the past, visitors could tour the cistern in small boats, but in more recent times the authorities have installed wooden walkways to replace the need for boats. Not surprisingly, the Basilica Cistern has featured in numerous movies, and even in one very popular video game, Assassin's Creed.
Sultan Ahmed Mosque (Istanbul) – This magnificent complex is another absolute gem which is also only a very short distance from the Hagia Sofia. The mosque, which is more often than not referred to as the Blue Mosque, was built between 1609 and 1616, and it still functions as a mosque to this day. However, unlike many other mosques, the Blue Mosque is open to visitors, although it goes without saying that visitors should refrain from entering the mosque during prayer times.
The interior of the mosque is adorned with thousands of blue hand-painted tiles, and it is perhaps most famous for its abundance of stained glass and its countless lavish chandeliers. Most historians consider see the Sultan Ahmed Mosque as being the last Great Mosque of the Classical Periods. Because of its sheer magnificence, you will find this site listed in virtually all of our multi-country tours that include time in Turkey.
Other Top Attractions to Look Out for in Turkey
Turkey has been blessed with an abundance of fascinating historical sites, and in many cases, visitors can find numerous attractions which are all in close proximity to each other, not only in Istanbul, but also elsewhere in the country. Here are some more amazing attractions/places which we recommend:
Pamukkale – Located in the west of Turkey, Pamukkale is a town which attracts countless visitors each year, many of whom head to the area to see a spectacular natural phenomenon where mineral-rich thermal water flows down dazzling white travertine terraces. However, the area is also home to several other wonderful attractions, including an ancient necropolis and a 190 BC Roman spa city which has a very well-preserved theater.
Cappadocia – another truly fascinating area and one which is well and truly worth visiting, particularly if you enjoy plenty of unspoiled natural beauty. Cappadocia is perhaps most famous for its many rock-cut hillside dwellings, fortresses, monasteries, and even an underground city. In truth, there is so much to see in this area that you could easily justify spending at least a week or more here.
Mosque of Suleiman the Magnificent (Istanbul) – Not only is this magnificent mosque the biggest mosque in Istanbul, but it has also consistently been voted the city's most striking landmark.
Istanbul's Covered Market – Also known as the Grand Bazaar, this is one place which all visitors to Istanbul should try to visit at least once. Not only is it the biggest covered market in the world, and also one of the most visited historical sites in the world. Visitor numbers each day range between 250,000 and 500,000.
Multi-Country Tours Visiting Spain
Sagrada Familia (Barcelona) – Located in Barcelona, the Basilica and Expiatory Church of the Holy Family (Sagrada Familia) is the largest unfinished Roman Catholic Church in the world. Work on the church began in 1882, and by 1926 when the project's chief architect died, the build was less than a quarter way to completion. Because the building of this church depends entirely on private donations, progress was very slow, and building work was completely halted as a result of the Spanish Civil War.
From 1950 onwards, work on the church continued intermittently, and in 2010 it was announced that the halfway mark had been reached. New technological innovations have resulted in much faster progress, and if work continues at the current pace, it is though that work could be complete by 2026, exactly 100 years of the death of its chief architect.
Cathedral of Saint Mary (Seville) – When the building of this magnificent gothic church was completed during the early 16th century, it became the largest cathedral in the world. Prior to its completion, the Hagia Sophia in Istanbul had been the world's largest cathedral for nearly 1,000 years. Covering an area of roughly 23,500 square meters, the Seville Cathedral (Cathedral of Saint Mary) is well and truly a must-see attraction. In 1987, the Cathedral of Saint Mary was declared a UNESCO World Heritage Site.
During the course of history, numerous prominent historical figures have been buried at the church's chapel, including people such as King Pedro El Cruel; the city's conqueror, Ferdinand III of Castile, and the famous explorer, Christopher Columbus.
Generalife Gardens (Granada, Andalusia) – This amazing site which if translated to English, means Architect's Garden, was the official palace and country estate for the rulers of the Emirate of Granada in Al-Andalus, present day Andalusia. The magnificent palace, along with its spectacular gardens was originally built on the orders of Muhammad III who reigned from 1302 to 1309.
While the palace is still magnificent, many would argue that very little of its original beauty remains as a result of years and years of redecorating. Generalife is the world's oldest remaining Moorish garden, and is today a UNESCO World Heritage Site.
Other Attractions to Look Out for in Spain
Spain has no shortage of fabulous tourist attractions, and particularly for those who are passionate about old and varied styles of architecture. In fact, we can't hope to mention all of them in just one short article. Many of the country's attractions are also not your typical attractions as such. In other words, they are not all monuments and so on. Instead, they are entire villages, towns and etc. Here are a few excellent attractions which we can recommend, all of which feature most of our multi-country tours which include spending some time in Spain:
Lleida (Catalonia) – Recognized as being the oldest city in the region, Lleida has been inhabited ever since the Bronze Age. The city has fallen into a state of decline on several occasions, only to rise back up again. The city has a remarkable history, and a tour of the area is highly recommended.
Cathedral Basilica of our Lady of the Pillar (Zaragoza) – A truly amazing old cathedral basilica that venerates the Blessed Virgin Mary. Building of the church began in 1681 and continued until 1872. It is also believed to be the world's first ever church to be dedicated to Mary.
Mosque Cathedral of Cordoba – This is another wonderful place to visit, and it has a remarkable history as well. Originally, there was a Christian church built on the site that was shared by Christians and Muslims. Later, following the Islamic conquest, a ruling Emir purchased the Christian section, and then had it demolished to make space for the building of the Great Mosque of Cordoba. Centauries later, when Cordoba returned to Christian rule, orders were given to convert the mosque into a cathedral, and this is the cathedral you can still see today.
Toledo – In 1986, Toledo was declared a UNESCO World Heritage Site due to its many monuments and its rich cultural heritage. For a fully immersive experience, we recommend going on a walking tour through the many narrow roads and alleyways.
Multi-Country Tours Visiting Dubai
Gold and Spice Souks – Located in an area of the city known as Deira, the gold and spice souks are separate entities which are situated adjacent to each other. Both of these souks are essentially recreations of old traditional souks. While they might not be authentic in the true sense of the word, they provide an opportunity for visitors to see and experience the side of this opulent city's glitzy skyscrapers and etc.
Dubai has for the most part become a tourist city, and you should try to keep this in mind when you are at these two souks. Many visitors complain about venders and traders being very pushy, particularly in the spic3e souk, but this is to be expected, and they will always leave you alone if you are polite but firm when you say no. Regardless of anything, we believe that the gold and spice souks are most definitely worth a visit.
Souk Madinat – As with the gold and spice souks, Souk Madinat is essentially a modern recreation of a tradition Middle Eastern souk, but it is well and truly in a league of its own. Rather than all the focus being on traditional shops and stalls, this souk also has several modern shops, outlets and restaurants where you can enjoy mouthwatering cuisine from many countries around the world. In short, Souk Madinat is a perfect fusion between old and new Dubai.
Burj Khalifa – Even though the height of Burj Khalifa makes it one of the first things you notice when you arrive in Dubai, no visit would be complete without you actually visiting this engineering marvel which reaches nearly one kilometer into the sun-filled sky. Fortunately, if you book one of our multi-country tours that feature Dubai, your tour will definitely include not only a visit to the Burj Khalifa, but also an admission ticket which entitle you to visit the observation deck on the 124th floor.
Atlantis Hotel and Aquaventure Waterpark – Virtually all of our multi-country tours that pass through Dubai include a tour of Palm Jumeirah, the world's largest manmade island, with a photo-stop at Dubai's famous Atlantis Hotel which has been themed and styled after the Lost City of Atlantis. However, these tours and photo stops don't include entry to the hotel's indescribable Aquaventure Waterpark.
While a visit to the water park is not included in the prices of our multi-country tour packages, we certainly recommend spending a day at the park if time permits. It is safe to say that no other water park in the world is anything like it.
Dubai Mall and Dubai Aquarium – Dubai Mall is the largest shopping mall in the world, but what sets it apart from other mega-shopping malls, is the fact that it is so much more than just a giant shopping area. You could literally spend a few full days here and there would still be lots to see and do. The mall is also home to the indescribable Dubai Aquarium, an aquarium so large you can even enjoy various underwater activities. Most of our Dubai tours include some free time at the Dubai Mall, which actually make it very easy for our clients to visit the aquarium while they are there.
Jumeirah Mosque – By comparison to many other mosques in the UAE, Jumeirah Mosque is relatively new, considering that construction only began in 1976. It is also the most photographed mosque in all of Dubai, and for good reason. Organized tours run several times each day for non-Muslims, which also makes it one of only a few mosques in the UAE that are open to non-Muslims. If you travel Dubai with Egypt Tours Plus, your tour itinerary will almost certainly include a visit to this fabulous mosque.
Other Top Attractions to Look Out for in Dubai
The rulers of Dubai long ago realized that Dubai cannot afford to be 100% dependent on revenue from oil, and as such, a great deal of effort has gone into making Dubai a leading tourist destination. Today, tourists can still enjoy visiting many historical sites, but many of today's travelers are visiting Dubai for its seemingly endless number of modern attractions. In addition to the attractions discussed above, here are a few more which we can highly recommend:
Burj Arab – Built on its very own manmade island, the Burj Arab tower is home to one of the world's most luxurious hotels. In fact, the standard of luxury has resulted in many people referring to it as the world's only 7-Star hotel, a hotel so luxurious that even your morning cappuccino is served with a sprinkling of gold dust.
Alserkal Art District – What was one purely an industrial zone, has slowly but surely morphed into an area where numerous warehouses have been converted into art galleries and art studios. Alserkal Art District has become immensely popular, and is well-worth visiting.
Dubai Opera – While not everyone is a big fan of opera, we do believe most visitors to Dubai would enjoy visiting Dubai Opera, a futuristic opera house which has be designed to host various other forms of entertainment, and even a range of events. A very welcome new addition to Dubai.
Wild Wadi Water Park – This is a particularly good attraction for anyone, but even more so if you are visiting Dubai with your children. In a nutshell, Wild Wadi offers and endless amount of fun at very affordable prices. Because water parks don't appeal to everyone, they are typically not included in the itineraries of our multi-country tours.
Ski Dubai – When you have had enough of the heat, Ski Dubai is the ideal place to escape to for some skiing and/or snowboarding.
When is the Best Time to Travel for Multi-Country Tours?
When is the Best Time to Travel for Multi-Country Tours?
Because our multi-country tour packages include several countries which are spread out over vast distances, it is not always easy to determine the best time to travel. A lot depends on a person's individual priorities. For example, if you are traveling on a tight budget, then it would definitely be best for you to travel during the low season if you are traveling to or through countries which have definitive high seasons and low seasons, such as Egypt for example.
In countries where there are high seasons and low seasons, the weather is typically a lot cooler and more pleasant during the high season, while the low season months can be very warm. As a result, "Low Season" prices can often be considerably lower than "High Season" prices. However, for some of the countries which are featured in our multi-country tours, there is no definitive high season or low season.
At Egypt Tours Plus, all our tour itineraries clearly show if there are different seasonal prices. To see if there are different rates, simply click on any one of our tour packages, and then click on the "Price" tab that appears on the upper left-hand side of your screen. At the end of the day, it all comes down to personal preferences, and what you actually want from a tour. Sometimes, a person may want to witness some or other special event that only happens to occur during the high season rather than during the low season.
One example would be if you want to be in Egypt for the Abu Simbel Sun Festival. The Sun Festival at Abu Simbel temples is a fantastic experience, but it takes place in October, meaning you would have to travel during the high season. Also, if your multi-country tour includes spending some time in a country such as Kenya, then it is best to book your tour to coincide with the time of year which sees vast numbers of wildlife migrating across the vast African plains. This mass migration typically occurs from late June to October.
As has been mentioned, there are several things which need to be taken into consideration. For this reason, we strongly recommend contacting our customer service department if you need help in determining the best time to travel. Our travel specialists really are experts in the field, and they will be more than happy to help determine exactly when the best time to travel is, based on your own personal needs and requirements. Remember, at Egypt Tours Plus, we are never more than just a phone call away.