Luxury Egypt tours are your passport to five star luxury accommodation, comfortable private transfers, private excursions; exclusive access to certain sites, and gourmet dining opportunities. These amazing luxury trips to Egypt are the ultimate way to enjoy a journey of discovery through one of the world's most famous lands. Egypt luxury tours are all about the moments – and memorable experiences that you will be able to cherish forever!
Note: All our Egypt travel packages include full-service from the moment you arrive until the time you depart.
Design Your Custom Luxury Egypt Tour Package
Explore Egypt your way by selecting only the attractions you want to visit
Learn more about luxury Egypt tours here...
Private Luxury Egypt Tours – When Only the Private Tour Will Do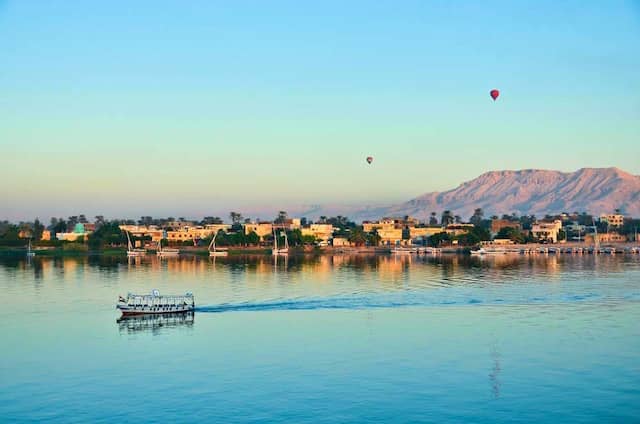 Luxury Egypt tours are for those who will only accept the best. Some people dream of a luxury tour in an exotic locale, while others dream of a holiday full of art, history and beautiful scenery. Those who book their luxury trip to Egypt with us can have all of those things, and even more!
The first thing that comes to the minds of many when thinking of Ancient Egypt is the ancient history and the pyramids, but in reality Egypt is much more than that. It is a diverse country filled with varying landscapes, activities and terrain. It is a land that truly combines the best of the old with the new. If you have considered taking a trip to this fascinating land, there are many Egypt luxury tour options available to you.
In order to enjoy the magic and rich beauty of Egypt, a fully customizable tour itinerary is essential. At EgyptToursPlus.com we are travel specialists who specialize in providing private luxury tours that include professional airport assistance, airport transfers and private guides. We also appreciate the importance of flexibility, so all of our tours, including our luxury ones can be customized to meet your needs, desires and requirements perfectly.
More Than 205,000 Dream Vacations Brought To Life
Whatever you have dreamed of, we can help turn it into a reality by designing your own private luxury trip to Egypt based on any attractions or themes.
Perhaps you are a history buff and you have long dreamed of seeing the many hidden gems and timeless archaeological sites that are nestled along the banks of the Nile River. We can help you to plan a journey that will introduce you not only to the best historical highlights, but allow you to enjoy the local culture in one of the world's most fascinating destinations.
Find your favorite Egypt luxury private tour above and customize it – if needed. When you book your trip through us, you are booking through a travel company that has been offering epic journeys through Egypt ever since 1955; a Category "A" tour operator that has already sold more than 205,000 high quality Egyptian travel packages.
Combining a Luxury Tour Package with Sahara Desert Trekking
While the historical sites of Ancient Egypt are without a doubt fascinating, there is also so much more to see in Egypt. We also a perfect opportunity to plan luxury Egypt tours based on many other themes.
Has the mighty Sahara Desert always fascinated you? If so, contact us today and allow us to begin planning the necessary travel arrangements for your dream vacation and unforgettable desert safaris. Visit five large oases that are scattered throughout the desert, some of which contain vast olive and date plantations. Take a journey through the Sahara; visit Western Desert; the Black Desert and the White Desert, a natural wonder that has been formed through eons of weather and winds which have gently sculpted the chalk stones into elaborate sculptures.
Nile River Cruises – Luxurious Journeys through an Ancient World
It is often said that Nile River cruises offer visitors the best means to experience some of the very best ancient wonders of Egypt. While all of our cruises come with a good helping of luxury, our luxury cruises really take any trip through Egypt to a whole new level. What many people don't realize, is that it is even possible to book and enjoy their own private cuise along the Nile, and it is actually ar more affordable than what many people might imagine.
While the large river boats can and often do carry scores of passengers, the much smaller Dahabiya river yachts typically only have a few cabins and are limited to only a handful of passengers. The owners and operators of these boats are often willing to proceed with a cruise providing at least two berths have been booked.
Imagine sailing silently along the Nile and having the entire boat all to yourself, with the only other people being friends or family, one of our guides and the crew. Imagine relaxing out on deck with your loved ones, admiring the view as the banks of the Nile slip silently by as you make your way from Aswan to Luxor, stopping only to see some of the best ancient attractions that Egypt has to offer.
Luxury Trips in Egypt: What's On Your Bucket List?
Egypt is living and breathing proof of the ancient civilizations that have thrived in this fascinating land for thousands of years. While there are certainly plenty of historical Egyptian sites to relish and natural wonders to marvel at, there are also a wide variety of urban and cosmopolitan cities such as Cairo, Luxor, Aswan, Hurghada, and Sharm El-Sheikh situated on the Red Sea, or Alexandria on the Mediterranean coast. During your luxury tour, enjoy the opportunity to visit and explore Cairo with your own private guide and your own private driver.
Your opportunities for adventure and excitement in the Land of the Pharaohs are limited only by your imagination. Enjoy a camel ride at the pyramids; visit the Egyptian museum in the heart of Cairo; enjoy an unforgettable luxury Nile River cruise and stand in front of King Tut's tomb in the Valley of Kings at Luxor. Explore Philae Temple; Luxor Temple; Karnak Temple; the Temple of Queen Hatshepsut and more. Go scuba dive around the islands near Sharm el Sheikh or Hurghada, or enjoy the irresistible charm of Alexandria.
Looking for a vacation of a lifetime? A luxury Egypt tour can deliver just what you have in mind. Dive along the Red Sea Riviera or stay in one of the many luxury resorts nestled along the edges of the Sinai Peninsula. The choice is completely yours.
At EgyptToursPlus.com we are committed to providing you with the opportunity to enjoy the sort of vacation you have always dreamed about, and that opportunity is made possible through tours that are flexible, customizable and completely private.
Tailor-Made Luxury Egypt Travel Packages
There are absolutely no limitations when you approach us to fulfill your plans for your dream vacation in Egypt. If you don't find exactly what you are looking for, we will work with you to plan a unique tailor made tour that is based on your own ideas so that you get to enjoy the perfect getaway. Whether you are interested in visiting the best ancient Egyptian sites; relaxing in luxury resorts that are set against a backdrop of breathtaking natural beauty, or or whether you want to experience the country's best natural marvels, we will help you to plan a truly memorable getaway.
Instead of settling for a pre-packaged tour that may or may not include things that interest you, and instead of traveling with people you don't even know, our tour services allow you to create your own private personalized vacation to suit your own interests, budget and schedule. We offer you the flexibility to establish your own luxury tour to Egypt with a wide variety of accommodation options and Nile River cruise options to choose from. We have numerous flexible programs, including numerous day tours that cover the entire landscape of this amazing country. We are also pleased to provide recommendations, assistance and suggestions for your trip to Egypt.
We are available to work out a travel plan together with you, including a suggested itinerary that is tailored to your specific needs. We take pride in being completely flexible. Absolutely nothing is considered too large or small for us to handle. Each inquiry we receive is handled by one of our travel experts, a professional who is dedicated to making our luxury tours as memorable, as comfortable, and as unforgettable as possible.
All of our luxury Egypt tours are private and fully customizable. You really can have your luxury trip to this timeless destination your way when you travel with us. Whether you only want to spend a few days exploring Cairo or the many timeless tombs, temples and ruins of Luxor, or whether you want to enjoy a luxury trip along the mighty Nile River, we can make it happen, with lifelong memories guaranteed.
And, if you really want to take your trip to Egypt to a whole new level, be sure to check out some of our private multi-destination Egypt tours. Contact us now to find out more about our epic range of luxury travel packages or to book one of our amazing Egypt travel packages today.