Egypt and Jordan tours are your gateway to two fascinating worlds. Explore tombs, temples and pyramids in Egypt; sail the Nile and swim in the Red Sea. Travel on to Jordan and visit the Rose City of Petra, a rock carved city frozen in time. Experience the vastness of the Jordanian desert and float your troubles away in the Dead Sea. An Egypt and Jordan combined tour is all about historical sightseeing.
Come find your favorite Egypt and Jordan tour package below and travel through 1000s of years of breathtaking history!
Best Egypt and Jordan Tours 2023-2024
Design Your Custom Egypt And Jordan Tour
Explore Egypt and Jordan your way by selecting only the attractions you want to visit
Learn more about Egypt and Jordan tours here...
Egypt and Jordan Tours – Come Explore the Majestic Wonders of the Ancient World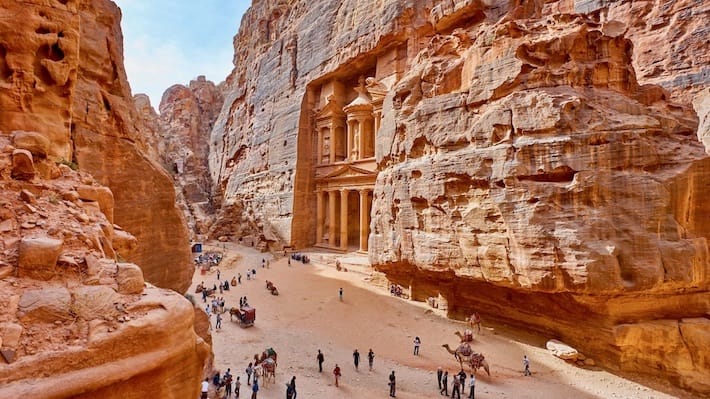 Does the thought of seeing the 7 Wonders of the Ancient  World enthrall you? Our epic Egypt and Jordan travel packages provide you with the perfect chance to explore the major ancient highlights of North Africa and the Middle East.
While the original 7 Ancient Wonders of the World that were named by Herodotus back in the 5th century, all apart from one have largely been destroyed by various causes. One, however, still stands and is largely still intact: the Great Pyramid of Giza in Egypt.
The Great Pyramid of Giza
The Great Pyramid of Giza is the most iconic and most well-known structure of ancient Egypt, standing tall over the desert for thousands of years. The pyramid was built by Pharaoh Khufu in around 2580 BC and is estimated to have taken 20 years to build with around 2.3 million stone blocks. It stands 146 meters (481 ft) tall and its base covers an area of 5.3 acres (21,600 square meters). It consists of three chambers: the King's Chamber, Queen's Chamber and Grand Gallery.
Visitors can actually go inside all three of the pyramids at Giza, but in order to enter the pyramids, you need to purchase separate entrance tickets for each of the pyramids you want to enter. If you are considering booking one of our Egypt and Jordan tours and you want to enter one or more of the Pyramids of Giza, you can let us know at the time when you make your booking and we will include it in the price of your tour package.
Petra in Jordan, which is a UNESCO World Heritage site, has also been named as one of the New 7 Wonders of the World, and for good reason. It is, in our opinion, one of the world's most breathtaking historical sites.
The Rose City of Petra
Petra, also known as the Rose City of Petra and the Lost City of Petra, is a historical archaeological site in Jordan that was carved out of sandstone cliffs. The city dates back to the 6th century BC and was once an important trading post on trade routes from Arabia to Syria. Today it is a UNESCO World Heritage Site and an immensely popular attraction for tourists who visit Jordan.
The most iconic site in Petra is Al Khazneh, or "The Treasury" – a façade carved directly into the rock face that is 40 meters (130ft) high. Other notable sites include several tombs cut into the rocks,
At Egypt Tours Plus, our epic Egypt and Jordan tours provide you with the perfect opportunity to see the legendary Pyramids of Giza, the Lost City of Petra, as well as so many other breathtaking attractions along the way.
Egypt and Jordan Tours for all Tastes and Budgets
Whether you are only looking for a short break, for whether you are looking for a truly immersive experience, you are sure to find the perfect Egypt and Jordan Tour on our website, and if you don't see exactly what you are looking for, our team of travel specialists can work with you to create a tailor-made tour based entirely on your own individual needs and requirements.
Our most basic and most affordable Egypt and Jordan tours last around 8 days and include private guided tours in Cairo and Jordan. During your stay in Cairo, You will typically be taken to see the legendary Pyramids of Giza, the Egyptian Museum, and the city's famous Khan el Khalili Bazaar.
Slightly longer tours may also include to include a visit to the Step Pyramid which was the very first pyramid ever built by the ancient Egyptians. Depending on which package tour you book, your itinerary may also include some sightseeing in two of Cairo's most fascinating districts: Coptic Cairo and Islamic Cairo, where you will visit famous landmarks such as the Hanging Church and the Cairo Citadel.
Once you arrive in Jordan, you can look forward to more breathtaking sightseeing tours that will see you visiting some of the country's top attractions, including places like the ancient city of Petra, Mount Nebo and the Dead Sea.
Egypt and Jordan Tours with Nile River Cruises
Nearly all of our Egypt and Jordan tour packages that have a duration of more than 10 days also include a five-star Nile river cruise. Enjoy private tours in Cairo that include your own professional tour guide, driver and vehicle. After 1 or 2 days of sightseeing in Cairo, we then fly you to Aswan or Luxor for a magical cruise on the River Nile. The Nile cruise ships which we book our clients onto are akin to luxurious hotels, so your comfort and satisfaction are guaranteed.
Our Nile River cruises include daily on-shore excursions with a professional egyptologist guide who will explain all about the fascinating ancient history of the various sites you visit. During your cruise, you can look forward to seeing some of Egypt's most cherished ancient sites, including:
Luxor Temple
Karnak Temple
Queen Hatshepsut's mortuary temple
Valley of the Kings
Philae Temple
The Temple of Horus
The Kom Ombo double temple complex
The Colossi of Memnon
After your Nile River cruise ends, we fly you back to Cairo where you will spend one last night before traveling on to Jordan. The sites which you will visit during your stay in Jordan will naturally depend on which travel package you choose. However, all of our Egypt and Jordan tours include some leisure time at the Dead Sea and a professionally guided tour at the ancien Nabatean City of Petra, a place of indescribable beauty and certainly one of the world's most iconic wonders.
Enjoy a Relaxing Beach Holiday
If you are the sort of person who doesn't want to spend every day sightseeing, why not consider booking an Egypt and Jordan tour that also includes some leisure time at a place like Sharm El Sheikh on Egypt's Red Sea coast. Not only does this part of Egypt have spectacular sandy beaches, but it is also home to some of the world's of finest dive sites thanks to an abundance of pristine coral reefs and a mind-boggling variety of marine life.
If you are a scuba diving or snorkeling enthusiast,  visiting a few of the coral reefs along this stretch of Egypt's coastline is an absolute must.
Travel Egypt and Jordan Your Way with Customized Tours
Our Egypt and Jordan tours are completely flexible and customizable, allowing you to begin your trip at any point and include any attraction that interests you. Perhaps you will decide to begin your adventure in Cairo, where you can soak up the local culture, shop in the bustling bazaars and rest up before you begin the next leg of your journey, such as touring the Giza Pyramids.
On the Giza Plateau, which faces Cairo and is situated in the west bank of the Nile, you will find the three pyramids; Cheops, Mycerinus and Chepren as well as the guardian Sphinx.
While the pyramids are certainly considered to be one of the most popular Egyptian attractions in the country, there are also many other options and attractions to consider as well. This is the beauty of planning a private, customized tour; you can enjoy the freedom to design your tour to be exactly the way you want it to be.
You might choose to visit the world famous Egyptian Museum or the new Grand Egyptian Museum at Giza which is home to the largest collection of ancient Egyptian artifacts in the world, including a quarter of a million antiques which date back some 5,000 years. Have you always been fascinated with the boy king, Tut-Ankh-Amun, more often referred to simply as King Tut? If so, now is your opportunity to see his mummy by including a visit to the Valley of Kings at Luxor.
The tomb of Tut-Ankh-Amun is open to the general public although visitors are required to purchase a separate ticket if they wish to enter his tomb and see his mummy.
Luxurious and Private Egypt and Jordan Tours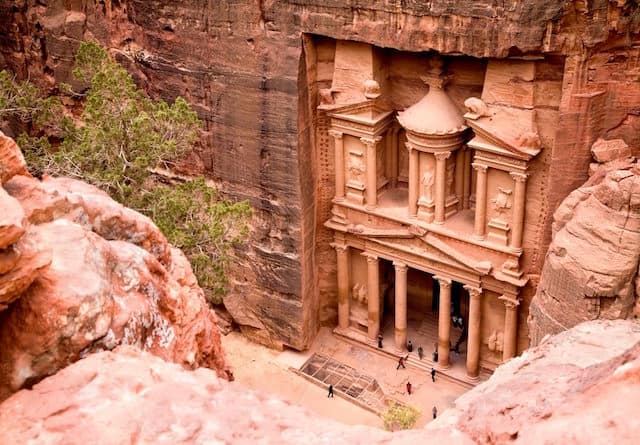 Ready for a relaxing and luxurious getaway? If so, allow our expert travel advisors to custom design a tour for you; where you can visit Cairo, Aswan, Luxor and other sights rock-hewn Abu Simbel Temples which wereconstructed during the reign of Ramses II.
For the best and most unforgettable experience, you should definitely consider booking a luxury Egypt and Jordan tour that includes a Nile cruise. This will ensure that you get to enjoy the rich history of these two breathtaking destinations while traveling in the lap of luxury.
Include any Tourist Attraction You Like in YOUR Tour
No matter what it is that interests you, it is easy to tailor a tour to meet your own specific interests. Include a trip to Luxor to see the Valley of the Kings and Queens, where you will find some of the most important tombs of the ancient world, including those of Ramses III, Nerfertiti and Tut-Ankh-Amun. The Necropolis of Thebes and the temple of Queen Hatshepsut, who was one of the few women to ever rule Egypt, are also located in the Valley.
Do you have other ancient sites and monuments in mind that you would like to visit during your trip? Don't worry, we can add all of the sites you wish to visit to your itinerary so that you get to enjoy an Egypt and Jordan tour which really is 100% perfect for you.
Immerse Yourself in Ancient Egyptian and Jordanian Culture
Egypt and Jordan tours packages will also allow you the opportunity to completely immerse yourself in the history and culture of the area with a visit to the capital of Jordan, which is a unique blend of both the ancient and the modern.
As one of the oldest cities in the world to be continuously inhabited, Amman in Jordan is an excellent stepping stone to visit the Dead Sea, Petra or the Wadi Rum. In the Greek Orthodox Church of St. George, take advantage of the opportunity to view the earliest original surviving map of the Holy Land, which dates back to 560 A.D.
Not far away is the holy district of Mount Nebo, which is also the site of Moses' tomb. Look across the Jordan Valley and the Dead Sea to the church spires in Jerusalem.
Conclude your Egypt and Jordan tour with a stop at Petra with its palaces, tombs, treasury and temples, or even Kerak, the hilltop fortress that dates back to the 12th century and features towers, galleries, ramparts and chapels harkening back to the age of the Crusaders.
Egypt, Jordan and Beyond
Want and even bigger, better and more thrilling vacation? Why not add another fascinating destination to your Egypt and Jordan adventure. Whether it's a day trip from Amman to Jerusalem, or whether it's a 4,5 or 6 day stay immersed in the opulence of Dubai, soaking up the fesinating cultural heritage of Morocco's imperial cities, or embarking on a journey through the timeless history and natural beauty of Turkey, Egypt Tours Plus can make your Egypt and Jordan tour even better than you could possibly imagine.
Why Book Egypt and Jordan Tours Through Us?
Because with more than six decades of experience behind us, and with nearly half a million tours already sold, we can guarantee excellent service from beginning to end and a vacation which you will well and truly never forget. Our team of highly experienced English speaking representatives, professional guides, and experienced drivers will ensure that you can cast all your troubles aside, and focus entirely on enjoying a holiday of a lifetime.
And, with four and five star hotel accommodation and five star Nile River cruises, you can be sure that your stay in Egypt and Jordan will be as comfortable as it possibly could be.
Egypt and Jordan Combined Tours Your Way!
As you can see, there are many different options and choices available for planning the perfect adventure with our high quality private guided Egypt and Jordan tours. And, if you cannot find a travel package on our website that suits your needs and requirements perfectly, simply get in touch with us to discuss your travel requirements with us and we will do everything we possibly can to ensure that you end up with a vacation package which is well and truly perfect fit for you in every possible way.
At Egypt Tours Plus, all of our Egypt and Jordan tours can be customized in any number of ways. Absolutely everything is possible. You can enjoy even greater freedom with our tailor-made tours which allow you to design your own travel itinerary with the help of our travel specialists. You choose which attractions you want to see and what activities you would like to enjoy – your budget, your schedule, your vacation!
If you would love to enjoy and unforgettable journey through Egypt and Jordan, we can help, and with nearly half a million tours already sold, you can be sure that your travel dreams will be in good hands.
Contact us now to find out more about our Egypt and Jordan tours or to begin planning your epic and totally flawless once in a lifetime vacation today.