Prepare yourself for a journey of a lifetime with carefully structured 5 day Egypt tours. Five days might not be a very long time to explore a country as fascinating as Egypt, but choosing the right Egypt tour package can see you experiencing the very best this ancient land has to offer.
From remarkable sightseeing opportunities in Cairo; Aswan and Luxor, to unforgettable Nile River cruises that will take you through the country in the footsteps of the ancient Pharaohs. Find your dream 5 day Egypt itinerary here!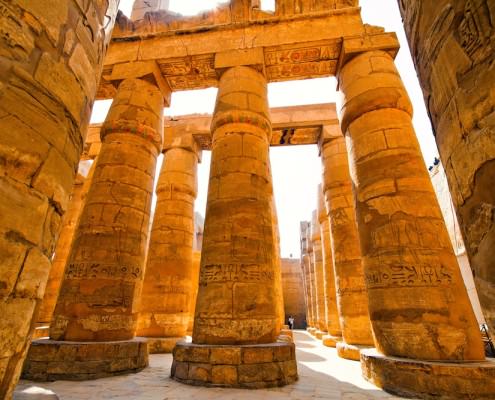 Discover Ancient Egypt with a quality 5 Day Cairo Luxor package tour that includes visits to the most famous pyramids, tombs, temples and monuments.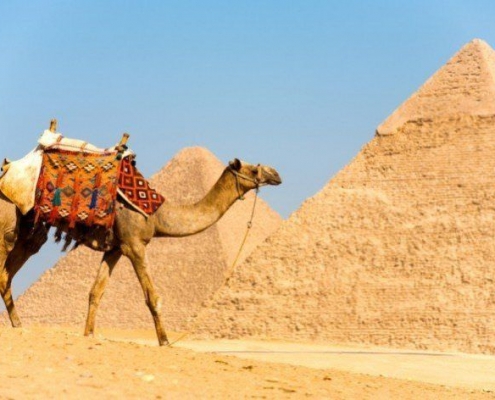 Discover ancient history; explore the Great Pyramids and Sphinx; visit the Egyptian Museum and shop until you drop - an unforgettable 5 Day Tour of Cairo.
Surrender yourself to 5 days of luxury; 5 days of splendor and 5 days of unforgettable experiences in the Ancient Egypt: 5 Day Nile Cruise Luxor to Aswan.
Click here to learn more about our 5 day Egypt tours.
Breathtaking 5 Day Egypt Tours
While it is of course impossible for anyone to visit all of Egypt's ancient attractions in only five days, our carefully planned 5 day Egypt tours offer visitors the chance to see several of the country's most iconic sites, both in Cairo and beyond. Explore the historical wonders in and around Cairo with one of our highly experienced Egyptologist guides, or enjoy an unforgettable Nile River cruise from Luxor to Aswan during which you will get to visit some of the Nile Valley's most treasured monuments.
5 Day Nile Cruises from Luxor to Aswan
Most people, who have experienced a Nile River cruise, only have one complaint: they wish their cruise could have lasted a lot longer. Because these cruises are so short, great care has been taken to ensure that passengers get to visit and explore only the very best ancient attractions in this fascinating part of the country, including Valley of the Kings; Queen Hatshepsut's mortuary temple; Karnak Temple complex; Luxor Temple, and the wonderful Temple of Philae.
Click here to see all 5 Day Nile Cruise Itineraries.
5 Day Cairo Tour Packages
Our 5 day Egypt tours that include a Nile cruise are fabulous for people who have already visited the ancient sites located in and around Cairo. However, if you are longing to see the Great Pyramids of Giza; the giant Sphinx, and a whole lot more, then you should consider one of our other 5 day Egypt itinerary packages such as our 5 Day Tour of Cairo, or our 5 Day Cairo Luxor Tour Package.
Our Cairo Luxor tour package will ensure that you see some of the best sites in and around Cairo, including the pyramids, but you will also get to visit the same sites in Luxor that you would if you were to book a Nile cruise package.
Domestic Travel
All transfers to and from hotels and airports are done in modern air-conditioned vehicles, together with one of our drivers and one of our dedicated tour representatives. It is also worth noting that some tours include the cost of domestic flights, while others do not. For example, our Nile cruise from Sharm includes a flight from Sharm to Luxor, and a flight from Aswan back to Sharm. Likewise, our Cairo Luxor tour includes a flight from Cairo to Luxor, and a flight back to Cairo.
Packages such as our 5 Day Cruise from Luxor to Aswan do not include travel to Luxor, or onward travel from Aswan, but one of our tour representatives will be happy to customize your 5 day Egypt itinerary so that it does include domestic travel if you request it.
Board and Lodging
Regardless of whether you will be spending your nights in a hotel, or whether you will be spending them on board a river cruise ship, you will enjoy 5-Star luxury and comfort. We only use the very best hotels and the very best cruise ships so that all our clients can enjoy the sort of Egypt vacation they deserve.
All Nile River cruises are on a "Full-Board" basis, which means all your meals are served on board your ship, and are included in the cost of your tour. Other 5 Day Egypt Tours that don't feature a cruise don't include "Full-Board" so it is best to check your preferred itinerary to see which meals are included in the price and which ones are not.
NOTE: All excursions during a Nile cruise are group tours. Our other 5 day Egypt tours which don't include a Nile cruise, are private guided Egypt tours, in which case you will have your own dedicated driver and tour guide/tour rep.