What to pack for Egypt? What should you take with and what should you leave behind? Just remember that while Egypt is indeed a sophisticated and very modern country where almost anything you need can be purchased, there are a few important exceptions… things you will probably want to bring with you.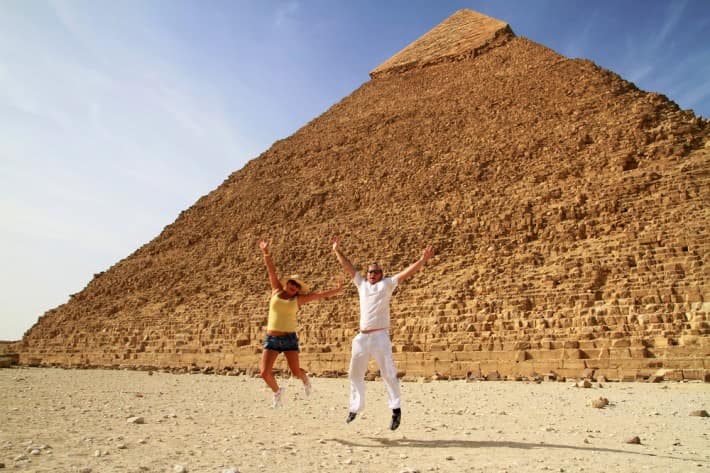 Don't be Tempted to Over-Pack for Your Trip
Many people, regardless of where they travel to, tend to pack far more than they actually need to for their trip. Quite often, many of the things which they pack into their luggage are things which they end up not needing or using. If you are going to spend your entire vacation in one location, then it probably won't matter how much luggage you have. On the other hand, if you are going to be traveling around the country, do you really want to be lugging around a ton of luggage?
Whether you are an independent traveler traveling solo, or whether you have booked a high quality tour package, excessive luggage can be a really unpleasant and unnecessary burden. It's not uncommon to see backpackers in Egypt with perspiration pouring off them as they struggle with to lug around their backpacks in the heat. If truth be known, many of them could manage perfectly well with half as much luggage.
Another thing to keep in mind when you are packing is the fact that you will more than likely buy quite a few things while you are on holiday, so you need to make sure that you some space left in your bags so that you can take all those things back home with you. Anyway, let's take a look at a few tips on how to pack for Egypt.
To the seasoned traveler the following "Egypt packing" list may seem almost too basic, but if this is your very first visit to Egypt, it should come in handy.
Contending with the Egyptian Climate
Egypt typically has hot and sunny weather all year round. While most visitors love the warm weather in Egypt, day time temperatures, even during the winter months, can often be a lot higher than they are back in their home countries. With this in mind, shade should be at the very top of your "what to pack for Egypt" list.
Shade is always crucial given the hot Egyptian sun. To this end, you should definitely pack in a wide-brimmed hat for sun protection. For women travelers in Egypt, this has another advantage since you will be more accepted when touring old churches and mosques if you wear some type of head covering.
Female travelers should also consider bringing scarves or similar apparel, not only to protect themselves from the sun, but for covering their hair and shoulders when visiting religious sites where such attire is expected. When it's really hot, you can also soak a plain cloth hat or scarf in water to help keep your head cool.
Clothing for Him and Her – What to wear while you are in Egypt all comes down to personal choice. However, if you want to be as comfortable as possible while you are out and about, then your choice of clothing is actually quite important. With average temperatures being what they are, the last thing you want to be doing is wearing clothes that make the weather feel even warmer than it already is.
For men and women alike, we recommend wearing white lightweight cotton clothing. Some loose fitting cotton long pants and a long-sleeved cotton top is ideal. This sort of clothing is not only comfortable, but it also offers excellent protection against sunburn. Naturally, if you are not too concerned about sunburn, you could opt for short pants and short-sleeved tops instead. As mentioned earlier, if you are a woman you should refrain for trying to enter mosques if or when you are wearing short pants.
By the way, if you are a woman and you are concerned about what to wear when visiting a beach or while swimming in pools at hotels or resort, you need not be. You can wear the same bathing suit you usually wear in your own country. Just keep in mind that women are not allowed to go topless on any of the country's beaches.
Sunscreen Lotion – Sun burn is a major concern for many tourists in Egypt, and quite rightly so. Sun burn can easily wreck your vacation and yet it is something which many travelers choose to ignore, only to regret it later. Many tourists have their long awaited vacations virtually ruined after only one day of sightseeing, simply because they failed to realize and/or appreciate just how harsh the Egyptian sun can be.
As one would expect, you can buy sun screen lotion everywhere in Egypt, but if you are wondering about what to pack for Egypt, then why not include a bottle or two just in case? After all, it's one less thing to worry about when you arrive. Along with some suitable clothing, a good sunscreen lotion can go a long way in helping you to avoid unpleasant sunburn.
Sunglasses – Whether you are planning to book a Nile cruise package, or whether you are wanting to experience a classic Egypt tour, you will find yourself coming face to face with shimmering landscapes. Regardless of what any guide books say, you WILL need a good pair of sunglasses with an ultra-high UV rating. Again, while these may be purchased in Egypt, it might be wise to bring your own with you when you visit.
Canteen or Water Holder – Don't forget that much of Egypt is desert and water is scarce. Because staying hydrated is critically important for your comfort, you will want be sure you carry water with you when you are out and about. Of course, bottled water is readily available, and even supplied free of charge with some Egypt vacations, but having a good quality canteen or insulated water bottle can make a world of difference. Once again, you can purchase a good water bottle when you arrive in the country, or you can bring one with you.
Basic Travel Accessories for Your Trip
Guidebooks – Yes, it is fun to just roam about and explore new areas, but when you travel to an extremely "foreign" environment such as Egypt, you run the risk of missing out on some of the most fascinating sites, and for this reason, it's highly recommended that you purchase a good guidebook. If you are booking your Egypt tour package through us, you will have your own personal guide with you when you're sightseeing, so in a sense, you won't really need a guidebook.
However, it is great fun to look through a good guidebook when you're sitting down and relaxing, and of course you can check out all the other places you've yet to visit. Two very good ones are "The Rough Guide" and "Lonely Planet." These too can be found in Egypt, but why not be sure, and save some time, by picking one up before you leave for your trip?
Cameras – No doubt a camera will be at the top of your "what to pack for Egypt" list, but there are a couple of things you should take into consideration. For instance, if you intend to take photos inside tombs, you will need a camera that is capable of photographs in dimly lit environments, without the use of a flash. The reason for this being, you are prohibited from using a flashlight in many ancient monuments in the country
Also, do not underestimate the mammoth size of many Egyptian monuments – they are truly monumental. Tourists are often disappointed with their regular camera lenses. A good wide-angle lens will be an excellent accessory, and of course a video camera will provide you with wonderful souvenir footage of your trip. However, please keep in mind that filming inside some museums, monuments, and tombs is prohibited.
Comfortable Footwear – This is probably one of the first things most people will tell you to bring when you ask about packing for Egypt. Most tourists will be doing a considerable amount of walking, and shoes should well and truly be comfortable.
Unlike leather shoes for mountain walks and such, walking shoes should be able to "breathe", and should ideally be made from lightweight nylon or some other similar fabric. Tennis shoes or some other sporting shoes are generally good for this.
In many pictures and postcards that show Egyptian riding their camels through the desert, once can't help noticing that most of them are wear open sandals. What one needs to remember is that those Egyptian are riding camels, and most of them do very little walking, unlike most tourists.
Power Adapters – Egypt uses a 220 volt power supply system, and plugs are two-prong, rounded. Depending on which country you come from, you might or might not need a power converter and/or an adapter. To avoid unnecessary inconvenience, it's recommended that you verify this prior to packing for your Egyptian travel adventure. If you don't require a power converter, Then you can simply buy a universal travel adapter.
Medication – When you are trying to decide on what to pack for Egypt, you should never forget to pack your prescription medicine! It may be available in Egyptian drug stores, but it may be called by a different name. So, to avoid confusion and problems, it's recommended that you bring any drugs you will require with you.
Fortunately, there is no problem bringing prescription medication into Egypt. It is also more convenient to bring your favorite non-prescription medications along. Although you can find non-prescription medications such as aspirin or heart burn medication, you might not find your favorite brands.
Also, don't forget to pack some Imodium. Of course, no one wants to or expects to contract "Tut's Trot" or "Mummy's Tummy", but just in case, having some Imodium or other anti-diarrheic with you is a very good idea.
Travel Alarm – While most hotels will happily give you a wake-up call in the mornings, many don't bother, or they simply forget. If you aren't travelling with a group, a travel alarm will come in very handy, not only for daily tours, but also during transit from one part of the country to the next.
Sewing Kit – Some of the larger hotels, as well as some of the better-equipped smaller hotels, might supply a sewing kit in your room, but don't count on it. Most Egyptian tours are relatively long, and it is not unusual to lose a button here or there as you clamber through pyramids and tombs.
Alcoholic Beverages – You will find many very good beers and wines in Egypt, and they are easily affordable. In fact, many visitors consider Egyptian beers to be excellent. However, harder alcoholic beverages such as whiskies and bourbons can be quite hard to find, and very expensive if you do. You may bring up to two liters of liquor into the country, and you may buy additional liquor at a reasonable price at the tax-free shop prior to leaving the airport.
Why would you want to stock up on hard drinks? Well, if for example you have a taste for Jack Daniels, you can expect to pay as much as $15 or more for a single shot.
Cigarettes – Cigarettes are available and inexpensive, but only in very limited variety. While you can purchase "American" cigarettes almost anywhere, usually what you will find are Egyptian-manufactured cigarettes. A lot of tourists complain that Egyptian cigarettes are noticeably harsher and/or stronger than the ones sold in their home countries. Also, just because you are buying Marlboro, it does not mean it will be the same Marlboro that you would buy in the U.S. or Europe.
Extra Bag – If you are the type who likes to take home souvenirs, you should consider bringing an extra bag when you visit Egypt. Just stuff it inside another bag before you leave home, and then use it to carry back souvenirs. Bags are readily available in Egypt and also very cheap, but you will usually find that they are not good quality. Of course you can get good quality bags, but for a price.
What to Pack for Egypt – The Essentials!
As we have already discussed, your prescription medication; camera and sunglasses should be right at the very top of your "what to pack for Egypt" list. Everything else that has been mentioned can be purchased in Egypt should you prefer to travel light.
Last but not least, bring along your good humor and a positive attitude. For many, and even those who have done extensive traveling in the U.S. or Europe, Egypt will be very different. You will find that attitudes are more "laid-back," time is less important. When you read about this it all sounds wonderful, but as many travelers have discovered, it can also be annoying on occasions. Also, some Egyptians can be a very annoying, especially when selling their wares or their services at tourist hot-spots.
Enjoy Your Vacation in Egypt Your Way!
Explore the best of Egypt. Come find and book your Egypt dream trip today.
Design Your Custom Egypt Tour
Explore Egypt your way by selecting only the attractions you want to visit
Country Specific Egypt Tour Information
Looking for more information before you decide? We have a specific international guide covering the most important points you need to be aware of before traveling to Egypt.