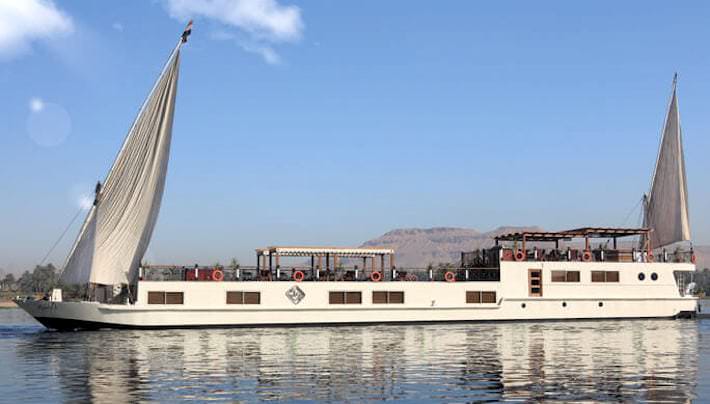 Our luxury 5-Day Merit Dahabiya Nile River Cruise Itinerary is the perfect solution for people who want a more personalized Nile River cruise. With our Merit Dahabiya cruise, it is all about you and the handful of other passengers on board. With only the sound of birds and the wind in the sails, a Dahabiya cruise provides you with absolute peace and tranquility as you sail silently from one ancient treasure to the next.
A trip through the Nile River Valley on board the Merit Dahabiya is well and truly a trip you will never forget. Unforgettable sightseeing; VIP service; artfully prepared meals, and a range of modern amenities all come together seamlessly to create a flawless travel experience in every way.
NOTE: Cruises Depart from Luxor every Saturday
Nile River Cruises
Didn't find the Dahabiya Nile Cruise you were looking for? See Sonesta Amirat Dahabiya Nile Cruise alternatives below or customize your Egypt trip here.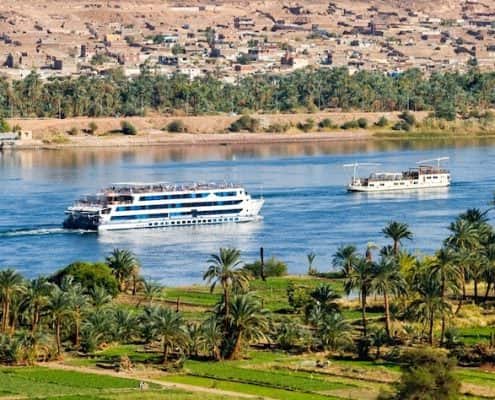 https://www.egypttoursplus.com/wp-content/uploads/2017/07/Nile-Cruises-from-Cairo-to-Luxor-and-Aswan.jpg
474
710
Amar Mahallati
https://www.egypttoursplus.com/wp-content/uploads/2019/06/egypt-tours-plus.png
Amar Mahallati
2017-07-01 03:21:02
2019-09-26 13:36:31
Nile Cruises from Cairo to Luxor and Aswan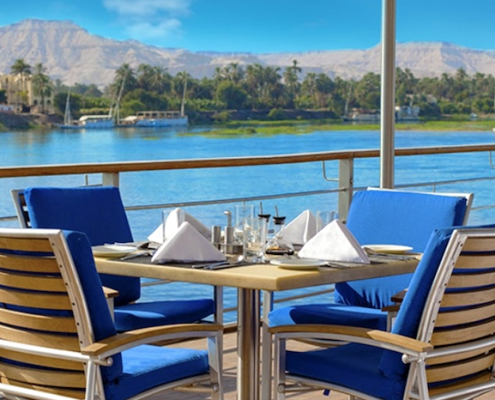 https://www.egypttoursplus.com/wp-content/uploads/2016/12/Nile-Cruises-from-Luxor-to-Aswan.png
466
710
Amar Mahallati
https://www.egypttoursplus.com/wp-content/uploads/2019/06/egypt-tours-plus.png
Amar Mahallati
2017-03-26 11:43:57
2019-09-26 13:44:53
Nile Cruises from Luxor to Aswan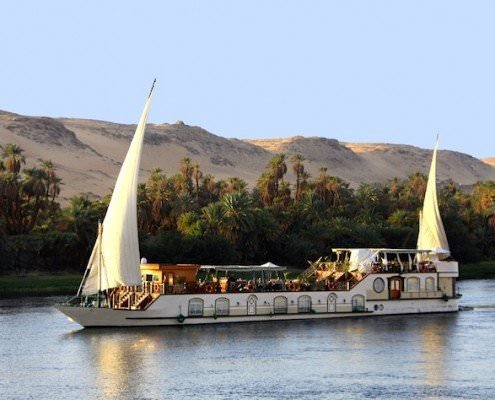 https://www.egypttoursplus.com/wp-content/uploads/2014/06/Dahabiya-Nile-Cruises.jpg
474
710
Amar Mahallati
https://www.egypttoursplus.com/wp-content/uploads/2019/06/egypt-tours-plus.png
Amar Mahallati
2017-03-23 06:55:22
2019-09-10 08:41:54
Dahabiya Nile Cruises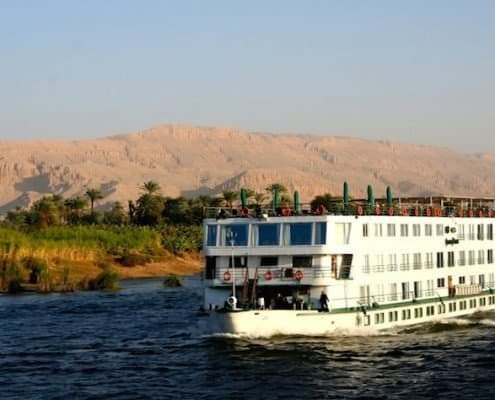 https://www.egypttoursplus.com/wp-content/uploads/2014/06/Luxury-Nile-Cruises.jpg
474
710
Amar Mahallati
https://www.egypttoursplus.com/wp-content/uploads/2019/06/egypt-tours-plus.png
Amar Mahallati
2016-12-04 11:51:07
2019-09-26 13:37:08
Luxury Nile Cruises
https://www.egypttoursplus.com/wp-content/uploads/2018/08/Merit-Dahabiya-Nile-Cruise-1.jpg
512
700
Amar Mahallati
https://www.egypttoursplus.com/wp-content/uploads/2019/06/egypt-tours-plus.png
Amar Mahallati
2016-12-27 07:05:18
2019-10-04 07:59:52
5 Day Merit Dahabiya Nile River Cruise Itinerary: Luxor-Aswan