4-Day Nile Cruises – Find the 16 Best Nile River and Lake Nasser Cruises in Egypt
Leave the bump and grind of daily life behind you with one of our spectacular 4-day Nile cruises. All our river cruises and lake cruises feature only the very best cruise boats, thereby ensuring that you get to enjoy a 5-star world-class experience from beginning to end.
Enjoy onboard entertainment; delicious meals; luxurious accommodation, and daily sightseeing tours to ancient monuments that serve to remind us of one of the world's most fascinating civilizations. Visit Egypt's most treasured ancient ruins, timeless temples and royal tombs. Explore the treasures of the Nile River Valley in true comfort and style.
Design Your Custom Egypt Tour
Explore Egypt your way by selecting only the attractions you want to visit
Frequently Asked Questions
Are Nile cruises safe?
Nile cruises are very safe, with protection provided by the Egyptian government. Security has also been beefed up at all the attractions that passengers visit during the course of their cruise.
Is a 4-day Nile cruise worth it?
Absolutely! A 4-day and 3-night Nile cruise is very affordable and great for people who don't have much time to spare. You still get to see nearly all the sites you would see with a longer cruise.
What to wear on Nile cruise?
On most Nile cruises you are free to wear whatever you want. However, on some cruises you are expected to wear long pants or a long dress in the dining area, especially in the evening.
How to book a Nile cruise?
The best way to book a Nile cruise is via a reputable Egypt tour operator. They should have several cruises listed on their site for you to browse through, and they will walk you through the process.
How much to tip on 4-day Nile cruise?
As a general rule, you should tip the ship's crew about $10 p/person per day. These tips are shared between all on-board staff. You should also tip your Egyptologist about $10 per day.
What to expect on a 4-day Nile cruise?
Expect a truly unforgettable experience with indescribable sightseeing at some of Egypt's most cherished ancient monuments. There is no better way to see Egypt's wonders.
Click here to learn more about our 4-day Nile cruises.
4-Day Nile River Cruises from Aswan to Luxor and from Luxor to Aswan
It is often said that no visit to Egypt is complete if it does not include a Nile River cruise. Thousands of years ago in Ancient Egypt, very few people, including the Great Pharaohs, relied on overland travel, Instead, they sailed from one place to another on the Nile River in Egypt.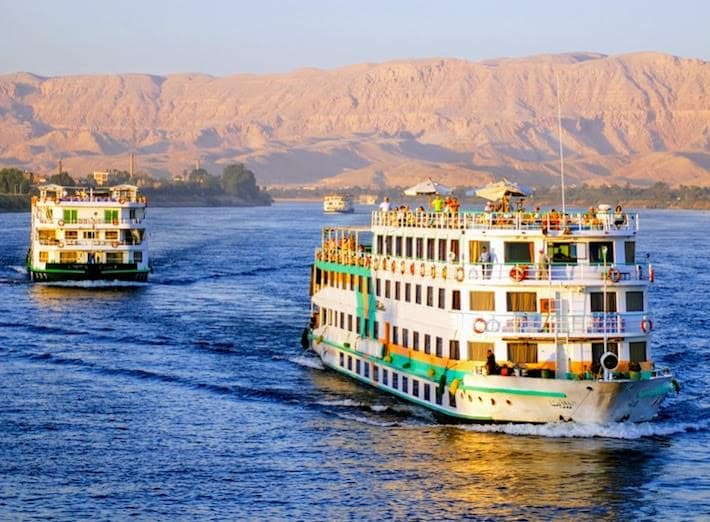 Following in the Footsteps of Pharaohs
Now, thousands of years later, modern and beautifully appointed Nile cruise ships are following the same routes as the pharaohs did. With one of our luxury cruises, you too can follow in their footsteps as you sail from one magnificent ancient Egyptian attraction to the next in absolute comfort and style.
4 Days and 3 Nights on the Nile River with Lifelong Memories Guaranteed!
Our 4-day Nile cruises have been painstakingly designed and structured to ensure that you get to see and explore as much as you possibly can in such as short space of time. Most of our 4-day Nile cruises start at Aswan, and they terminate at Luxor. Some exceptions would be our 4-Day Lake Nasser cruises, and certain other cruises, such as our 4-Day Aswan to Esna Dahabiya cruise.
Regardless of which Nile cruise you choose, you can be sure that you will cruise the Nile in the lap of luxury. All cruises include full board and lodging on whichever cruise ship features in your chosen tour package. From luxuriously decorated cabins and suites to world-class cuisine, your comfort and satisfaction are guaranteed.
4-day Nile River and Lake Nasser cruise packages are the perfect choice for people who are traveling on a tight budget, or for people who only have a limited amount of time to explore Egypt.
Professional Guided Tours and Excursions
Three nights and four days may not seem like a long time, but it long enough to ensure that you get to see many of Egypt's best historical attractions. All tours/excursions during your cruise are small group tours with one of our expert Expert guides accompanying you to make sure that your visits to these ancient sites are more rewarding than ever.
4-Day Nile Cruises: Explore Ancient Egypt
4-day Nile cruises sail between Aswan and Luxor with exceptional sightseeing opportunities beginning on the very first day shortly after boarding. Excursions in Aswan typically include a guided tour to three of the area's most prominent historical attractions, including the ancient Temple of Philae. Nearly all of our existing packages also include guided onshore excursions at Kom Ombo and and at Edfu. During these these excursions, you will be taken to see places such as Kom Ombo Temple and Edfu Temple.
Whether your cruise begins in Luxor or ends in Luxor, you can look forward to some more exceptional sightseeing. In most cases you will visit both the West Bank and the East Bank. Both the East Bank and the West Bank are home to many impressive ancient sites, such as the Karnak Temple on the East Bank and Valley of the Kings on the West Bank. Karnak was once an entire city of temples, while Valley of the Kings is an ancient necropolis where more than 60 tombs have been discovered, including the tomb of King Tutankhamen.
4 Days of Lake Nasser Sightseeing
Our Lake Nasser cruises are just as enjoyable and just as affordable as our Nile cruises are. They too include fantastic sightseeing opportunities and are particularly well-suited for people who have already experienced a cruise on the Nile.
Book Your 4-Day Nile Cruise with Complete Peace of Mind
When you book one of our Nile cruise packages, you are booking a tour package from an Egypt Tour operator that has been established since 1955. With experience spanning more than 65 years, and with more than 205,000 tour packages already sold, you can book your chosen cruise package with complete peace of mind.
Easy and efficient Online Booking
Booking your cruise could not be any easier than it is. Simply fill in the inquiry form found on all our itinerary pages, and one of our tour consultants will send you an exact quote, usually within 24 hours. Alternatively, you can book your cruise immediately by using our Live Chat feature, or by calling us on our Toll-Free number.
Book Now, Pay Later – Flexible Payment Terms to Suit Your Budget
Book your 4-day Nile cruise package today and pay later. Cruise reservations can only be finalized and confirmed once your deposit has been receive. If you can't pay your deposit in full, don't worry. One of our consultants will be happy to discuss available payment terms and options with you so that you can enjoy a hassle-free and stress-free travel experience.