Private Nile River Cruises – Elevate Your Egypt Vacation
Take your vacation in Egypt to a whole new level with private Nile River cruises. Explore one of the world's oldest and longest rivers with a unique and unforgettable experience. Cruise along the Nile onboard a Dahabiya yacht, and enjoy some of Egypt's most stunning scenery as you explore ancient breathtaking temples and tombs.
With an array of activities and attractions to choose, private Nile River cruises are the perfect way to explore Egypt's ancient history and culture, for you, your family, a group of friends, colleges or business partners.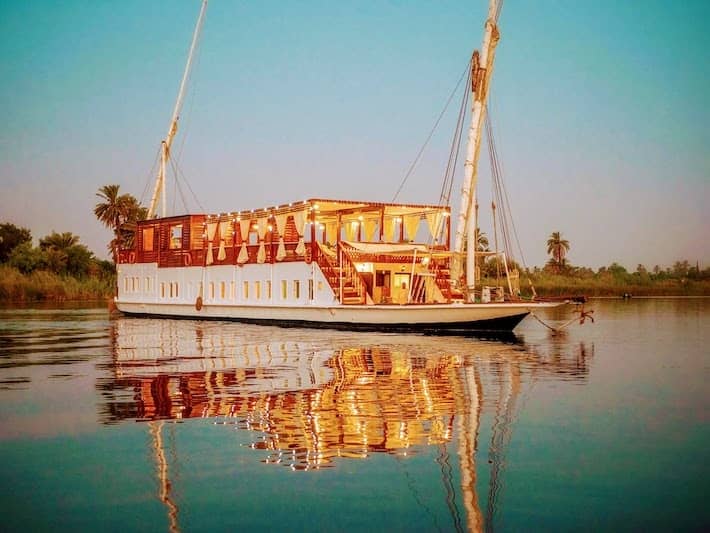 Visit the Best Sites in Cairo Before or After Your Private Nile River Cruise
Before or after your private cruise, you can visit some of the most famous sites in Cairo with Egypt private tours that include your own personal tour guides, drivers, and air-conditioned transport.
Enjoy the vibrant nature of Cairo and explore iconic sites such as the Great Pyramids of Giza, the Sphinx, the Egyptian Museum, Khan el Khalili Bazaar, and more. You can also take optional tours to explore other nearby attractions such as the famous Step Pyramid at Saqqara before heading to Aswan or Luxor for your cruise along the Nile River in Upper Egypt.
Experience the Soul of Ancient Egypt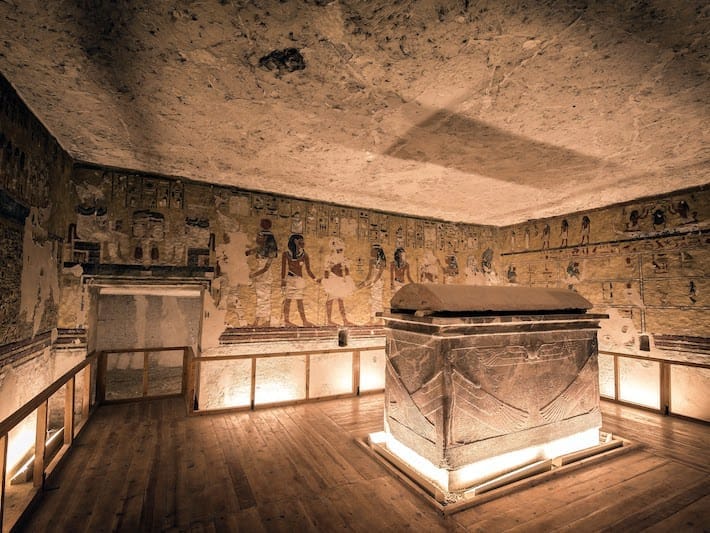 If you are you looking for an unforgettable vacation filled with adventure and a sense of exploration, then you need look no further than booking a private cruise on the River Nile. Private Nile River cruises are the ultimate way to explore one of the world's oldest and longest rivers and the many ancient relics that line its banks in a totally unique way.
Enjoy Egypt's stunning landscapes, explore ancient temples, and then sit back and enjoy the serenity of the river.
You'll have the chance to visit many of Egypt's most breathtaking sites, including places like the Valley of Kings, Karnak Temple, Luxor Temple, Hatshepsut Temple, as well as many other fascinating attractions like Philae Temple in Aswan
Whether you're looking for a romantic getaway, an unforgettable family adventure, or a once in a lifetime holiday with a group of friends, private Nile River cruises are the perfect way to experience the true magic of Egypt.
Experience the Nile River in Style
Experience the beauty of Egypt's most cherished sites from a whole new perspective with private Nile River cruises on board a Felucca or a traditional Dahabiya.
Private Felucca Boats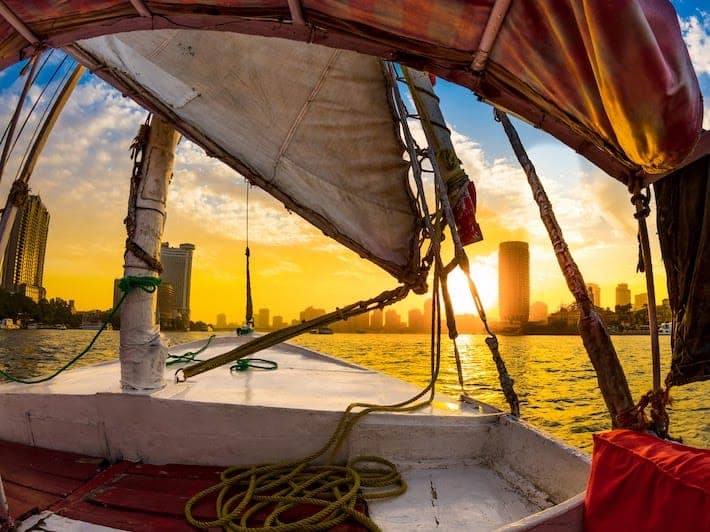 A Felucca is a traditional wooden sailing boat that gives you a truly authentic experience of the Nile. Feluccas are generally very basic will minimal amenities. Meals are typically very basic and in most instances, passengers sleep out on deck under the stars at night.
As you cruise along the Nile, you will be able to admire the picturesque views of the banks and the villages that line the river. The best way to experience the Nile and its many ancient wonders is by way of a Nile River cruise, and a private cruise takes this to a whole new level.
Feluccas may not have much in the way of amenities, but they offer a truly authentic Egyptian experience. They are also the most affordable experience for people who want to enjoy private Nile River cruises.
So, if you're looking for an unforgettable and very affordable way to experience the charm of Egypt, a cruise on a felucca is the perfect option for you.
Private Dahabiya Yachts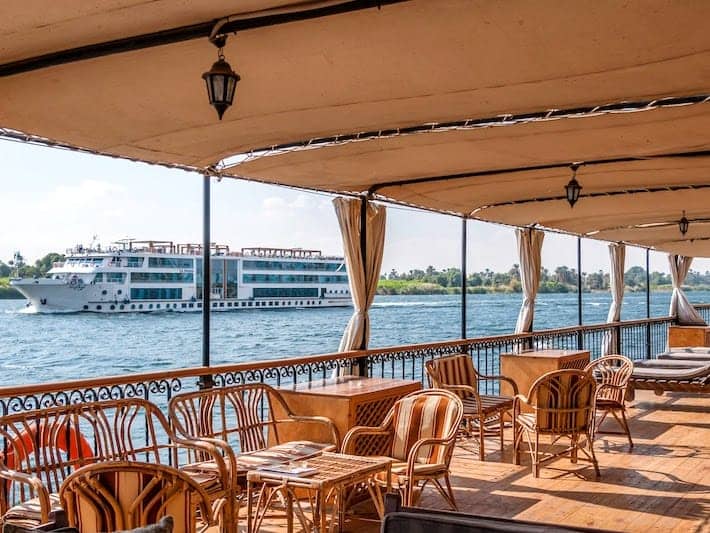 For a lot of travelers, a Felucca cruise is just too "bare bones", and for them, a private Nile River cruise on a Dahabiya yacht would be ideal. A Dahabiya (or Dahabeah) is a traditional Egyptian river yacht. They are far smaller than the large passenger boats and typically only have from 8 to 12 cabins.
Most tourist Dahabiyas have a full-time crew and a resident chef, making them the perfect option for those looking for a more luxurious experience with a healthy dose of privacy. Exploring the ancient wonders of Upper Egypt by way of a Dahabiya yacht really is a magical experience.
Because of their relatively small size, you can book the entire boat for yourself, or for you, your family or friends. Most Dahabiya cruise operators are willing to set sail as long as a minimum of four berths have been booked.
Tourist Dahabiyas are typically equipped with several modern amenities, but not the same amenities you would find on the large Nile cruise ships. For example, don't expect a large swimming pool, a gym, health and spa facilities, and etc.
A private Nile River cruise on a Dahabiya is the perfect way to experience the rich heritage of Upper Egypt in style. While cruising along the Nile with only the sound of the wind in the sails, you can take in the spectacular sights of ancient temples, lush agricultural terraces and small villages, all from the sanctuary of your own private boat.
Dahabiyas vessels provide a perfect mix of luxury, adventure, and cultural exploration for a truly special holiday experience. They are not your cheapest option, but you can be sure that lifelong memories will be guaranteed.
Take an Exclusive River Journey through Egypt's Ancient Sites on a Private Nile Cruise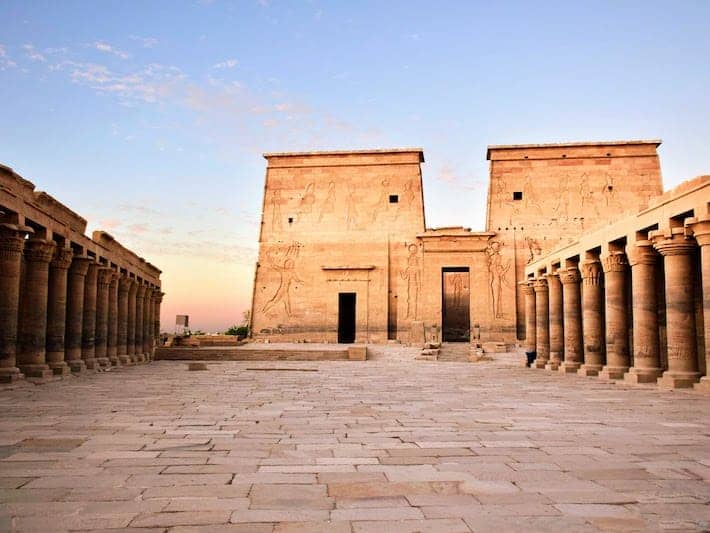 Discover the Top Attractions in Aswan
Aswan is a beautiful city in Egypt located in the south of the country and is home to many amazing attractions, such as the Aswan High Dam, the Philae Temple Complex, and the Unfinished Obelisk. With good quality Dahabiya cruises, you can expect to enjoy guided tours to the following attractions in Aswan:
Discover the Top Attractions in Luxor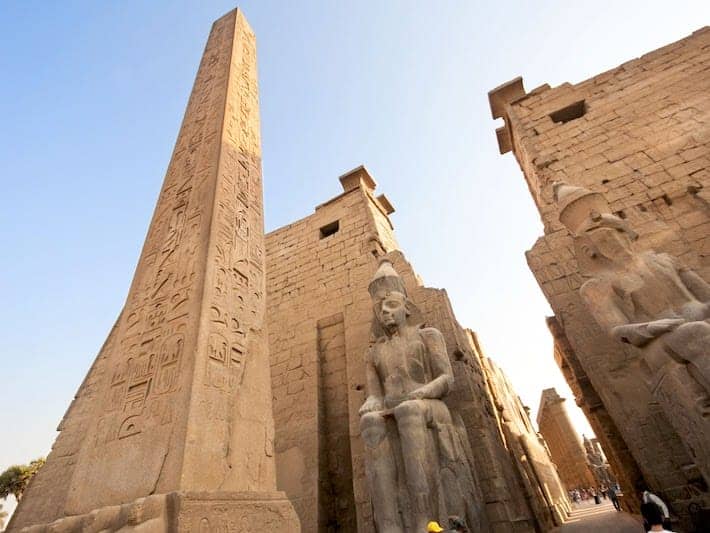 Luxor is known worldwide for its incredible monuments and ancient ruins, which make it one of the top destinations for tourists in Egypt. Here is a list of the top attractions in Luxor which you can expect to visit during your cruise along the Nile:
Visiting these attractions by way of a private Nile River cruise, whether on a Felucca or on a Dahabiya, will give you an amazing chance to explore the area at your own pace.
Visit Kom Ombo Temple
During your cruise, will typically also visit Kom Ombo Temple. Built during the Ptolemaic Kingdom, Kom Ombo Temple has some truly remarkable features. In fact, it is believed to the only twin-temple complex ever built by the ancient Egyptians.
This temple was dedicated to two gods, Sobek and Haroeris. It is a great place to explore and admire amazing ancient architecture. Visitors will also notice that the temple has two entrances with two different sets of stairs. This was so that each god would have his own entrance.
Explore Edfu Temple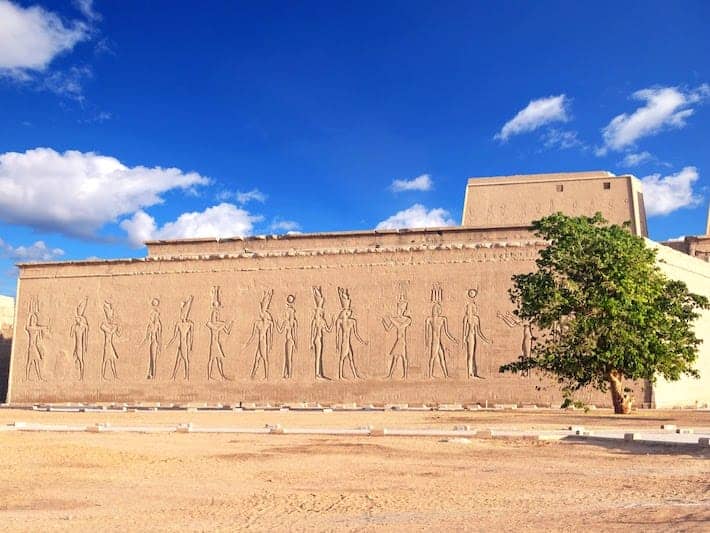 Most good quality cruises will also stop at Edfu where you will visit to Edfu Temple. Located in the bustling city of Edfu, the temple is an incredible example of ancient Egyptian architecture.
This temple was dedicated to the god Horus and it is one of the best-preserved temples in Egypt. The temple's most impressive features include:
The Hypostyle Hall – This hall is filled with columns and is home to some of the most beautiful and intricate carvings.

The Great Court – This is the largest courtyard in the temple complex and is filled with magnificent statues of gods and goddesses.

The Granite Shrine – This shrine is made of granite and is a striking example of ancient Egyptian art and architecture.

The Red Chapel – This chapel was built by Pharaoh Ramses II and is a great place to admire artwork and hieroglyphics.
With a customizable private Nile River cruise, you can also choose to visit the remains of so ancient pyramids that are located about 5 km to the south of the city.
Design Your Custom Egypt Tour
Explore Egypt your way by selecting only the attractions you want to visit
FAQ: Private Nile River Cruises
What types of private river cruises are available?
When it comes to private Nile cruises, there are so many options to choose from! Whether you're looking for a traditional, luxury cruise, or something with a more modern twist, there are plenty of options. Traditional Felucca and Dahabiya cruises usually include a captain and crew who will take you along a set route. Some private cruises will also allow you to customize your itinerary, so you can really make it your own. No matter what kind of experience you're looking for, there's sure to be a perfect private cruise option for you.
What amenities do private cruises offer?
On a tourist Dahabiya, you will find a range of amenities designed to make your journey as comfortable and enjoyable as possible. These include things like a Jacuzzi, indoor and outdoor bar, Wi-Fi, comfortably air-conditioned cabins, and more. However, felucca boats generally have almost no amenities at all due to their small size.
How long are the private Nile River cruises?
Private Nile River cruises typically last for around 4 to 7 nights, depending on the itinerary you choose. That said, there are some cruises that offer options for longer or shorter durations. Generally, the cruises begin in Luxor and end in Aswan or begin in Aswan and end in Luxor. It's best to do some research before selecting a cruise to ensure you get the right duration and itinerary for your needs.
What is the best time of year to take a private Nile River cruise?
The best time to take a private cruise on the Nile is during the spring and fall months, typically from March to May and September to November. These months boast pleasant temperatures, beautiful sun-filled days, and clear skies. During these months, the river is also at its most beautiful with lush foliage, and the weather is ideal for a relaxing cruise. Cruising the Nile during the summer months can be quite hot and humid, while winter can be cold and sometimes wet as well.
Is it safe to swim in the river during a cruise?
Swimming in the Nile River is generally discouraged due to the presence of crocodiles and the risk of exposure to bacteria and other infections. However, there are some organized swimming excursions available for those who wish to take a dip in the river. These swimming excursions are usually offered by qualified tour operators and include an element of safety.
What should passengers bring on a private Nile River cruise?
It is always best to pack light, with enough clothes for the duration of your cruise. You should take along some sunscreen lotion, a hat, some sunglasses, and a light jacket. Additionally, take enough money with you for things like snacks, beverages, tipping and etc.
Book your Private Nile River Cruise Today
A private Nile River cruise includes all the necessary amenities you need for a relaxing and enjoyable journey. However, if you want to enjoy amenities such as air-conditioned cabins, a restaurant, and a bar, you will need to opt for a Dahabiya cruise rather than a Felucca cruise.
With a private Nile cruise, you will also have the choice of a variety of itineraries, from short sightseeing trips, to longer and more leisurely cruises. Our staff at Egypt Tours Plus can provide you with a variety of activities and entertainment options, from guided tours to entertaining shows.
Experience the wonders of the Nile with a private Felucca or Dahabiya cruise beteen Aswan and Luxor.
Contact us now to begin planning your trip to Egypt or to book your once in a lifetime private Nile River cruise today.
Design Your Custom Egypt Tour
Explore Egypt your way by selecting only the attractions you want to visit