Our 8-Day Nile Cruises are, without question, amongst our most popular Nile River Cruises. This is partly due to the fact that these cruises offer everything you would get from a 7-day cruise, but with a bit more time for leisure and relaxation on the water.
Board your Luxury Nile River Cruise ship or your Dahabiya Nile River Cruise boat at Luxor or Aswan, and lose yourself in a timeless journey through Ancient Egypt. Stroll through temples that are thousands of years old, visit the tombs of great pharaohs, dine on fine cuisine, sip cocktails under the stars, and enjoy this ancient land the way it should be enjoyed.
Design Your Custom Egypt Tour
Explore Egypt your way by selecting only the attractions you want to visit
Frequently Asked Questions
Are Nile cruises safe?
Yes, you can enjoy your cruise without having to worry about your personal safety. Still, it's best to book your cruise aboard one of the 5-Star river boats owned by well-established operators.
Is an 8-day Nile cruise worth it?
Absolutely! If you are able to afford the extra expense, you are guaranteed a truly unforgettable experience. A lot of 8-day cruises Dahabiya cruises and luxury cruises.
What to wear on Nile cruise?
A loose fitting pair of slacks and shirt, or an airy dress is the most comfortable, and especially when you leave the vessel to visit various ancient monuments. Most cruises have no set dress code.
How to book a Nile cruise?
As with everything, cruise prices increase all the time so it is best to book your cruise through an Egypt travel company well in advance rather than waiting until you arrive in the country.
How much to tip on 8-day Nile cruise?

There two different types of tip: tips for the crew and tips for your guide. Tips of 10 to 12 USD per day are suggested for both. Tip as you go or as a lump sum at the end of your cruise. But remember, tipping is not mandatory.
What to expect on 8-day a Nile cruise?
Expect to spend 4 to 6 hours on guided tours on most days of your cruises. One or two days might be free days where optional tours are offered, such as a trip to the Abu Simbel Temples.

Click here to learn more about our 8-day Nile cruises.
8-Day Nile Cruises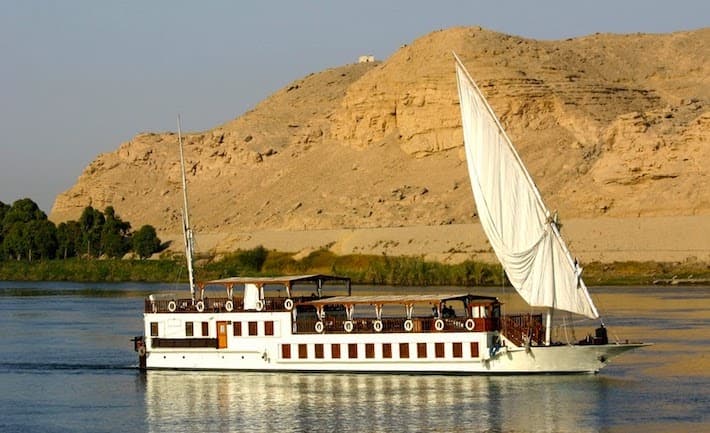 Egypt is a country which has been blessed with an almost infinite number of ancient monuments which date back thousands of years. No matter where about in the country you go, there is always something fascinating to see.

When people think of Egypt, they immediately think about the Giza Pyramids and the Sphinx, all of which are located on the outskirts of Cairo. However, most of Egypt's famous ancient attractions are to be found in the Nile River Valley, from Luxor to Aswan, and not too far from the banks of the Nile.
8-Day Cruise Down the Nile – An Experience of a Lifetime
Nearly all of our 8-day Nile cruises feature traditional Dahabiya sail boats, although we do also offer some luxury 8 day Nile cruises which feature a modern 5-Star river cruiser with the same sort of amenities you would expect to find at any good 5-Star hotel, including therapy rooms, a beauty salon, spa and massage services, and etc. In short, if you book a cruise on one of these vessels, you really will be traveling in the lap of luxury

However, when it comes to our 8-day Nile cruises; most people tend to opt for one of our Dahabiya Nile River Cruises instead. One of the main reasons for this is because Dahabiya boats only have a handful of cabins, and usually only one or two suites. This provides a greater sense of exclusivity because you are sharing the boat with only a few people.

Many people also prefer these cruises because they are seen as being more environmentally friendly due to the fact that they rely on wind power. Of course, because of their vastly smaller size, they don't have the sort of amenities you will find on the large conventional cruises, but you will certainly still be surrounded by luxury and comfort.
All Inclusive 8-Day Nile River Cruises
As with all our cruises, our Dahabiya and luxury 8-day Nile cruises are all-inclusive. In other words, they include full board and lodging on board whichever vessel features in your chosen Nile cruise package (beverages are not included). The price of your cruise also includes any and all entrance fees when you visit the attractions mentioned in your chosen itinerary. If you have any concerns regarding what is and what is not included in your cruise, please feel free to contact our customer service department via email, phone, or Live Chat.
8-Day Nile Cruises = Unforgettable Sightseeing
At Egypt Tours Plus, we understand that our clients want to enjoy a relaxing break, but we also understand that they are booking one of our 8-day Nile cruises because they want to visit some of Egypt's most treasured ancient sites. With our cruises, you will find that there is a perfect balance in this regard. While you will enjoy plenty of time for relaxing, you will also enjoy visiting many unforgettable attractions.

While not all cruise itineraries are the same, most do include visits to several of the country's most prominent antiquities. These will, for example, include places such as Luxor Temple, Karnak Temple, Valley of the Kings, Queen Hatshepsut's Temple, Temple of Philae, Colossi of Memnon, Temple of Sobek, Edfu Temple, and etc.

If you have any questions or concerns, or if you would like to complement your 8-day Nile cruise with some additional sightseeing opportunities, either before or after your cruise, please take a look at our Nile Tours or discuss your requirement with one of our tour representatives and they will be happy to assist you in any way they can.