Egypt Short Breaks and Cairo City Breaks
Don't have a lot of time to spare but still want to see Egypt? Our epic Egypt Short Breaks and Cairo City Breaks could be exactly what you are looking for. Enjoy high quality private tours to some of the very best attractions in Cairo and beyond. All of our Egypt tour packages, including our short breaks, include all transport, excellent hotel accommodation and professional Expert guides to make your visit more rewarding than ever.
At Egypt Tours Plus, we have an excellent range of tour packages to suite all tastes and budgets but if you can't find exactly what you are looking for, we can create a tailor-made trip just for you.
Learn more about our Egypt Short Breaks here...
Egypt Short Breaks and Cairo City Breaks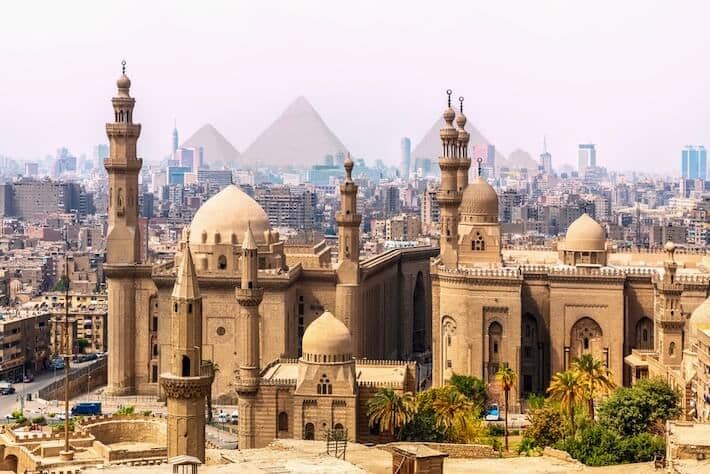 One could easily spend several months in Egypt and still not see all that there is to see. So, is it even worth visiting this amazing country when you only have a few days rather than a few weeks to spare? Absolutely! Even a short visit to the country can be an incredibly rewarding experience. This is especially true if you organize your trip through an experience and well-established Egypt tour operator.
Tour operators that have many years of hands-on experience will know what attractions and what activities appeal the most to travelers. They will also offer a variety of Egypt short breaks that cater for different tastes. For instance, they will offer short breaks in the form of a Nile River cruise; short breaks that focus on spending time in the desert, or Cairo city breaks that focus only on the capital of Egypt.
Professionally designed Egypt short breaks are fantastic for people who don't have a lot of time to spare, and also for people who may already have visited Egypt in the past. If, for example, you have already experienced the joy of a Nile River cruise, you may want a different experience when you next visit the country. When it comes to enjoying a short break in Egypt, there are just so many different options available to you.
A 5-Star Nile River Cruise
If you can afford to spend three or four nights in Egypt and you really want to get the most out of your stay, a short 3-night 4-day Nile cruise would almost certainly be your best option by far. A Nile cruise is quite simply a magnificent experience. It is one of the best ways for visitors to see some of the country's most cherished ancient sites in Luxor, Edfu, Kom Ombo and Aswan.
The only real difference between a 4-day cruise and a 6 or 7-day cruise, is the amount of time you get to spend on the water. You still get to see the same amazing sites, including places like the Valley of Kings; Hatshepsut Temple; Karnak Temple; Luxor Temple; the Temple of Horus and more.
All of the Nile cruises that we offer also include full-board and the services of one of our Expert tour guides who will accompany you to all the sites you visit during your cruise. Once you have paid for your cruise package, you have no other expenses to worry about other than your own personal spending money.
Sahara Desert Safari Tours
Desert safaris and Sahara oases tours are another option worth considering when it comes to Egypt short breaks. Of course, these sorts of tours are best enjoyed only during certain times of the year. During the hot summer months, daytime temperatures in the desert can become unbearably hot, while nights can be unbearably cold.
Many people mistakenly believe that there is nothing to see in the desert other than sand. To the contrary, Egypt's desert regions are home to numerous Ancient Egyptian relics, including the remains of ancient temples and tombs. There are also some breathtaking natural attractions, including the White Desert and the Black Desert, both of which are renowned for their otherworldly landscapes.
Last but not least, oases tours provide travelers with an ideal opportunity to experience a very different side of Egypt; to experience cultures and traditions that have remained unchanged over hundreds of years.
Cairo City Breaks and Pyramid Tours
Everyone has at some point seen pictures of Egypt's legendary Giza Pyramids, and most people who have visited the country have also visited the pyramids and the Sphinx at Giza. What many people don't know is that there are several other ancient pyramids in the country as well, and most of them are either bigger or older than the pyramids at Giza.
The Step Pyramid of pharaoh Djoser is just one such example. Located in an ancient royal necropolis at Saqqara, just a short drive from Cairo, the Step Pyramid was the first pyramid ever built by the ancient Egyptians. By the time the first pyramid at Giza was built, the Step Pyramid was already ancient.
Also only a short drive from Cairo, visitors can see another collection of pyramids. These are known as the Dashur Pyramids, and they include the Bent Pyramid, the Red Pyramid and the Black Pyramid. These are all considerably older that those found at Giza.
Egypt Weekend Breaks – Spiritual Tours of Cairo
In a city as old as Cairo, one would expect there be a lot of religious buildings, but Cairo has even more than what one might expect. In fact, Cairo is sometimes referred to as the City of 1000 Minarets due to its many different mosques. Unlike in many Muslim-majority countries, most mosques in Egypt are open to non-Muslim visitors, other than during prayer times.
Several of the city's mosques are more than just places of worship. Instead, they are of tremendous religious significance. Many of them are also absolutely breathtaking, and if you are traveling with us, you can be sure that we will be taking you to see the very best ones.
Of course, Cairo is also home to numerous churches, with the Hanging Church of Cairo being the most famous one of them all.
Egypt Short Breaks – Customized and Personalized Travel
At Egypt Tours Plus, we understand and appreciate the fact that different people have different tastes when it comes to travel. While every effort has been made to create and offer a good variety of Egypt short breaks, we realize that for some travelers, they may not be a perfect fit.
In order for us to cater for all kinds of travelers, we have embraced a "flexible travel" policy. This means that all of our existing Egypt Short Breaks can be customized and tailored to meet you own exact needs and requirements. All you need to do is choose one of our short break packages that are as close as possible to what you are looking for, and then let us know what changes you would us to make.
Alternatively, you can simply tell us what attractions you want to see during your stay, and one of our travel specialists will draft an itinerary based on the information you have given us. When it is ready (typically within 24 hours) we will send it to you to review. We will continue working with you until we have created exactly the right sort of short break tour you.
Book Your Egypt Short Break or Cairo City Tour Today
You don't need to spend weeks or months in the country in order to enjoy a visit to Egypt. With adequate experience and expertise, even a short break in the Land of the Pharaohs can be totally unforgettable.
Book one of our epic Egypt Short Breaks now, or get in touch with us and let us turn your upcoming visit to Egypt into a travel experience that you will remember and cherish forever.