Immerse yourself in a fascinating journey through time, and do it in spectacular style with our high-caliber 6-Day Nile Cruises. Board a luxury Nile river cruise in Aswan or Luxor, and then get ready for a trip you will never forget. Enjoy VIP treatment as you sail along the Nile, stopping at a number of places along the way to visit some of the Nile River Valley's most famed ancient sites.
Enjoy quiet evenings under the star-studded desert sky; nourish yourself with delicious onboard meals, all of which are served in spectacular surroundings, and end your days sleeping peacefully on the water in a luxurious cabin. Experience the Nile the way it should be experienced.
Design Your Custom Egypt Tour
Explore Egypt your way by selecting only the attractions you want to visit
Frequently Asked Questions
Are Nile cruises safe?
Yes Nile cruises are safe and especially standard cruises on the large tourist boats and Dahabiya. The attractions you visit during your cruises all have ample security in place these days.
Is a 6-day Nile cruise worth it?
Yes, a 6-day Nile cruise is definitely worth it. As a general rule, you won't really see any more than you would on a 5-day cruise, but you will have more time for relaxing out on the river.
What to wear on Nile cruise?
While aboard the cruise boat, you can quite literally dress as you wish. Lightweight cotton or linen clothes are best due to the heat, and a wide brimmed hat is also recommended.
How to book a Nile cruise?
To avoid disappointment, you should consider booking your Nile cruise in advance, especially if you are going to be visiting in December, January or February which is the peak tourist season.
How much to tip on 6-day Nile cruise?
Consider giving a total tip of 60 USD which will be split and shared among all staff members on the cruise. A total tip of around 60 to 75 USD is suggested for your guide.

Note: Tipping is not mandatory!
What to expect on a 6-day Nile cruise?
You can expect guided tours more or less every day during your cruise, except for the last day. Many cruises also include live entertainment such as Belly Dance shows and folkloric shows.

Click here to learn more about our 6 day Nile cruises.
6-Day Nile Cruises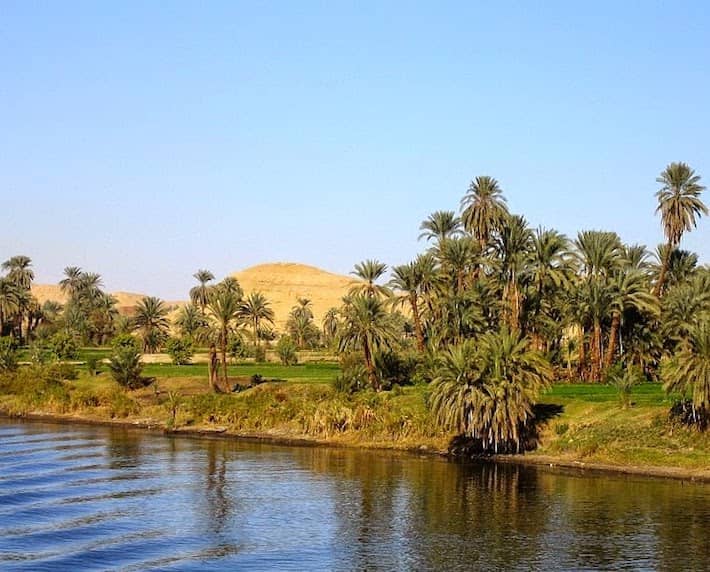 At Egypt Tours Plus, our 6 Day Nile cruises are designed to thrill, excite, and rejuvenate. They offer visitors an affordable way to explore many of Egypt's most famous historical monuments is absolute comfort and style. In short, our Nile River Cruises cater for people who want to enjoy a truly luxurious Nile River cruise.
Sightseeing During Your 6-Day Nile Cruise
6-day Nile cruises typically sail from Aswan to Luxor, or from Luxor to Aswan, stopping at several places along the way where passengers get to enjoy unforgettable excursions to a number of ancient sites, including the Temple of Horus at Edfu, one of the best-preserved ancient temples in all of Egypt, thanks to the fact that it lay buried beneath the sand for more than 2,000 years.

All of our 6-day Nile cruises also call at Kom Ombo where you will be taken to see the famous Kom Ombo Temple. While this monument is seen and recognized as a single temple, it is, in fact, two identical temples, with one being a mirror image of the other. The temples were dedicated to two different gods, so both temples had to be identical so that neither of the two gods would feel offended.

Passengers also get treated to some incredible sightseeing opportunities in both Luxor and Aswan. For Instance, in Aswan, you can expect to visit places such as the Aswan High Dam, the Unfinished Obelisk, and the indescribable Temple of Philae which was moved in its entirety in order to save it from the rising water level of Lake Nasser.

In Luxor, you will also enjoy visiting a number of amazing sites. These will typically include places such as Valley of the Kings, and ancient necropolis where more than 60 tombs have been discovered, including the intact tomb of King Tutankhamen. You'll also visit the sprawling Karnak Temple complex, Luxor Temple, and the remarkable rock-cut mortuary temple of Queen Hatshepsut.
6-Day Nile Cruises – Luxury from Beginning to End
Our 6-day Nile cruises all about luxury travel on board modern ships such as the Oberoi Zahra, which have all the world-class amenities one would expect to find at any good 5-Star hotel. For those travelers who want to enjoy a greater sense of exclusivity, or for those who prefer to travel in smaller groups, we also offer 6-day Nile cruises on a traditional Dahabiya boat. These twin-sail boats, in one form or another, have been used on the Nile for thousands of years already.

The Dahabiya Nile cruise boats which feature in our cruises have all been luxuriously decorated so that passengers still get to enjoy 5-Star comfort and hospitality as the sail silently along the Nile. Regardless of which cruise you opt for, you will enjoy 3 fine meals a day and your nights will be spent in the comfort of a luxury cabin or suite.
Arrivals, Departures and Customer Service
Regardless of whether you arrive at Luxor or Aswan by plane or by train, one of our tour representatives will be there to meet and greet you, and to escort you to the area where you will be boarding your cruise. One of our representatives will also meet you when you disembark after your cruise, and they will once again escort you to the airport or the railway station, depending on what your travel arrangements are. You will also have 24-hour access to our customer service department throughout your cruise.

Should you encounter any problems along the way, you can simply call your tour manager, and they will do everything they can to address your concerns.

Our 6-day Nile Cruises can also be added to any of our other Egypt tour packages for those people who would like to see more of Egypt, either before or after their cruise. Just call us to discuss your holiday needs, and one of our representatives will be more than happy to work with you in order to ensure you really do have an Egypt private tour of a lifetime.