8 Day Sonesta Amirat Dahabiya from Aswan to Luxor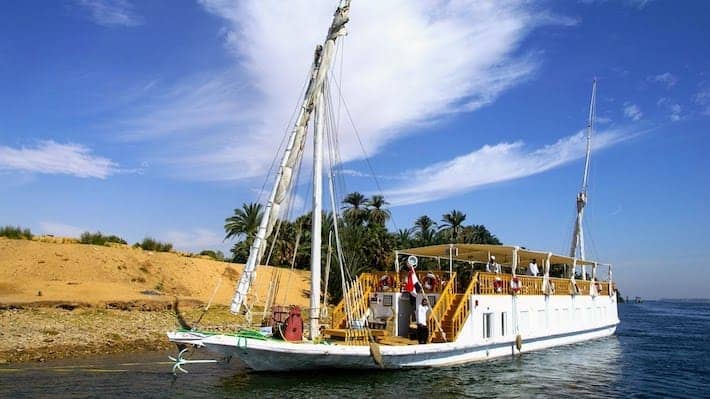 The Sonesta Amirat Dahabiya Nile Cruise boat is a beautiful boat styled after the Dahabiya Nile cruises that were sailing on the Nile at the turn of the century, but it features 5-Star amenities and all the luxury bells and whistles to ensure you can live in the lap of luxury from the moment you board in Aswan, to the moment you disembark in Luxor.
Spend your days dining on fine meals; wander through ancient temples built by mighty pharaohs, and feel humbled as you stroll through a royal necropolis where the rich and powerful were laid to rest. Feel the soul of Egypt with a premium quality all-inclusive Nile cruises.
Our Sonesta Amirat Dahabiya Nile Cruise Departs from Aswan every Saturday
NOTE: Scheduled Sonesta Amirat Dahabiya Nile Cruise departures are dependent on at least 2 double cabins being booked, or 4 participants, in order to guarantee sailing.
Inquire
8 Day Aswan to Luxor Sonesta Amirat Dahabeya Nile Cruise
Itinerary
Day 1 – Arrival, Embarkation and Leisure Time
Arrive in Aswan, at either the airport or the railway station, and your tour manager will be there to meet you and to offer any assistance if need be. They will then escort you inside a clean and modern air-conditioned vehicle to the place where you will be boarding the magnificently appointed Sonesta Amirat Dahabiya which will be your luxury home on the water throughout you 8-Day Aswan to Luxor Sonesta Amirat Dahabiya Nile Cruise.
Upon boarding, the crew will greet you, and shortly afterward, you will be served your first delicious onboard lunch. There are no excursions planned for this day, so once you are finished your lunch, you can enjoy the remainder of the day as you wish. Take advantage of the boat's world-class amenities, or simply relax and unwind outside on the upper deck.
When evening time arrives, the crew will begin serving a lovely dinner, and then you will again have to rest of the night to yourself. Tonight you will sleep onboard while the ship is moored on the banks of the Nile River.
Meals Included: Lunch and Dinner
Day 2 – Aswan Tour and Sail to Kom Ombo
After enjoying a very pleasant breakfast onboard the boat, you will disembark for a relatively short sightseeing tour which will see you visiting Philae Temple; the Aswan High Dam, and the Old Dam. Philae Temple is a particularly fascinating ancient temple, with a history to match. It is also worth noting that the entire complex was originally at a different location. It had to be moved to higher ground (its current location) in order to save it from the rising waters of Lake Nasser that resulted from the building of the Aswan High Dam.
After visiting this amazing temple that was dedicated the goddess Isis, you will be taken to see the actual Aswan High Dam itself which was completed in 1971, and subsequently gave birth to one of the world's largest man-made lakes, Lake Nasser. Next, you will enjoy a brief visit to the Old Dam which was completed in 1902, and then you will return to the waiting Sonesta Amirat Dahabeya.
Once you have boarded, you will be served a delicious lunch, and it will sail towards Kom Ombo, arriving at around noon, depending on wind conditions. Your Sonesta Amirat Dahabiya Nile Cruise won't tie up at Kom Ombo itself, but rather, it will tie up nearby.
Today, the afternoon is all about leisure and relaxation, so enjoy the rest of the day as you wish, and then in the evening the crew will serve up another wonderful onboard dinner. You will be sleeping on the water in your current location tonight.
Meals Included: Breakfast, Lunch, and Dinner
Day 3 – Kom Ombo Temple and Leisure Time
Enjoy a good hearty breakfast onboard, and then you will sail a short distance to Kom Ombo, where you will disembark for a visit to the fascinating Ptolemaic Kom Ombo temple that was dedicated to Sobek the crocodile god, and Horus the falcon-headed god. Great care had to be taken when this temple complex was being constructed because everything that was built for the one god, also had to be built for the other god, and everything had to be perfectly identical.
After your tour of this amazing site, you will return to your boat, and it will start sailing towards a tiny nearby island where it will remain tied up overnight. A good will be served along the way, and in the evening you will once again enjoy a wonderful onboard dinner. Tonight you will be sleeping on the water alongside the island.
Meals Included: Breakfast, Lunch, and Dinner
Day 4 – Sail to Edfu and Edfu Temple Excursion
Your Dahabiya will begin sailing relatively early today, and the crew will serve breakfast while you are heading towards Edfu. Enjoy some quality relaxation time, followed by another fine lunch, and then you will disembark at Edfu for a visit to the beautifully well-preserved Edfu Temple.
This temple was buried beneath the sand for approximately 2,000 years, and it is because of this that has been preserved so nicely. It is also one of the largest temples of the ancient world, and a trip to this site is a trip you probably won't forget in a hurry.
After your temple excursion, you will be taken back to your river yacht, and it will once again sail to a peaceful little island in the Nile where it will be moored for the night. Enjoy a delightful onboard dinner surround by peace and tranquility, and spend the night sleeping on the tranquil waters alongside the island.
Meals Included: Breakfast, Lunch, and Dinner
Day 5 – Sail to Esna and Leisure Time
Today your Sonesta Amirat Dahabiya Nile Cruise is all about leisure and relaxation, so wake up and enjoy a leisurely breakfast while you are sailing silently towards Esna. As you might expect, you will be served a nice lunch in the afternoon. At some point in the afternoon, your Dahabiya will pass through a lock which makes it possible for boats to continue on to Esna and beyond. However, rather than heading directly to Esna after passing through the lock, you will instead head for another small island.
On arrival, the Sonesta Amirat will tie up, and you will enjoy another delicious dinner surrounded by nothing apart from absolute serenity. Spend your evening as you wish, and enjoy a blissful night's sleep on the water in the comfort of your luxurious cabin.
Meals Included: Breakfast, Lunch, and Dinner
Day 6 – Sail to Luxor and Luxor Excursions
Another fine breakfast will be waiting to greet you when you wake up. Enjoy your meal while your Dahabiya is sailing slowly towards Luxor. In the afternoon, at around midday, the crew will once again serve up a first-class lunch, and you will then disembark in Luxor for a visit to two unforgettable sites.
First, you will be taken to visit temple complex of Amon-Ra at Karnak. This vast complex, which is also often referred to as Karnak Temple, is the second most visited ancient monuments in Egypt. The complex is full of fascinating things to see, but many would argue that the massive hypostyle hall with its 137 columns is the most impressive feature of this site.
Next, you will visit the splendid Luxor Temple which was built during the 28th Dynasty in 1400 BC. This site is also a complex rather than a solitary temple, and many of the chapels and other building you will see there were built by different pharaohs, including a number of the better-known ones such as Ramesses II; Ramesses III, and the boy king, Tutankhamen.
By the time your tour is over, the sun will be starting to dip, so you will head back to your Sonesta Amirat Dahabiya Nile Cruise. Once on board, you will have some time to shower and get freshened up, and then it will be time to sit down for another fine meal. Tonight you will sleep on the water, while the boat is moored in Luxor.
Meals Included: Breakfast, Lunch, and Dinner
Day 7 – Sightseeing Extravaganza in Luxor
Today is definitely going to be a day you will never forget, but before the fun begins, you will enjoy a nice breakfast onboard. Once you have finished eating, it will be time for you to disembark, for an excursion that will see you visiting a number of Egypt's most cherished historical attractions.
Your first visit today will be to Valley of the Kings, an ancient royal necropolis consisting of numerous tombs that were constructed for different pharaohs; some of their family members and some privileged nobles. This is also the site where Tutankhamen's tomb was discovered in 1922 by Howard Carter.
Next, you will proceed to an adjacent site known as Valley of the Queens. This too was a royal necropolis, but the tombs you see here were constructed for queens and their family members, and other women of high standing.
Medinet Habu Temple will be your next stop, and it will probably be one of your favorite stops because it well and truly is a magnificent site. Here you will find more than 7,000 square meters of wall reliefs which have provided an incredible amount of insight with regard to ancient Egyptian history. Your last stop for the day will be at the Colossi of Memnon, a name given to two towering stone statues of Pharaoh Amenhotep III.
Even though you will have returned to your Sonesta Amirat Dahabiya Nile Cruise during the day for a short break and some lunch, you will no doubt be feeling a little bit fatigued, so it will be time for you to once again return to the boat so that you can freshen up and then enjoy a nice well-deserved dinner onboard. Tonight you will be sleeping on the water at Luxor.
Meals Included: Breakfast, Lunch, and Dinner
Day 8 – Breakfast and Disembarkation
Today is sadly the last day of your Aswan to Luxor Sonesta Amirat Dahabiya Nile Cruise, but before you say goodbye, first sit down to one last breakfast on board, and think about all the wonderful things you have seen during your cruise along the mighty Nile River.
After breakfast, it will be time for all passengers to disembark, and we will have one of our friendly tour representatives standing by to meet you, and to escort you to the airport or to the railway station, depending on what your future travel plans are.
We believe beyond all doubt that you will have had the time of your life, but if anything left you feeling disappointed in any way, our representative would love to hear about it so that we can take steps to a Nile cruise experience even better than what it already is.
Meals Included: Breakfast
What is Included
What is
included

in your Sonesta Amirat Dahabiya Nile Cruise holiday:
Meet and Greet Service – One of tour representatives will meet you on arrival in Aswan, and another one will be there to bid you farewell when you depart from Luxor.
Full Personal Assistance – Our team of tour professionals will be available to offer assistance throughout the duration of your cruise in the unlikely event that something goes wrong.
All Transfers – All transfers are done in modern air-conditioned vehicles and are included in the price of your cruise.
Full Board – Your 8 Day Aswan to Luxor Dahabiya Nile Cruise includes full board and lodging on board the Sonesta Amirat river yacht.
All Excursions – All excursions mentioned in the itinerary are included in the tour price.
Entrance Fees – Any and all entrance fees to the various sites visited are included.
English Speaking Guide – A fully certified English-speaking Expert guide will accompany you on all excursions. Our guides are extremely knowledgeable, and visitors are encouraged to ask question during excursions.
All Service Charges and Taxes – The price of your cruise is inclusive of all taxes, services charges, and etc. With us, there are NO hidden charges along the way.
What is
not included

in your MS Sonesta Amirat Dahabiya Nile Cruise holiday:
Pre-Arrival and Post-Departure Travel – Tour price does not include travel to Aswan or onward travel from Luxor.
Tipping – Tour price does not include money for tipping guides, waitresses, waiters, and etc. Tipping is not required or expected, but always appreciated if you feel it is well-deserved.
Price
| Price per 1 person | May to September | October to April |
| --- | --- | --- |
| Double Cabin | $2380 | $2490 |
| Single Cabin | $4160 | $4270 |
Prices for our Sonesta Amirat Dahabiya Nile Cruise are quoted per person in US$ and valid till 30th of September 2023 except during Christmas, New Year and Easter holidays.
Nile River Cruises
Didn't find the Dahabiya Nile Cruise you were looking for? See Sonesta Amirat Dahabiya Nile Cruise alternatives below or check out some of our other 8-day Nile cruises here.
Design Your Custom Egypt Tour
Explore Egypt your way by selecting only the attractions you want to visit