Morocco Day Tours – The Ultimate Guide
Morocco day tours offer travelers a perfect opportunity to make the most out of their time in this enchanting country, and there really are more than enough tours to choose from. It is likely that you have already familiarized yourself with the most popular cities and destinations in Morocco, and you may even have started to consider your day to day itinerary. This is usually when someone unfamiliar with Morocco begins to worry that they may miss an important or enjoyable attraction while in Morocco.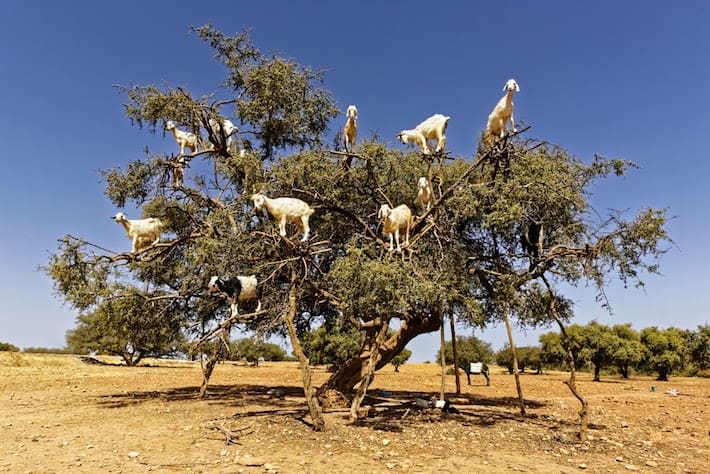 Regardless of where you are, be it Casablanca, Marrakech, Fez, Agadir or any other city or town, it is quite likely that there are several fascinating places to visit nearby. This is exactly why Morocco day trips are such a great resource.
However, even with the opportunity to choose from an array of Morocco day tours, you may not know where to begin. You can dedicate days to gazing at maps and poring over travel guides, but one of the smartest and most effective ways to choose your day trips in Morocco is to work with a group that offers completely customized options.
How to Choose You Morocco Day Tours
Let's begin by considering the smartest way to select your Morocco tours. Start by asking yourself if your day trip is from within the country, or if you are coming from a nearby location. As an example, a Morocco day trip from Spain is not at all unusual. After all, from the city of Tangier, you can actually see the coast of Spain just 20 miles away!
So, there are day trips in Morocco that are ideal for those who will be entering and leaving the country on the same day, and then there are tours for people who have a base in any Moroccan city or town, and who want to enjoy more of the culture and landscape.
The International Morocco Day Tours
For those coming in for a day from a location like Spain or Europe, there are two basic options. You can arrive in the city of Casablanca, which is the largest city in the country and home to the international airport, and then arrange for unique and custom Casablanca tours departing from the airport or the Casablanca port (where cruise ships arrive).
Arriving in Morocco By Boat from Spain
Alternately, if you plan to arrive by boat from Spain, it is likely that you will be close to Tangier. If that is the case, then Tangier tours are a fun and amazingly interesting opportunity too.
Arriving in the City of Casablanca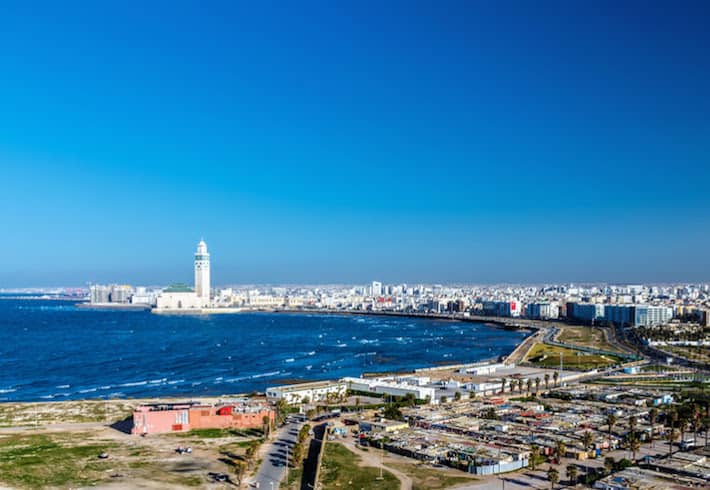 For those who arrive in Casablanca, it can be easy to mistake the city for a bustling modern one, but there is a lovely Medina or Old City to be enjoyed. Many travelers would happily wander the winding streets and alleys, photographing the brightly painted homes, and seeing authentic and everyday Moroccans going about their business.
However, there is such a wonderful variety of things to do on Morocco day tours in Casablanca that you will want to be sure that you allow yourself plenty of time for it all.
The top spots in the city include the lovely Medina, the more modern Central Market, the stunning Royal Palace, and the even more stunning Hassan II Mosque. Consider these as the "must see" sights for any Morocco day tours, but, also think about booking your own custom itinerary too.
Maybe you want to explore the Habous District or the Corniche, and maybe a delicious meal at Ricks Café is on your list of things to do? You can enjoy all of these things  and so much more on tours in Casablanca.
Soaking Up the Magic of Tangier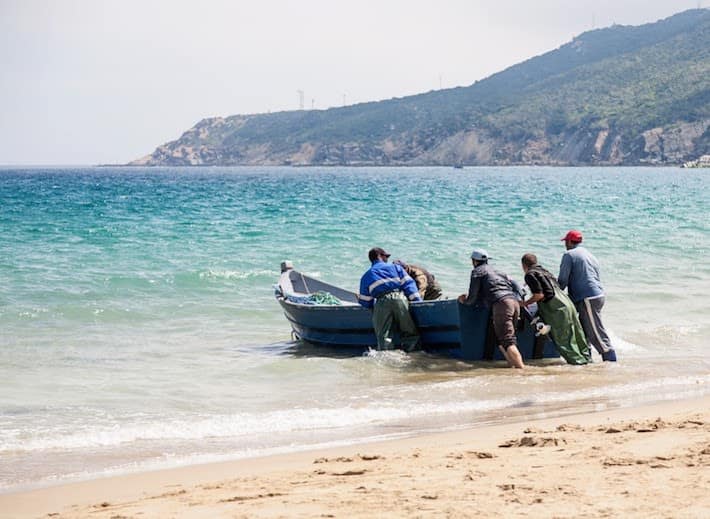 If you arrive in Tangier for Morocco day tours from Spain, you are just steps from some of them best places to visit. Located at the Atlantic Ocean the Medina is beside the port and the modern Ville Nouvelle is also only a few hundred meters away. Your customized tour can allow you to take in the Kasbah and its impressive museum, the Grand Socco or square, and the historic American Legation. It is the only U.S. landmark overseas, and the oldest!
If you plan to visit on a Thursday or Sunday, be sure to head to the souq as this is when the women of the Rif mountains arrive in their amazing garments and selling their wares. Of course, many say that a visit to Tangier is not complete without time spent people watching along the Terraces des Paresseaux and a visit to the Cap Spartel lighthouse. As it is the northernmost tip of the continent of Africa, it is a fun adventure.
Clearly, Morocco day tours from Spain or other parts of Europe are exciting and well worth the time spent planning them. You can guarantee yourself a truly remarkable day, however, if you work with a knowledgeable guide and driver. They can steer you away from any activities that might be less satisfying and take you to the lesser known but unforgettable spots.
Explore: Tangier Tours
Morocco Day Tours from Within Morocco
What if you are already in Morocco and want to consider some of the best Morocco day tours to compliment your existing plans? Again, it is a wise idea to consult with local experts who can help you recognize where different attractions or stops overlap when you are close to something wonderful to see or do, and to introduce you to the many activities or options you might not know about.
Additionally, your Morocco day tours have to be based on your location. As we already considered, there are fantastic day tours of a city like Casablanca or Tangier, but if you are already within those cities, you may have ideas about tours that take you to locations a bit outside of them.
You can start to determine some of the best Morocco day tours by looking at suggestions for things to do in Morocco or things to do in Marrakech, Agadir, Fez, Casablanca, and so on. Doing so may introduce you to some hints for spots that are a bit outside of town. You may even see some city-to-city tours.
A classic example of this would be a day tour to Rabat from Casablanca or one from Marrakech to Casablanca. Many will travel from Agadir to the charming seaside town of Essaouira and some from Fez to Meknes. There are also trips to specific sites such as the journeys from Meknes or Fez to the historic site of Volubilis. People staying in Marrakech often take the road into the mountains to see Ait Ben Haddou.
Let's look at some of the most common Morocco day tours of these kinds:
Modern and trendy Agadir is a family-friendly spot well known for its resorts and beaches. Day trips are a good idea and in addition to a classic Agadir sightseeing excursion in town (which allows you to visit the city's Medina for some shopping), you can opt to visit the city of Marrakech for a day at the Medina or to head into the desert on the modern new highway to see the Saadian capital of Taourdant. If you are a fan of nature, you can often create a day tour around a visit to Souss Massa National Park and preserve!
Morocco Day Tours from Casablanca
Though a great destination on its own, a visit to Casablanca places you in a convenient location for many adventures. You can easily enjoy a day tour to the capital city of Rabat where there are some truly monumental pieces of architecture.
You can also easily reach Marrakech to spend time shopping in the Medina and visiting some of the most famous buildings. Fez is also in reach, and this medieval gem is well worth a day of travel in order to experience the cultural and spiritual heart of the country.
Sightseeing Day Tours from Fez
A historic, medieval, and richly spiritual and intellectual city, Fez is also one of the most cultural. Its location in the northern part of the country makes it a good spot for those who want to take day trips to Meknes and Volubilis, pay a visit to the capital of Rabat, or make it a bit of a longer trip to the always enchanting town of Chefchaouen. The famous blue city is laid back, fun and unforgettable.
Morocco Day Trips from Marrakech
Many Morocco day tours depart from this centrally located city. Some take travelers only as far as the Palmery outside of the city while others head up into the Atlas Mountains. You can head to the Ouarzazate and the kasbah of Ait Bet Haddour in a single day.
You might also visit the delightful seaside town of Essaouira. The proximity to the mountains means that you can even reach the famous Ouzoud Waterfall during a day trip, stopping at the famous olive groves near Demnate and passing through the cedar forests where you may see endangered Barbary Apes.
Marrakech is also the starting point for day trips to the desert. Many travelers can spend one night outside of the city if they wish to see Erg Chebbi or the Sahara at sunrise!
Morocco Trekking and Other Active Day Trips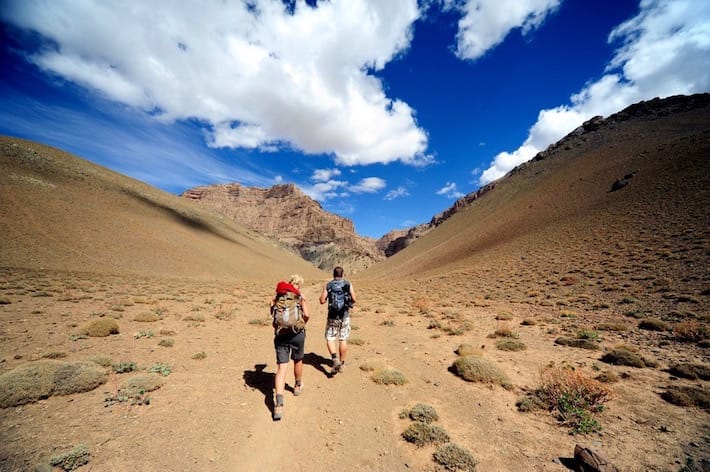 Many who visit the cities of Morocco also yearn to explore the natural scenery too. This is easier than it might seem because there are wild places within easy reach of many of the largest cities and towns. Though you may spend a night away from the city to enjoy some of these day trips, it is going to be well worth the effort.
As an example, the Atlas Mountains offer a variety of places where trekkers, hikers, walkers, climbers, and nature lovers can spend some time. Whether you want to do so to be very active, or you are doing it just to relax in the beautiful scenery, it is entirely possible to reach many great locations during a day trip.
Those in Marrakesh and Fez have the option of reaching the Dades Valley during a day trip. The Dades River gives its name to the valley and the gorge nearby. Several famous kasbahs are here as well, and the valley is often described as one of the most picturesque places in the country. Travel through groves, take in the Berber villages and buildings and keep an eye out for the many kinds of birds that make a home here.
Beach lovers will appreciate the short drive from Rabat to the beach at Temara. A bit of a secret, it has natural pools that are ideal for families with smaller children, but the location itself is stunning. Also near to Rabat is the Mamora Forest.
This forest contains roughly half of the cork trees in the entire country but is also full of wild pear trees, pine, eucalyptus, acacia and more. It too is another haven for those who adore birds and enjoy watching for rare species like white storks.
Should you be in Fez, the Tazzeka National Park is a good choice for a day trip. The park is also close to the famous Frouato Cavern and you can catch a glimpse of the tallest mountain in the country – Jebel Tazzeka.
In-depth: Trekking in Morocco
Your Day Trip Your Way!
As you can see, there are day trip options in great abundance from any part of Morocco, and even outside of it too! Don't hesitate to make arrangements with a private guide or driver to get you to and from your destination, and to help you make the most of your day in yet another wonderful Moroccan locale. They may even know of additional stops along the route or places of interest wherever you choose to pay a visit!
If you are ready to start breathing life into your Moroccan dream vacation, please visit us at EgyptToursPlus.com. We believe that nobody is better equipped than we are to provide the ultimate Morocco day tours. With experienced private guides and drivers to escort you around the country in comfort, you can enjoy any type of tour package imaginable.
Explore the Best of Egypt and Morocco – And Beyond