Egypt Tours from Montreal
If you live in or close to the city of Montreal in Canada and you are longing for a vacation, Egypt tours from Montreal could be like a dream come true. Tours to Egypt from Montreal are surprisingly affordable. Relatively short flight times and the ease with which Canadian passport holders can obtain a tourist visa for Egypt also make it a convenient option for a holiday in the sun.
Whether you want to immerse yourself in antiquity; go dune bashing in the Sahara; SCUBA diving in the Red Sea, or whether you just want to relax and unwind in the sun, customizable Egypt tours from Canada can be whatever you want them to be and more.
Top 6 Egypt Tours from Montreal
FREQUENTLY ASKED QUESTIONS
What to See In Egypt?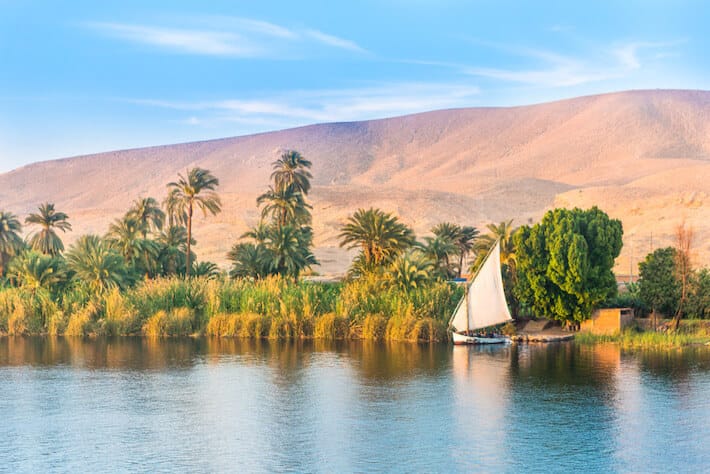 There are an almost infinite number of spectacular Egypt tour attractions to suite all tastes and budgets. If Ancient Egypt is your thing, then really need to visit the famous Giza Pyramids and the Sphinx in Cairo, as well as the Egyptian Museum. We would also recommend visiting the Step Pyramid at Saqqara which is only a short distance from Cairo. This was the first pyramid ever built by the Ancient Egyptians.
Many of Egypt's most remarkable ancient sites are located on the banks on the River Nile between Aswan and Luxor. The best way to visit these sites is to do so as part of a Nile River cruise. This way you get to many of the very best sites, including places like Philae Temple; Hatshepsut Temple; Kom Ombo Temple; Edfu Temple; Valley of the Kings, and more. Depending who you book your tour through, you will also have a professional guide who will accompany you on all the various excursions.
Top 5 Attractions to See in Egypt
What to Pack for Egypt?
If you are contemplating booking one of our Egypt tours from Montreal, you may be curious about what to pack for Egypt. What all to pack really all depends on personal choices and preferences. Nonetheless, there are a few items which we feel are important.
Important items include a comfortable pair of shoes; a wide-brimmed hat to shield one's face from the sun; sunglasses; a good sunscreen lotion, and some lightweight cotton tops (preferably white). We also recommend packing in at least one pair of trousers and a warm top because the evenings can get quite cool.This is particularly true if you end up booking one of our Egypt and Jordan tours from Canada because the nights can get really cold in Jordan.
Distance and Flight Time from Montreal to Egypt
The shortest flight distance from Montreal to Cairo in Egypt is approximately 8,748 kilometers, with an estimated flight time of approximately 10 hours and 47 minutes. These figures are for direct non-stop flights between the two cities.
How to Obtain a Tourist Visa for Egypt?
Canadian passport holders who want to book and enjoy Egypt tours from Montreal do not have to visit an Egyptian embassy or consulate in Canada in order to obtain their Egypt tourist visa. Providing you are going to be traveling on a Canadian passport, you can apply online for an Egypt e-Visa before traveling to Egypt or you can get a Visa-on-Arrival at any international airport in Egypt.
Is It Safe To Visit Egypt?
Yes, Egypt is a very safe place to visit as a tourist. However, it is always best to stay alert and aware of your surroundings, particularly in very busy touristy areas. Female travelers and those traveling alone should also try to avoid being out on foot in very quiet and/or poorly lit areas at night.
If people have any concerns about the current situation in Egypt, they can check the latest Egypt Travel Advisory issued by the Canadian government prior to booking any Egypt tours from Montreal.
Tailor Made Egypt Vacations from Montreal, Canada
Explore Egypt your way by selecting only your favorite attractions. Click here to design your personal Egypt vacation from Montreal.