Hurghada Vacation Packages – Understanding the Basics
Hurghada vacation packages are the ultimate solution if you love the beach life and water sports. This brief Hurghada travel guide explores your options when it comes to choosing one of our Egypt vacation packages when planning a trip to Egypt for the whole family.
Design Your Custom Egypt Tour
Explore Egypt your way by selecting only the attractions you want to visit
Hurghada Vacation Packages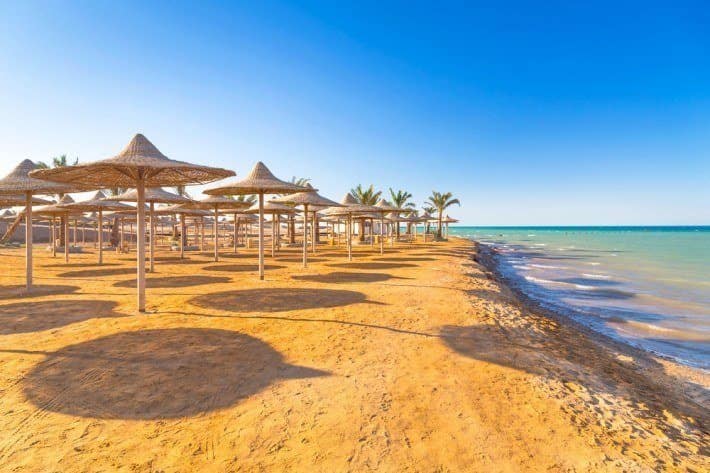 After the early 1980s, the little fishing town of Hurghada rapidly developed into a thriving tourist destination for diving enthusiasts, beach goers, fans of exciting nightlife, and those interested in the great outdoors.
Clearly, anyone can find a lot to do while on a holiday in Hurghada, and to that end there are many hotels and resorts and, of course in the area. There are inexpensive, small and privately owned establishments as well as many all-inclusive resorts appropriate for individuals, couples and entire families.
The Beaches Of Sekalla
Many tourists who book Hurghada vacation packages will stay in the Sekalla neighborhood during their Hurghada holiday. Sekalla is located along the town's most beautiful beaches.
The area is thick with smaller, more modest accommodation providers, as well as the major international chains and upscale resorts. It is also in this neighborhood where the city's largest bazaar is situated, as well as many other traditional tourist services.
Hurghada By Night
Interestingly, many of the hotels in Hurghada are actually connected to at least one other hotel, and guests can wander freely through the shops and cafes at all such establishments.
This is also of great benefit to the town's extensive nightlife, which plays out along the Hurghada Marine Boulevard. This area is populated with over eighty different shops and specialty boutiques, more than a dozen restaurants and seven bars. It's also home to other forms of entertainment, including thrill rides and weekly parties at several bars and clubs. There is no doubt that this area helps to ensure our Hurghada, Egypt tour packages can be enjoyed by anyone and everyone.
Scuba Diving And Snorkeling
For those looking to SCUBA dive in Hurghada, there is a nice variety of scuba diving and snorkeling opportunities for visitors who are licensed to dive, and also for those who want to enjoy the clear blue waters in a more casual way.
There are also many pleasure boating opportunities in the area, including glass bottom boats for those who would like to gaze upon the remarkable coral reefs and vast numbers or fish without even setting foot in the warm blue waters. Because of all the world class dive sites in this region of Egypt, our Egypt diving holidays include diving excursions and/or accommodation on board a dive boat. Many of our tour packages also include Nile River cruises, with a stay in Hurghada following after the cruise.
Finally, for those interested in outdoor activities or cultural pursuits, Hurghada is in close proximity to the desert, and is therefore a common starting point for short and long desert adventure tours. In fact, several of our Hurghada vacation packages include desert excursions. Many offer hotel pickup and can arrange for camel or "quad bike" transportation. Some safaris allow for a meal in the desert, while others make arrangements for their guests to enjoy tea with a local group of Bedouins.
The diversity of travelers to Hurghada and the ever increasing popularity of Hurghada vacation packages has allowed the town to develop a distinctly international flavor. Today many tourists from Cairo can be seen strolling the waterfront along with many Germans, Russians, Italians and Czech visitors as well. In short, Hurghada vacation packages continue to grow in popularity year on year.
Design Your Custom Hurghada Vacation
Explore Egypt your way by selecting only the attractions you want to visit