Sharm El Sheikh Vacation Packages – Visit The Red Sea Riviera
Sharm El Sheikh vacation packages are perfect for those who are looking for leisure, snorkeling, diving, along with many great restaurants and a vibrant nightlife. Enjoy the very best of this popular seaside resort town with one of our expertly designed Egypt vacation packages which are well and truly flawless.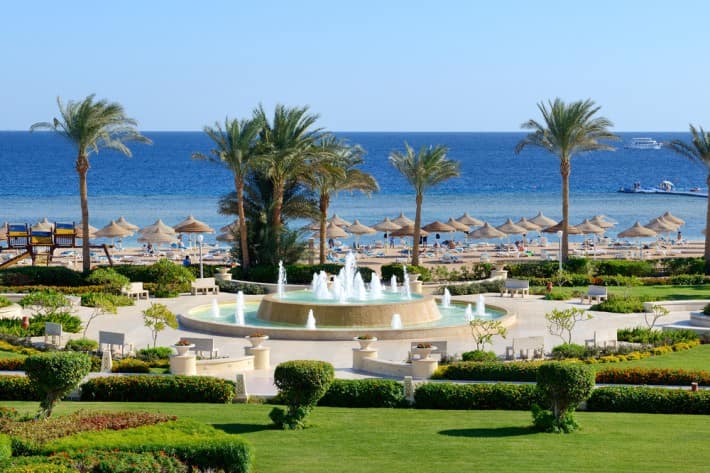 Visit The Red Sea Riviera With Sharm El Sheikh Vacation Packages
There is a region of Egypt's Sinai Peninsula that is frequently referred to as the "Red Sea Riviera" where a flourishing tourist industry continues to develop around the beautiful coastal waters and luxurious hotels. One of the premier destinations along the Red Sea Riviera is Sharm El Sheikh, and to this end, Egypt Tours Plus can provide tourists with the ultimate Sharm El Sheikh vacation package.
Remarkably, Sharm El Sheikh has only been a place of interest since the 1980s, when Egypt and Israel signed one of their historic peace agreements. The withdrawal of Israeli troops left the area free from turmoil, and soon hotels, resorts, restaurants, shops and deep sea diving companies began to flood the entire region. As a result, an ever increasing number of people who visit Egypt Tours Plus, do so in order to book a high quality Egypt travel package that includes a short break at Sharm El Sheikh.
Design Your Custom Sharm El Sheikh Vacation
Explore Egypt your way by selecting only the attractions you want to visit
Hotels And Resorts
Those considering Sharm El Sheikh vacation packages will be pleased to know that the area is home to many hotels and resorts. Since 1982 the number has grown from three to over 90 different accommodation providers. As a result, rooms; suites and private houses are some of the most modern in the region.
There are many all-inclusive resorts as well as standard hotels, most located within view of, or directly on the beaches of Na'ama Bay.
Scuba Diving Holidays In Sharm El Sheikh
Scuba diving in Sharm El Sheikh is extremely popular. Scuba divers are one of the most frequent visitors in Sharm El Sheikh, and the warm waters of the Red Sea are home to amazing numbers of creatures, including sharks, turtles and groups of banner, puffer and trigger fish that make the Ras Mohammed National Park their home.
This means the waters and creatures are protected, and there are limits to the number of diving operations that can operate in the area, which further translates to a peaceful and uncrowded diving experience for most visitors. These days it is easy to find very affordable Sharm El Sheikh vacation packages that include SCUBA diving opportunities.
Shopping And Sightseeing In Sharm El Sheikh
In addition to the warm waters, wonderful diving, and stunning beaches, many also enjoy Sharm El Sheikh vacation packages due to all the shopping opportunities in the area. Most visitors end up purchasing several high quality handmade goods that come from the area's remaining Bedouin population.
In fact, many visitors come especially to see the beautiful tents and to purchase the remarkable handicrafts directly from this ancient group of people.
Sharm El Sheikh Nightlife
Sharm El Sheikh vacation packages are also ideal for people who enjoy a  thriving nightlife.
One can find this nurtured through the city's well-developed waterfront walkways, gardens and paths that connect many hotels, restaurants, bars and cafes together along the Na'ama Bay.
Sharm El Sheikh Tours
Our tour packages are customizable private tours. We can add any attraction you want when you book your Sharm El Sheikh vacation packages with Egypt Tours Plus. We also have a selection of 5-Star Nile River cruises which include a short break in Sharm, usually after your cruise. Whatever your taste, whatever your budget, we can turn your dream holiday into reality.
Design Your Custom Egypt Tour
Explore Egypt your way by selecting only the attractions you want to visit