Our range of high quality Egypt Small Group Tours allow people to discover the irresistible magic of Ancient Egypt while traveling in the company of likeminded people. Whether you only want to explore the Great Giza Pyramids and a few other historical monument in Cairo, or whether you want to follow in the footsteps of pharaohs with a luxurious Nile River cruise, our small group tours of Egypt are ideal.
Egypt group travel is also a great option for people who are traveling on a tight budget because they cost less than private tours, and quality is never compromised. Small group tours don't only save you money either, but instead, they provide you with ample opportunities to make new friends too.
→ Click here to see our private guided Egypt travel packages
Learn more about our Egypt Small Group Tours...
Egypt Small Group Tour – A Heightened Sense of Security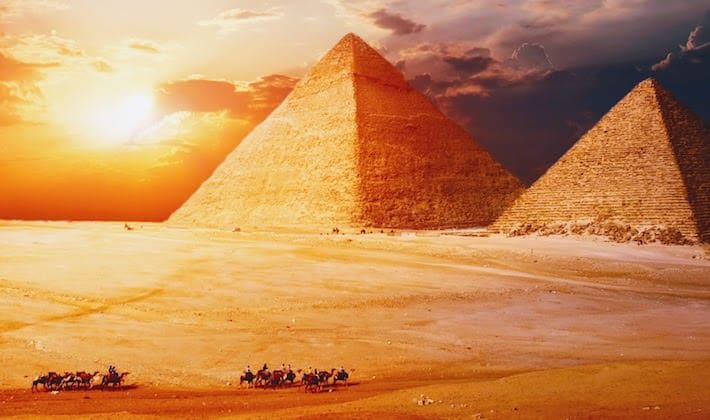 Rather than booking private Egypt tours, many people prefer to book small group tours of Egypt, and they all have the reasons for doing so. Sure, private tours in Egypt are fantastic, but for some people, Egypt group travel simply is a better option.
Traveling to a strange new country on your own can be a very intimidating experience for some people. Even countries like Egypt which welcome thousands upon thousands of visitors each year can leave some people feeling uneasy or intimidated if they are traveling alone. Even though all private tours at Egypt Tours Plus include a driver and a personal tour guide, we still work with many clients who simply prefer to be part of a group when they go traveling. For some clients, this is driven by concerns about personal safety, while others just prefer traveling with other likeminded people; people they can relate to.
Building Bridges and Making Friends
When you book Egypt small group tours with us, everyone in your group will be staying in the same hotels; sailing on the same Nile cruise ship and etc. This inevitably means that you all get more time to interact with each other, rather than only during the various tours and excursions. Group tours make it possible for you to meet people from all over the world. Many travelers
In short, our small group tours of Egypt make it easy to meet new people and to make new friends, some of whom will remain good friends for many years to come.
Small Group Tours of Egypt – The More Affordable Way to Travel
Generally speaking, private tours have always cost more than group tours, and they always will. This is not because private tours are of a higher quality than our Egypt small group tours, because they are not. At Egypt Tours Plus, quality is never compromised. Egypt small group tours are more affordable simply because they involve lower overheads.
If 15 people book private tours, we have to appoint 15 different drivers and 15 different guides, whereas when 15 people travel in a group, we only have to appoint one driver and one guide. Also, we book our clients into 4 and 5 Star hotels, and some of these will quite often offer a discount for groups, and this in turn allows us at Egypt Tours Plus to offer more affordable prices.
If you are going to be traveling to Egypt with a group of friends or family members then you should know that nearly all of our Private Egypt Tours can be converted into small group tours of Egypt, depending on the number of people in your group. This also applies to other tours we offer, such as our Egypt and Morocco Tours or our Egypt and Jordan Tours for example. For this reason, if you are going to be traveling as a group of friends or family, then it is very important that you tell us exactly how many people are going to be in the group. This will then allow us to offer you the best possible discount.
Quality – Egypt Small Group Tours vs. Egypt Private Tours
As has already been mentioned earlier, our small group tours of Egypt are generally cheaper than our private guided Egypt tours. Naturally, this will lead some people to wonder if there is a difference in quality. Do we use cheaper hotels for our group tours, or do group tours perhaps feature fewer attractions and etc?
Virtually all of our tours include accommodation at 4-Star and 5-Star hotels, regardless of whether you book a group tour or a private tour. The only time we use 3-Star accommodation is when we simply do not have any choice due to reasons beyond our control. For example, some of our tour packages might include an overnight stay in an area where there are no 4 or 5 Star hotels.
The type of tour you choose also has no impact on Nile cruises, should you chosen tour include a Nile River cruise. During these cruises, all tours are small group tours, so again, your Nile cruise experience will be exactly the same whether you book Egypt small group tours, or whether you book Egypt private guided tours.
The number of attractions and the choice of attractions also remains the same, whether you opt for a private tour, or whether you opt for a group tour. For example, if you choose a small group 3-Day Cairo Sightseeing Tour, you will still see all the same attractions you would see if you booked the equivalent private tour. Group or private, you will still visit the Great Pyramids of Giza and the Sphinx; you will still be taken to explore the fantastic Egyptian Museum, and you will still enjoy some time at the famous Khan El-Khalili Bazaar that has been open since the 14th century.
Egypt Group Travel Based on Decades of Experience
When you book your Egypt small group tours through Egypt Tours Plus, you can enjoy complete peace of mind knowing that the people who are behind your tour have decades worth of experience – Trip Advisor "Travelers Choice Award" 202 & 2021.
Unrivaled Hospitality and Professionalism
Whether you opt for private tours, or whether you opt for Egypt small group tours, you will still enjoy the exact same level of hospitality and professionalism. This begins from the very minute you arrive in Egypt for your tour, when your tour manager waits at the airport to meet you in person, and to escort you to the hotel where you will be staying.
Before leaving you, your tour manager will also discuss the details of your tour, including pick-up times for the various tours. With our small group tours of Egypt, we book all the members of your small group into the same hotel/s. This helps us to avoid having to drive around picking up the different member of your group, which in turn means you get to enjoy more time actually sightseeing, and less time running around.
We also only ever use clean and modern air-conditioned vehicles for all travel during your tour. This includes airport and hotel transfers, as well as transfers from one attraction to the next. In short, our Egypt small group tours, like our private guided tours, are 100% flawless in every way from beginning to end.
Sharing and Tour Customization
Naturally, if you book small group tours of Egypt, you will be sharing your vacation with a small number of other people, but this does not mean you cannot enjoy any privacy at all. For example, you can still have your own private hotel room which you won't have to share with anyone. However, if you are traveling with a partner or a friend, or if you are happy to share a room with one or more members of your group, you can actually save quite a bit of money.
The only downside to Egypt small group tours is the fact that they cannot really be customized in the same way our private tours can be. In order for us to be able to customize one of our group tours, all members of the group would need to be in agreement regarding any changes to the original tour itinerary. Of course, if you are traveling to Egypt with a large enough group of friends, then one of our tour consultants will be more than happy to work with you and your friends in order to create the ideal tour package based on the information you provide.
The bottom line is: Egypt small group tours from Egypt Tours Plus represent an excellent, and also a very affordable opportunity for people to visit and explore the very best ancient monuments and attractions that Egypt has to offer.