Mountain of the Dead – Brace Yourself For The Afterlife
Located in the Siwa Oasis, the Mountain of the Dead (Gebel Al-Mawta) burial ground includes several terraced tombs that are located down the side of the mountain. The result is a striking cone shaped burial ground that rises up out of the desert.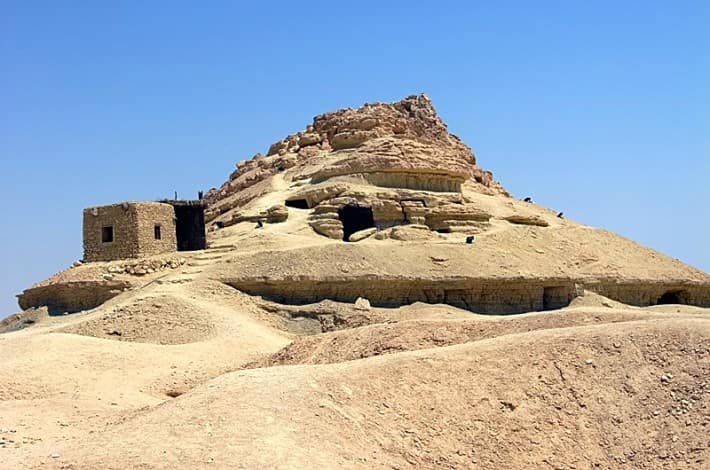 The tombs found here are from the 26th dynasty, and were carved into the mountain during the Greco-Roman Period. There are no Christian or Coptic Christian tombs at this site but there are several very important tombs of note at the Mountain of the Dead.
The Tomb of Si-Amun
This well-preserved tomb is beautiful and unique. Throughout the tomb, which was put in place during the third century BC, are a number of beautifully preserved wall murals painted into the plaster that surround the sarcophagus. There has been damage to this tomb during two different incidents. Some of the soldiers of Siwa cut pieces of the plaster to take paintings home and then, during the Roman period, the tomb was robbed of valuables. Much of the painted plaster is still intact, though.
The Tomb of the Crocodile
The person buried in this tomb is unknown as the name was long worn away. However, the tomb is still worth viewing. It is hard to place an exact date on this one, but it is believed to have been built in the Ptolemaic Period. The paintings on the tomb are extremely well-preserved. Additionally, many of the items are still preserved in the tombs, including offering tables and the offerings left on those tables. The tomb was named by the Siwans who cleared it out.
The Hieroglyphs
There are hieroglyphs that can be found in the tombs throughout the Mountain of the Dead. These markings range in date from the earliest times that the mountain was used as a burial ground. These hieroglyphs were first discovered and noted by the Ottoman ruler, Muhammad Ali. During this time, various people began making trips to the mountain in order to view the ancient writings and the tombs were actually used as living quarters by Bedouins and Siwan tribes of the area.
Getting to the Mountain of the Dead in Sahara
The Mountain of the Dead is easily found by vehicle, and you can take a guided tour of the area or have it included in your Egypt desert tour. Keep in mind that the best way to find the important tombs noted above would be with the help of a guide.

Design Your Custom Egypt Tour
Explore Egypt your way by selecting only the attractions you want to visit