Is April a Good Time to Visit Egypt?
April is an ideal time to visit Egypt. The sand-laden Khamsin wind has all but gone, most peak season tourists have gone back home, and you get to enjoy pleasant temperatures that are ideal for sightseeing.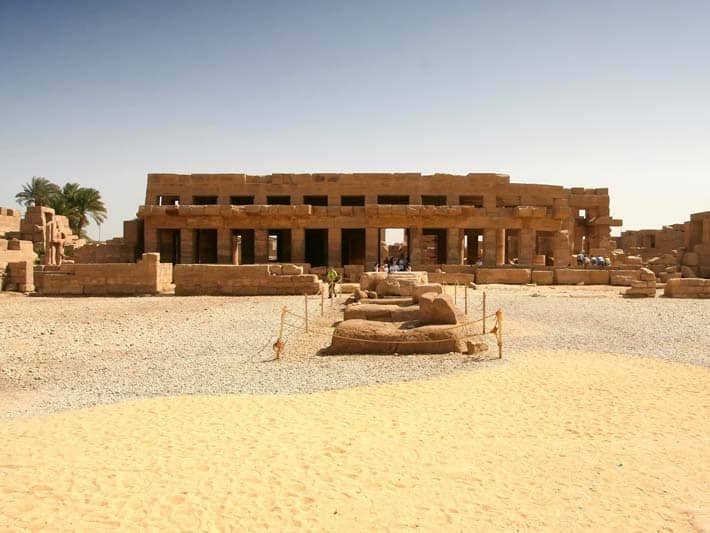 Is April a Good Time to Visit Egypt?
One of the top reasons for visiting Egypt in April is because of the absolutely wonderful weather. Another great thing about visiting Egypt In April is the fact that most of the peak season tourists have returned to their home country. Make no mistake, you will still see scores of tourists at major tourist attractions, but nowhere near as many as you would see in December, January or February.
In this short post we will be looking at why April is such a great month to visit Egypt. Let's begin with the weather:
Glorious Weather in April
If you visit Egypt in April, you can expect plenty of sunshine. Most days are hot with daytime temperatures in Cairo ranging from 20 degrees Celsius to 32 degrees Celsius. Expect slightly higher temperatures at destinations like Luxor, Aswan and Abu Simbel. The evenings on the other hand tend to be balmy, so we would definitely recommend that you pack in a light jacket. With that having been said, the temperatures in the evenings very rarely drops below 16  or 17 degrees Celsius. 
Suggested Reading: Top 10 Egypt Tourist Attractions
Is April a Good Time to Visit Egypt for Sightseeing
April is a great time to enjoy visiting Egypt's many archaeological sites. The cool or even cold winter months have passed, and the hot scorching summer months have not yet arrived. Still, considering that daytime temperatures can and do often reach 30 degrees Celsius, You should consider visiting historical sites like the Giza Pyramids early in the morning, and certainly not during the hottest hours of the day.
As we have already mentioned, by the time April arrives, the peak tourist season has ended. However, April it is still a popular month as far as tourism is concerned. While the crowds at major tourist sites have got smaller by now, you will still see lots of fellow travelers.
If you wish to avoid crowds of tourists at sites like the Pyramids of Giza, then it is best to visit early in the morning shortly after the various sites have opened. For example, the Giza Pyramids complex opens at 08h00 and the tourist buses usually start arriving at about 09h30, which gives you one and a half hours explore the pyramids without the crowds.
Egypt Beach Holidays
Is April a good time to visit Egypt for a beach holiday? Yes, even though Egypt's popular coastal resorts witness higher temperatures than what you will find in places like Cairo, There is almost always a cool and pleasant breeze blowing in from the sea. In short, the weather conditions in April are absolutely perfect for a relaxing break on Egypt's Red Sea Coast.
April is also an excellent time to visit if you intend to do some scuba diving and/or snorkeling. In tourism lingo, April is a part of Egypt's first shoulder season. This is when many businesses around the country start offering special promotions, and this includes hotels and dive boat operators In popular beach resorts like Hurghada and Sharm El Sheikh.
Suggested Reading: Red Sea Holidays
Visiting Egypt during the Holy Month of Ramadan
The dates of Ramadan do not stay the same each year. Instead, the Feast of Ramadan begins 10 to 12 days earlier each year. I.e. Ramadan 2023 begins on Wednesday the 22nd of March and ends on Friday 21st of April. In 2024 It will begin and end 10 to 12 days earlier. 
Ramadan, also known as the month of fasting, is the most important religious events on the Islamic calendar. Can tourists visit Egypt during Ramadan? If so, how is Ramadan likely to affect a tourist's stay in the country?
For the most part, non-Muslim tourists are not really affected by Ramadan. However, many shops and bazaars will shut during prayer times or even shut for the entire month of Ramadan. Some tourists find the closures during prayer times to be somewhat inconvenient, but for most tourists it really isn't a big deal.
Most larger businesses do not shut during prayer times and neither do businesses that are directly involved in the tourism industry.
One thing to bear in mind is the fact that many shops which typically sell alcohol will stop selling alcohol throughout the month of Ramadan. Even non-Muslim Egyptians refrain from drinking alcohol during the holy month of Ramadan. No Muslim tourists can purchase alcohol in Egypt during the Holy Month, so sales of alcohol during Ramadan are typically limited to large hotels and large restaurants that cater for foreigners and expats. Nile River Cruises are also not affected by Ramadan, and alcohol is available on nearly all of the cruise larger Nile cruise ships.
So, is April a good time to visit Egypt if Ramadan is in April? Yes, April is a great time to visit regardless of whether or not the locals are celebrating Ramadan. As a tourist you won't really be affected although you might have to tolerate one or two minor inconveniences.
Recommended: Top 6 Best Egypt Tours
Totally Flawless Dream Holiday
With beautiful weather and smaller crowds, April is an ideal time to visit Egypt, Whether you want to spend your entire holiday visiting Egypt's many historical attractions or whether you want a relaxing holiday near the ocean, you can find the perfect Egypt vacation package on our website at Egypt Tours Plus.
In addition to our epic range of private Egypt tours, we also offer 100% tailor-made tours that allow you to design your very own unique tour itinerary from scratch. And, with roughly half a million tours already sold, you can book your once-in-a-lifetime vacation with absolute peace of mind.
Contact us now to begin planning your trip to Egypt, or even to book your dream holiday to Egypt today.
Design Your Custom Egypt Tour
Explore Egypt your way by selecting only the attractions you want to visit