Is May a Good Time to Visit Egypt?
May can be an excellent time to visit Egypt. It's the start of the low season so everything now costs less, and most tourists have left. While May is hot, daytime temperatures are not yet unbearable.
Is May a Good Time to Visit Egypt?
June is Egypt's first summer month, so one would expect May to be seriously hot. In truth, however, the weather in May is not really as bad or as hot as what many people tend to believe.
So, is May a made a good time to visit Egypt? Let us take a look…
What to Expect From the Weather in May
Expect very warm weather and plenty of blue sunny skies. In May, average daytime temperatures range from 24 to 35 degrees Celsius (75.2 to 95 degrees Fahrenheit). As you head south to places like Aswan, Luxor and Abu Simbel, the days become marginally warmer, while the evenings also become cooler compared to Cairo.
Very occasionally, the Khamsin wind causes sandstorms to sweep across Egypt. However, March is the month of sandstorms in Egypt, rather than May. You may also encounter occasional rains but the chances of rain in May are very slight.
Considering the typical weather during the month of May, it is not really necessary to pack in any warm clothing for your trip other than a thin lightweight jacket in case you feel chilly in the evenings.
Suggested Reading: What to Pack for Egypt?
Touring Egypt's Famous Tourist Sites
Is May a good time to visit Egypt to see the country's famed historical sites? It really all depends on your heat tolerance level and your personal travel style. Naturally, everybody wants to visit the country's major sites such as the Pyramids of Giza, the Abu Simbel Temples, the Karnak Temple, Philae Temple, etc.
The truth is, only you can decide whether the temperatures mentioned above are within your comfort zone and acceptable enough for exploring Egypt's breathtaking archaeological attractions.
As mentioned previously, most tourists have already returned to their home countries. As a result, you won't find massive crowds of tourists at major archaeological attractions. This is exactly why May is one of the most popular times to visit Egypt, at least for some people.
You would find even fewer tourists if you were to visit in June, July, or August, These are the hottest months of the year and the scorching heat takes all the fun out of visiting Egypt legendary ancient sites.
Suggested Reading: When is the Best Time to Go to Egypt?
A Magical Cruise on the River Nile
Is May a good time to visit Egypt for a Nile river cruise? We believe it is. Sure, it might be a little bit too hot to  spend long periods lounging around a pool on board your Nile River cruise, but there are plenty of shaded spaces, and besides, if it starts to get too warm for you, you can simply head indoors to take advantage of the ship's fully air-conditioned interior spaces.
Most good quality Nile River cruises include professionally guided excursions to many of Egypt's most cherished ancient sites located on the banks of the River Nile between the cities of Aswan and Luxor. This means that you will need to brave the heat at least once or twice a day throughout your cruise while visiting various attractions.
Unless you want to get a suntan, we highly recommend that you wear a pair of long loose fitting slacks and a long sleeve top during excursions. A wide-brimmed hat and a good pair of sunglasses are also recommended, and don't forget the suntan lotion.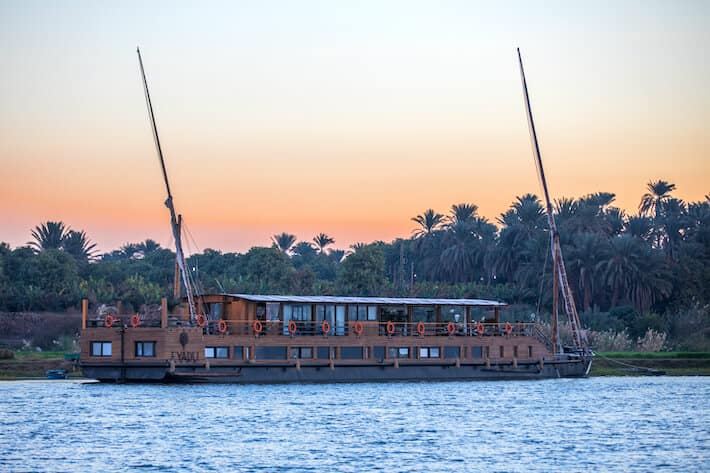 Save Money When You Visit Egypt In May
As we have already briefly touched upon, May is the first month of Egypt's low season. This means that everything will now cost less than it would have cost only one or two months ago, including package tours, Nile River cruises, and of course, hotel prices as well. If bargain holidays are what you are looking for, then May is a great time to visit Egypt.
Don't expect to save money when visiting archaeological sites though because the Egyptian government keeps the prices the same throughout the year.
Suggested Reading: How Much does it Cost to Travel to Egypt?
Sahara Desert Tours
Egyptian Sahara desert regions are home to many tombs and ruins of ancient temples. The desert is also home to some spectacular natural attractions including the breathtaking White Desert National Park. However, in our opinion May is not the best month for Sahara Desert Safari day excursions into the desert. The heat in the Sahara Desert at this time of the year can be absolutely unbearable.
The Red Sea Coast and the South Sinai Peninsula
May is an excellent time for visiting Egypt's Red Sea coast and the South Sinai coastal resorts like Sharm El-Sheikh. In Sharm El-Sheikh, the maximum daytime highs rarely exceed 34 degrees Celsius (92.2 degrees Fahrenheit), While the evenings see temperatures drop to around 21 degrees Celsius (69.8 degrees Fahrenheit). The ocean temperature along the coast remains steady at about 25 degrees Celsius (77 degrees Fahrenheit)
In short, May is an excellent time to visit Egypt to enjoy water activities along the coast or to enjoy some world-class scuba diving in the Red Sea.
Suggested Reading: Red Sea Holidays
Book Your Dream Holiday to Egypt Today
From luxurious Egypt tour packages, to 100% tailor-made Egypt tours, you will find it all here on our site at Egypt Tours Plus.
Contact us now to begin planning your once-in-a-lifetime holiday to Egypt or to book your dream trip to Egypt in May and save with our attractive discounted low season rates.
Design Your Custom Egypt Tour
Explore Egypt your way by selecting only the attractions you want to visit