Is March a Good Time to Visit Egypt?
Yes, March is an excellent time to visit Egypt. The winter months have passed, and the weather is warming up. Many tourists have also left by now, so major attractions are less crowded.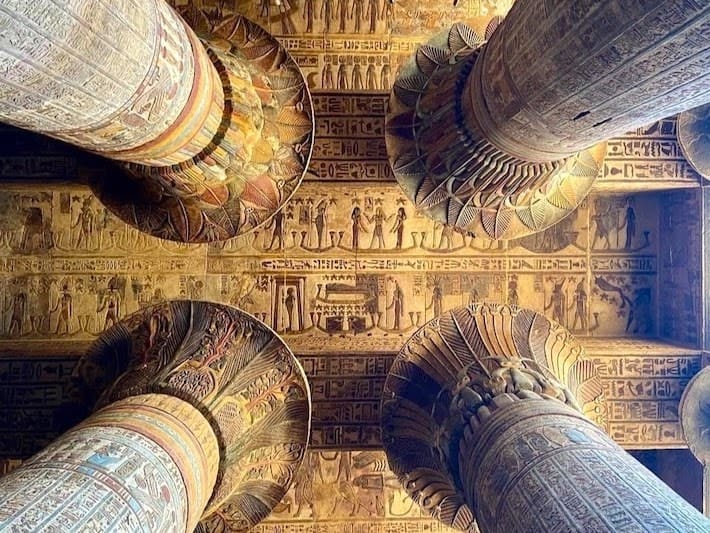 Is March a Good Time to Visit Egypt?
While many people believe that the best time to visit Egypt is during the winter months, from December to February, there are also many who feel it is best to visit from March to April, or from October to November. In the Egyptian tourism industry, these are often referred to as being the shoulder seasons, and as such, are the ideal times to visit Egypt.
By visiting in March, you avoid being in Egypt during the cool or even cold winter months and the three hottest summer months which are June, July and August. You also avoid the main influx of tourists who flock to the country during the peak tourist season which lasts from December to February.
Visiting Egypt in March has its pros and cons, and that's what we are going to look at in this post.
Egypt Weather in March
Is March a good time to visit Egypt? Absolutely! In fact, many people consider March to be the perfect time to visit Egypt, largely because of the wonderfully pleasant weather. The winter months in Egypt can be surprisingly cool, or even downright cold, especially in the evenings. By the time March arrives, temperatures have risen but it is still cool enough to enjoy plenty of sightseeing without having to contend with the heat of summer.
In the summer months, the weather in places like Aswan, Luxor and Abu Simbel can be scorching, which makes visiting popular Egyptian tourist sites extremely uncomfortable, or even unbearable for many people. The cooler temperatures in March are, on the other hand, are absolutely perfect for visiting Egypt's ancient archaeological sites in all parts of the country, including the Pyramids of Giza near Cairo, the rock-cut temples of Ramses II at Abu Simbel, and a host of other ancient sites in Luxor.
If you visit in March, you can expect average daytime temperatures of around of 70 to 80°F  (about 21 to 26°C). As you head further south, to desert areas like Luxor and Abu Simbel, daytime temperatures are somewhat higher, but only marginally, and it is highly unlikely that you will need to contend with scorching heat.
Explore: Egypt Tour Packages
Is March a Good Time to Visit Egypt for a Nile River Cruise?
Yes, March is a fantastic time of the year to enjoy a Nile River cruise. Nearly all Nile River cruises sail between Luxor and Aswan. Most good quality cruises include almost daily guided excursions to numerous historical sites. Luxor and Aswan both have a desert climate, so it is best to explore the historical sites of upper Egypt before the scorching summer months arrive, and when daytime highs can and regularly do exceed 100°F (about 40°C)
Nile River cruises in March are a great idea, and especially if you want to avoid the cold nights of winter and the blistering heat of summer.
Design Your Custom Egypt Tour
Explore Egypt your way by selecting only the attractions you want to visit
Crowds
If you have ever seen pictures of the Pyramids of Giza taken during the peak tourist season, you will know just how crowded the site can become. You will find the same to be true at many of Egypt's other major attractions.
By the time March arrives, tourist numbers have dwindled quite substantially. You are not likely to see major attractions completely deserted, but there will be far fewer tourists than there would be if you visit during the winter months.
This is another reason who you may want to consider visiting Egypt in March.
Costs
Is March a good time to visit Egypt in terms of cost and prices? To be truthful, March is not the cheapest month to visit Egypt. March is part of of the high season in Egypt, so everything tends to cost a bit more. The cheapest and best travel deals are to be found during the summer season, but many people feel that visiting  during the month of March is worth the extra cost in order to enjoy more comfortable temperatures while at the same time avoiding hordes of tourists.
In short, March is a great time to visit Egypt, but expect your vacation to cost a bit more than it would if you chose to visit during the summer months from June to August. Many people, and especially those who want to visit the country's major tourist attractions feel that the somewhat higher costs of visiting in March is worth it, rather than visiting during the country's hottest months of the year.
Suggested Reading: When to Visit Egypt?
Where to Go in March in Egypt
In March, all parts and regions of Egypt are ideal, in terms of the weather. This includes places like Cairo, Alexandria, and coastal resorts on the Red Sea coast such as Hurghada, Sharm El-Sheikh, Dahab, and Marsa Alam. Whether you want a relaxing beach holiday in a place like Sharm El-Sheikh, or whether you want to explore Egypt's many ancient Egyptian monuments, March is an excellent time of the year to visit.
Coastal resorts like Hurghada and Sharm El Sheikh are particularly pleasant at this time of the year, making March a great time for beach holidays and sightseeing holidays alike.
An Unforgettable Vacation in the Land of the Pharaohs
At Egypt Tours Plus, we specialize in high quality private Egypt tours that feature the very best that Egypt has to offer. And, with nearly half a million Egypt tours already sold, lifelong memories are guaranteed.
Contact us now to to begin planning the perfect trip to Egypt, or to book your dream once in a lifetime vacation today.
Design Your Custom Egypt Tour
Explore Egypt and the Middle East your way by selecting only the attractions you want to visit