Visiting Ben Ezra Synagogue in Old Coptic Cairo
Seeing the ancient Ben Ezra Synagogue at the heart of Cairo City should come as no surprise for those visiting the city. After all, Egypt has been home to so many different cultures and religions during its long and fascinating past. Due to the popularity of this site, we have included a visit in nearly all of our Cairo tour packages.
Egypt has been occupied and ruled by several different cultures and religious groups throughout its long and fascinating history. As is to be expected, each culture has left its mark, which is why we see so much Roman influence; Greek influence; Egyptian influence and etc. All things considered, it hardly comes as a surprise that at the very heart of old Cairo, one can visit the ancient Ben Ezra Synagogue.
With so many magnificent Cairo tour attractions to choose from, it can be quite difficult for tourists to decide which sites to visit, especially if they are somewhat pressed for time. While the Ben Ezra Synagogue might not be considered a top tourist attraction, it does however still manage to attract countless visitors. One of the nice things about this particular site is the fact that is is located just behind the famous Hanging Church, also known as the Coptic Church.
Both the Ben Ezra Synagogue and the Hanging Church feature in many of our different Egypt tour packages, but even if a package tour doesn't include a trip to these two site, tourist will find they are both easily accessible using public transport.
A Brief History Of Ben Ezra Synagogue
Some visitors are quite astonished to discover the synagogue in amongst so many Christian religious building, but there really is a very simple explanation. The actual building which was transformed into the synagogue was purchased from the Coptic Christians in 882 AD. The Coptic Christians owed taxes to the rulers of Cairo, and in order to raise the necessary money, they sold the building to Ben Ezra for a sum of 20,000 dinars.
Ben Ezra then decided to convert the building into a synagogue so that Jew throughout the country would have a place where they could worship.
Legend has it that the building stands on the spot where baby Moses was discovered. There are also a number of rumors regarding the Ben Ezra Synagogue. For example, it is said that the coffers in which Moses' mother placed him were found in a deep well at the rear of the temple. There are also rumors that the famous Rabbi Moses Maimonides studied and worshipped there.
Something that is not a rumor is the historically significant discovery of a Jineesah, or collection old manuscripts and torah scrolls, which were found in a hidden storeroom during the 1800s. The documents are no longer on the grounds since they were sent to England for preservation and study.
Visiting Ben Ezra Today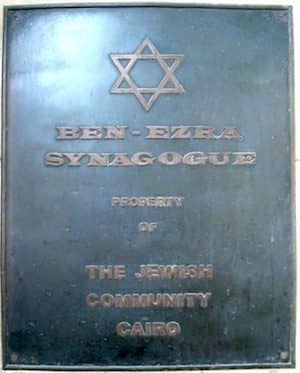 Visitors to the Ben Ezra Synagogue are not going to see much of the original structure, since it has been continually expanded and renovated over the centuries. Today's visitors enjoy the structure that was completed last in 1892. It contains unusual features that include decorations uncommon in Jewish religious buildings – Turkish inspired patterns of stars, rectangles, and pentagons accent the walls, ceilings, and floors. Additionally there is a great deal of floral work that decorates the interior as well, which is considered an Ottoman Empire influence.
The actual structure is fairly traditional, though it is now divided into three sections by steel bars. At the center is the classic "bima", with basilica for men and women on either side. To enter the synagogue does require a security check, and guided tours are always available. It is one of the few Jewish sites in the city, and that means that you will want to book a tour ahead of time if you cannot wait for the next guided tour to be available.
If you would like to visit the Ben Ezra Synagogue as part of you custom Egypt tour, please be sure to contact us today. We have been arranging and offering premium quality Cairo tour packages for many years, so when you book your holiday through us, you can be rest assured that every last detail is taken into account.
If you have questions concerning the Ben Ezra Synagogue, or any other questions in general, please don't hesitate to contact our customer service representatives who are standing by 24/7.
Design Your Custom Egypt Tour
Explore Egypt your way by selecting only the attractions you want to visit