Tag Archive for:
Oases in Egypt
Marvel at the thousands of olive and date trees thriving in the Western Sahara, explore ancient oracle temples, unwind in luxuriant springs and relax in verdant gardens with unforgettable Siwa Oasis Tours.
Farafra oasis tours that take you a place where time stands still; swim in hot springs; visit an ancient Roman fortress, marvel at traditional medieval dwellings, and buy wonderful locally made handicrafts.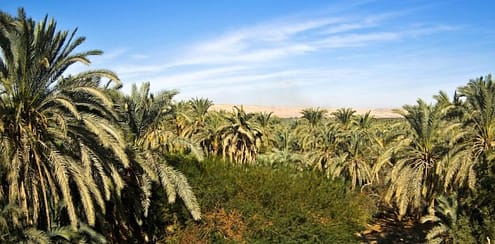 Visit and explore ancient tombs; a temple built by Alexandria the Great; come face to face with mummies, or enjoy the view from above in a hot air balloon: A Bahariya oasis tour never disappoints.
Allow yourself to be mesmerized by the unspoiled beauty and romantic allure of Egypt's most loved oasis. Welcome to the Dakhla Oasis,; an island of green, and home to more than 500 hot springs.
Stroll through the Necropolis of Al-Bagawat and its Chapel of Peace; explore ancient Persian ruins and Roman temples, and think of the slaves that went before you – A Kharga Oasis tour.