Top 10 Attractions in Cairo
Cairo attractions and especially the most famous sites in Cairo draw millions of visitors to Egypt every year, and for good reason. Over and above the Giza Pyramids, Cairo is also home to many other incredibly popular Egyptian attractions, such as the Egyptian Museum for example. Additionally, visitors can explore ancient churches and mosques, some of which are among the most revered in the world. Besides all the wonderful historical sites, Cairo, as a city, also tends to grow on people. It has a really special sort of charm that you won't find anywhere else in the world. It is a hectic city; it is a chaotic city, but it is also an enchanting city.
Let's take a look at what most visitors consider to be the top 10 Cairo attractions:
#10 – Cairo Tower
Cairo Tower is a "thrilling" attraction and offers the opportunity to enjoy spectacular views of the city. Interestingly, it has been the tallest free standing tower in Egypt and North Africa for around 50 years. In fact, at 187 meters in height, it was the tallest tower of its kind on the entire African continent prior to 1971, when the Hillbrow Tower in South Africa was constructed.
The Tower is often said to be the city's second most recognizable landmark after the pyramids, and its convenient location has also helped to put it firmly on the tourist map. The structure was temporarily closed for a major refurbishment project, but it is once again open to the public. There is a nominal fee if you wish to go to the top and the fee is increased if you want to eat at the restaurant at the top of the tower. The restaurant offers the most amazing views, but many tourists have reported that the food is expensive, and the quality not as good as one can find at places throughout the city. Nonetheless, a visit to the tower is recommended, and if you have time on your hands, visiting after dark is also recommended.
#9 – Memphis Open-Air Museum
Memphis was the capital of Egypt during the New Kingdom era, but sadly, not much of the city remains today, other than some ruins and a number of ancient artifacts. It is today a UNESCO World Heritage site and it is officially recognized as an open-air museum. Even though not much remains of this once thriving capital, it is still one of the top 10 Cairo attractions, and therefore you'll find a visit to the site included in many mainstream Egypt tour packages.
More often than not, visitors will make a stop at Memphis on their way to the Saqqara Necropolis, or on their way back from Saqqara Necropolis where the pharaohs of this era were laid to rest, along with their family members and other royalty. Unlike some ancient sites in Egypt, photography is allowed at Memphis.
#8 – Dashur Pyramids
While not actually in Cairo itself, the Dahshur pyramids are a firm favorite among tourists, and particularly among tourists arriving in the country for historical sightseeing tours. Many visitors have actually commented that they have enjoyed their visit to these pyramids more than they enjoyed their visit to the Giza pyramids, simply because the site does not receive as many tourists.
The most noteworthy pyramids at this site include the Black Pyramid; the Red Pyramid, and the Bent Pyramid, all of which were constructed during the 4th dynasty, under the watchful eye of Pharaoh Seneferu. Unfortunately all these pyramids have been badly damaged over the years, but their historical significance makes them well worth visiting.
#7 – Djoser's Step Pyramid
The Step Pyramid of Pharaoh Djoser is often described as being a "magnificent" pyramid, and it is believed to be one of the first pyramids ever built. Despite some common myths and misconceptions, the stepped design of this imposing pyramid is simply a representation of how all pyramids were once constructed. The smooth sided pyramids, such as those at Giza, only started appearing much later.
Most Egypt pyramid tours will include a visit to this site; however, if you are traveling independently, then it's worth noting that there is an admission fee for those wishing to explore the area. Photography is allowed, but visitors are not permitted to enter the pyramid itself.
#6 – Old Cairo
Old Cairo has long since appeared on lists highlighting the top 10 Cairo attractions. It is a fascinating part of the city where visitors could quite literally spend a few days exploring. Most visitors are however drawn to the area's ancient churches and the impressive Ben Ezra synagogue.  It is here in old Cairo where travelers can visit the holy Church of Saint George, which is believed to be the place where Joseph, Mary and baby Jesus stayed when they were fleeing from King Herod.
Old Cairo is also home to the famous Hanging Church of Cairo, one of the oldest and biggest churches ever built in Egypt. Today the Hanging Church serves as the official Seat of the Coptic Pope of Alexandria. Visitors are welcome at both of these churches, and photography is allowed, although visitors are asked to refrain from taking photos if there is a church service being held.
#5 – Cairo Citadel
Such is the popularity of the Cairo Citadel that you will find it included in nearly all Cairo tour packages. This impressive complex sits on top of a hill, overlooking Old Cairo, and it is a popular venue among locals as well as foreigners. While most tourists visit the Citadel in order to explore the grounds and visit the ancient mosques, locals often visit simply to appreciate the views and to enjoy the lovely cool breeze for which the area is very well known.
Like most other historical sites throughout Egypt, the Citadel has a long and fascinating history. The site is also home to several other venues, including the Alabaster Mosque that is certainly worth a visit. If you intend visiting the mosques, you will have to dress appropriately. Both men and women must be moderately dressed, and women need to make sure their legs and shoulders are covered, as well as their hair. Photography is allowed in the mosques, but again, if there are people praying, taking photographs should be avoided.
4 – Nile River Dinner Cruises
These days it is possible for visitors to sail on the Nile River from Cairo, all the way to the country's southern cities like Luxor or Aswan, but that doesn't mean you can't spend some time on the water if you are staying in Cairo only. Nile River dinner cruises are one of the most popular Cairo tourist attractions, and surprisingly enough, dinner cruises might not be your cheapest meal option, but they are nonetheless very affordable.
There are many ships that provide lunch cruises and dinner cruises. All are lavishly decorated, offering passengers a wonderfully rich dining experience. Cruises typically last for around two hours, and they can be booked through virtually all hotels serving the tourist industry. Alternatively, some tour operators will also include a dinner cruise in your tour itinerary if requested to do so.
→ Learn more about Nile River cruises
#3 – Khan El Khalili Bazaar
No trip to Cairo is complete without a visit to the city's notorious Khan El Khalili bazaar located in the Islamic section of Old Cairo. This souk dates back to the 14th century when it was a major trading hub for merchants from all across the Middle East and Europe. You can find almost anything at the bazaar, including several coffee shops which have become increasingly popular among tourists and locals alike. The oldest coffee shop is almost as old as the bazaar itself, and according to those in the know, it has remained in the same family ever since it was opened.
As is common practice in Egypt as well as many other countries, customers are expected to haggle with vendors for a good and fair price. While this can seem a bit unnerving at first, you soon get the hang of it, and most visitors will find it can be great fun too. Set aside at least half a day for exploring this wonderful slice of history.
#2 – Egyptian Museum
Based on the number of visitors walking through its doors, the Egyptian Museum deserves to be in second place when it comes to Cairo tourist attractions. Even tourists who are not particularly enthusiastic about museums find themselves enthralled by the Egyptian Museum in Cairo.
The museum houses more than 100,000 Egyptian artifacts, making it the biggest collection in the world. It should be noted however that not all of the museum's artifacts are permanently on display. Some travel abroad for exhibitions, while others are kept under lock and key, only coming on display at certain times. The museum is also famous for its newly refurbished and upgraded Royal Mummies Room, home to several real mummies, some of which are on display. In order to enter the Mummies Room, visitors need to purchase a separate ticket at the museum. Even though most Egypt tour packages include a visit to the museum, many visitors like returning to the museum on their own because there really is that much to see. Photography is not permitted inside the museum.
→ Explore Cairo – Attractions A-Z
Top 10 Cairo Attractions – #1 – The Giza Necropolis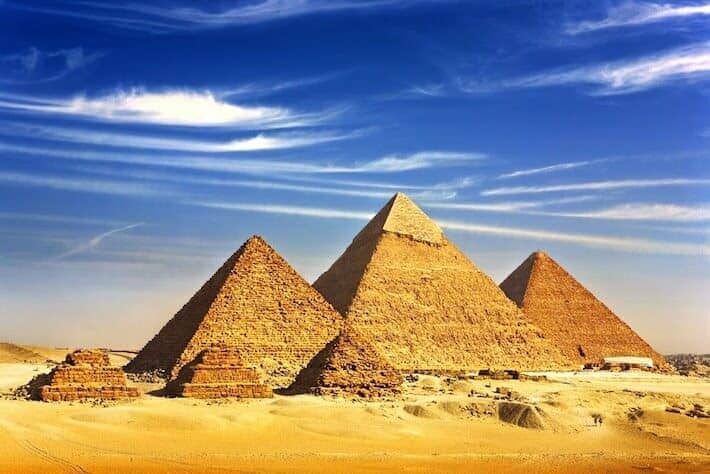 The Giza Necropolis is located on the outskirts of Cairo, and this is where you will find the Great Pyramids of Giza and the instantly recognizable Sphinx. The site attracts thousands of visitors each day, so don't expect a quite stroll around some ancient attraction. Because of its huge popularity, there are also many touts going about trying to sell goods or services, including things like camel rides.
The three pyramids, for which the site is famous for, are those of Pharaoh Khufu; Pharaoh Kafre and Pharaoh Menkaure, with the pyramid of Khufu being the biggest and oldest. Visitors can gain entry to the pyramids, but photography is not allowed inside. If you intend exploring the interior of Khufu's pyramid, expect it to be very warm, and expect a long uphill climb if you wish to enter the pharaohs burial chamber which is located at the summit. If you haven't visited the pyramids, then you haven't visited Egypt.