Nile cruise holidays bring Egypt's finest attractions together in perfect harmony to provide visitors with an exhilarating Egypt tour package experience unlike anything you have ever imagined. Explore the Great Pyramids of Giza and other famous attractions in Cairo, then head to Aswan or Luxor to board your cruise during which you will visit many the best ancient Nile Valley temples and monuments in the company of one of our expert guides.
Design Your Custom Nile Cruise Holiday
Explore Egypt your way by selecting only the attractions you want to visit
Frequently Asked Questions
Are Nile cruises safe?
Nile River cruises between Aswan and Luxor are very safe, with protection provided by the Egyptian government. There is also a high level of security at all attractions along the route.
What is Egypt best known for?
Egypt is best known for its ancient pyramids, temples and tombs. The Giza Pyramids and the tomb of King Tutankhamun are among the most visited attractions in the world.
What is the best part of Egypt to visit?
If you arrive in the country via Cairo, visit the Giza Pyramids and the Egyptian Museum, then head to Luxor which is home to numerous ancient attractions, including King Tut's tomb.
The best parts of Egypt are covered in a Nile cruise holiday package.
Do you see the pyramids on a Nile cruise?
No, nearly all Nile cruises sail between Aswan and Luxor, while the pyramids are on the outskirts of Cairo. Most people visit the pyramids before traveling to Aswan or Luxor for their cruise.
All our Nile cruise holidays include a visit to the Great Pyramids of Giza.
What to expect on a Nile cruise?
With most cruises, 4 to 6 hours per day is spent visiting ancient sites. The rest of the time is yours to enjoy as you wish. When the ship docks in the evenings you can also go ashore on your own.
How much to tip on Nile cruise?
Tip your Egyptologist guide about $5 to $10 per day, and tip another $5 to $10 per day for the ship's crew. Tips for the crew are split and shared among the crew member at the end of the cruise.
Note! Tipping is NOT mandatory!
Learn more about Nile Cruise And Stay Holidays here...
Nile River Cruises – Your Gateway To Ancient Egypt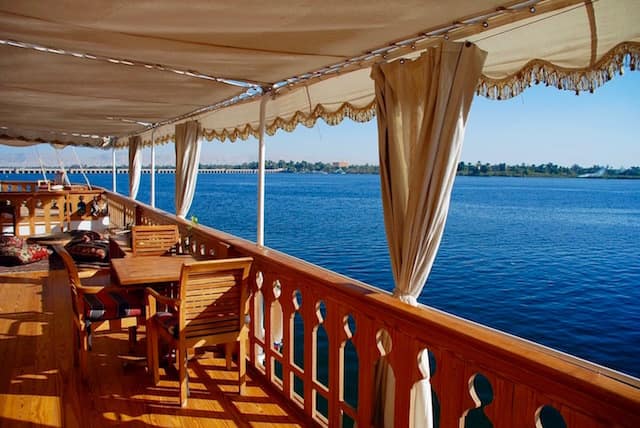 Our Cairo,Nile Cruise and Red Sea holidays are the perfect for anyone who is longing to see some of Egypt's finest and most famous attractions in absolute comfort and style.
Our Nile Rive cruise holiday packages are a great way to enjoy a wonderful holiday or "getaway" in Egypt. Tour packages include all accommodation, full board during cruises, and professionally guided tours at all attractions mentioned in our itineraries.
Romantic Getaways in the Land of the Pharaohs
The many different areas and attractions featured in our package deals make Egypt a wonderful place to visit, and Nile River cruises are among the most popular choices. In addition to traditional Egypt vacations, many people also celebrate their marriage with one of our fully customizable Egypt honeymoon packages.
Bespoke Nile Cruise Travel Deals – Love and Romance Under the Stars
What can be more romantic than days spent visiting ancient mystical sites, and nights spent floating along majestic Nile River beneath the brilliantly sparkling stars?
Celebrate the biggest moment of your life in true comfort and style. Enjoy an unforgettable trip on the majestic Nile River, and then enjoy some carefree days together on Egypt's word-famous Red Sea coast.
Aswan to Luxor or Luxor to Aswan – Egypt Your Way
Although it is still possible to enjoy cruises the begin or end in Cairo, they are few and far between. All cruises featured on this page run from Aswan to Luxor, or from Luxor to Aswan.
Our Egypt Nile cruise packages generally begin begin with a few days in the Cairo during which time you will enjoy private guided tours to the pyramids of Giza, the Sphinx, the Egyptian Museum and other popular attractions such as the Khan el Khalili Bazaar. After this, you will usually fly to either Luxor or Aswan to board your 5-Star cruise on the Nile.
Expert-Guided Nile Cruise Packages
All the cruises featured in our tour packages include several guided onshore excursions to some of Egypt's best-known attractions. This is a great way to really experience each individual site at a far deeper level than you would with a traditional "do it yourself" tour. Our tour guides are very experienced, incredibly knowledgeable, and notoriously friendly.
Your Comfort Matters To Us
At Egypt Tours Plus, we care about your comfort. From the moment you arrive, to the time you leave, every effort is made to ensure that you enjoy maximum comfort:
Clean and modern deluxe air-conditioned vehicles for all transfers and road trips
All hotel accommodation at 4 and/or 5 star hotels
All cruises are on 5-star cruises ships with full board
Book Your Vacation with Confidence
When you book your trip through us, you are booking your trip through a fully certified Trip Advisor "Top-Rated" Egypt tour operator that has been established for several decades; a tour operator that has already sold thousands of tours and cruises that have made people's dreams come true
With prices that are approximately 15% lower than comparable tours elsewhere, and with flexible payment options and a generous refund policy, you can book your dream holiday with complete peace of mind.