Nile River Tourist Attractions
Every year countless people from all over the world book Nile Cruise and Stay Holidays in Egypt in order to explore all the fascinating Nile River tourist attractions which have helped to make Egypt such a sought after destination.
From the infamous Valley of the Kings to the vast Karnak Temple complex and the beautiful Temple of Philae, you will find unforgettable Nile River tourist attractions awaiting you around every bend. While there are many ways to explore this enchanting region, none can compare to the sheer magic of Nile River cruises.
→ Explore the best of the Nile River with our breathtaking guided Egypt tour packages
Design Your Custom Egypt Tour
Explore Egypt your way by selecting only the attractions you want to visit
Click here to learn more about the top Nile River tourist attractions
Nile River Tourist Attractions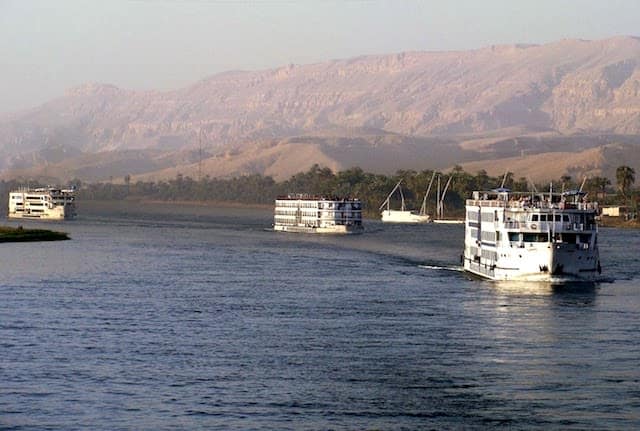 Nile River tourist attractions are one of the biggest reasons why millions of people from all over the world visit this fascinating country which is often called the Cradle of Human Civilization.
Ever since the time of the Great Pharaohs, the Nile River has been the lifeblood of Egypt, and each of the Great Pharaohs have traveled along this mighty river, with many of them leaving their mark in the form of awe-inspiring temples and other fascinating monuments. While some of these have been lost to the ravages of time, many remain surprisingly intact to this day.
Nile Cruise Destinations – Luxor to Aswan
There is no denying the fact that cruises along the Nile offer travelers the very best opportunity to visit and explore the most famous Nile River tourist attractions. Cruise liners, as well as other more traditional boats, travel back and forth between Luxor and Aswan all year round, stopping several times along the way to allow passengers an opportunity to explore some of the world's most remarkable historic attractions:
Valley of the Kings – A Stunning Ancient Necropolis
Whether you are sailing from Luxor to Aswan, or whether you are sailing from Aswan to Luxor, your tour itinerary will almost certainly include a visit to the Valley of Kings. This ancient royal necropolis is one of the most popular Nile River tourist attractions. It served as the final resting place for many of Egypt's great Pharaohs, and it is also home to the tomb of King Tutankhamen.
Note: It is sometimes possible for tourists to enter the tomb of King Tutankhamen, but there are often certain restrictions in place. For this reason, it is always best to get confirmation before traveling, in order to avoid disappointment.
Luxor Temple – An Ancient Temple Of Pharoah Amenophis III
Luxor Temple is also one of the top Nile River tourist attractions, and it too is featured in most Nile cruise itineraries. Dating back to 1400 BCE, this vast temple is remarkably well-preserved, along with many of the imposing statues that stand to this day.
A visit to Luxor Temple is most often part of a broader tour of Luxor, but if you have some free time on your hands, it is highly recommended that you visit this site after dark as well when it is beautifully illuminated.
Karnak Temple Complex – the Ancient World's Largest Religious Site
Karnak Temple Complex is a UNESCO World Heritage Site that attracts thousands of visitors each year. It is a huge complex which took approximately 2,000 years to complete. Because it covers such a vast area, many travelers feel that they could spend several days exploring this site. It is definitely an attraction not to be missed!
Queen Hatshepsut Temple – One of the Great Wonders of Ancient Egypt
Located not too far away from the Valley of Kings, this ancient marvel is a rock-cut mortuary temple that was constructed during the reign of Queen Hatshepsut. Like the above-mentioned sites, this temple is also one of the most popular Nile River tourist attractions. Nearly all good quality Nile cruise vacations will include a visit to this unforgettable reminder of the past.
Abu Simbel Temples – Egypt's 2nd Most Recognizable Attraction
The minute you arrive at this breathtaking site, it becomes clear why many people say you have not truly experienced Egypt if you haven't been to the Abu Simbel Temples. Built as a place of worship, and also as a lasting monument to Ramesses the Great and his beloved wife, Queen Nefertari, this historical site is largely considered to be one of the most recognizable attractions in Egypt, second only to the Great Pyramids.
No Nile River cruise would be complete without visiting this indescribable rock carved wonder of the ancient world!
Too Many Nile River Attractions to Mention
Only a small fraction of Nile River tourist attractions have been mentioned and discussed on this page. It would require several more pages to mention all of the attractions located in this region of Egypt, so if you are planning a vacation in Egypt, it is highly recommended that you spend some time doing a bit of research before you travel. This will allow you to decide which Nile attractions are most important to you.
Working with a reputable tour company can also go a long way in making sure you really do get to see the best of the best Nile River tourist attractions.