Badr Museum – One Man's Astonishing Gift To Farafra Oasis
Badr Museum is located in the Farafra Oasis, just a short didtance away from the mud city of Qasr Al Farafra. Some travelers even describe the museum as being the only attraction in the area, so it is certainly a place worth visiting.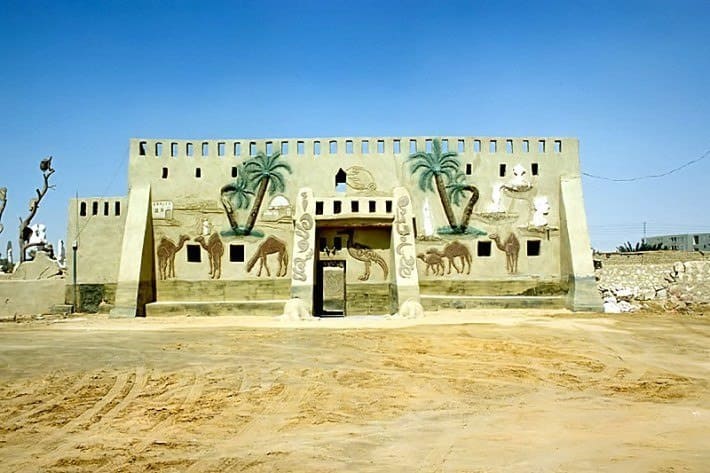 The museum holds many of the original works of Badr Abdel Moghny, who is a local artist. Interestingly, he never had any type of formal art training. Everything that he paints and sculpts comes from complete self-teaching.
The Badr Museum is located in a mud building, which is the common home found in this medieval part of Egypt.
All of the artwork that was created by the artist is quite unique. His work almost always depicts life in the Farafra Oasis and he provides the work through both painting and sculpting. Badr did all of his sculpting and painting in sand, stone, and mud. This makes the artwork quite unique compared to the media generally used by artists.
Badr is not just known in his home area. In fact, his artwork has been exhibited successfully in nearby Cairo, but that is not all. In the 1990s, the artwork made its way all the way to Europe, where it became a very popular exhibit.
What To See At The Badr Museum?
When you visit the Badr Museum, you can expect to see sculptures of camels, farmers, locals, and wildlife. You can also see work done with unique fossils that he found in the area and his paintings are surrealistic in style.
There is no admission charge for the Badr Museum, but a small donation is requested. The posted hours for the museum are 08h30 AM until the time when the sun sets, but these hours can change. Before you make the journey, it would be a idea good to verify whether or not the museum is in fact open.
Getting There
The Badr Museum is located close to Qasr Al Farafra, and can be easily reached from the medieval town. A bus from Cairo will take you to the area, and the trip by bus is about eight hours plus the time taken to make a few stops at restaurants and rest stops along the way.
Private tour services make stops in the area, giving you the chance to see the museum as well. Finally, you can choose to rent or charter a private vehicle to reach the Badr Museum and the town, but you can expect this service to cost quite a bit more than catching the daily bus from Cairo. If you have, or you are intending to book an Egypt Tour package through us, then it's worth remembering that all our package deals include a personal guide and driver.
Design Your Custom Egypt Tour
Explore Egypt your way by selecting only the attractions you want to visit