Crystal Mountain Egypt – A Fairytale Mountain That Sparkles
It can be a little confusing if you visit Crystal Mountain Egypt with the expectation of seeing a giant mountain rising up out of the desert. This is actually a ridge that forms between Bahariya Oasis and Farafra Oasis in the Western Desert of Egypt.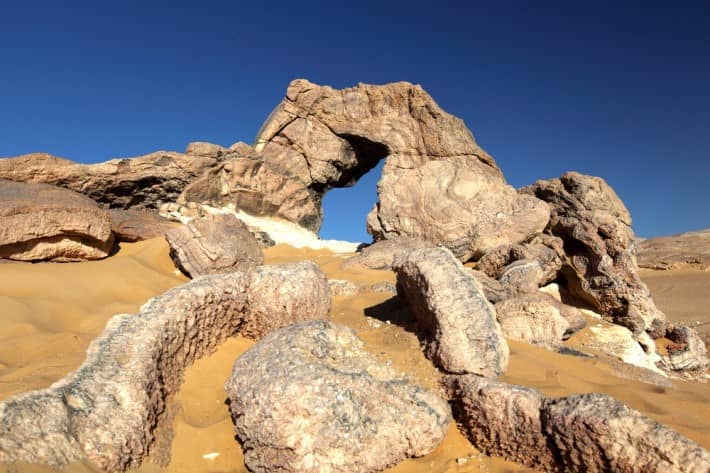 This ridge includes a unique structure. It is made entirely of calcite crystal that combine altogether to create a striking ridge standing up out of the desert. In essence, Crystal Mountain Egypt is an ancient Paleo that has been pushed to the earth's surface, and is now in the process of being eroded away by the elements.
The crystals themselves are quartz. The reason for its name has to do with the Arabic term for formation. It is the same word that we translate into English as mountain. That means the actual name is Crystal Formation, although that is not the common name the ridge is known by.
What To See At Crystal Mountain Egypt?
Some of the definite must-sees of Crystal Mountain Egypt would be the crystals that have almost an oblong or square-like shape. If they were green, these groupings would look very much like Kryptonite of Superman fame. However, these crystals are clear or cloudy white.
Be sure to see the natural crystal arch, which has formed in the ridge. It is high enough that you can stand under it. Additionally, watch for the crystal formations that spring up in the desert all around the mountain.
Crystal Mountain is located between the Bahariya and Farafra areas. It is not close to any cities. You cannot expect to walk to the area on foot. In fact, the mountain is really only reachable by specialty tour. Most accommodations in the larger cities nearby will arrange a tour for you if you would like to visit Crystal Mountain. Even some restaurants in Farafra will have regular tour busses that head to the mountain.
Crystal Mountain is about 90 km from Farafra, about 160 km from Bahariya, and 10 km from Agabat, which is the closest settlement. Tour busses leave from surrounding areas, so you should be able to reach the mountain no matter where you may be staying.
Never Break Off The Crystals

One very important thing to note is that you should never break off the crystals on the mountain. These crystals take many, many years to form, and breaking them would be ruining a piece of history. Additionally, you should not choose to pick up the pieces of crystal that scatter the landscape around the ridge. Essentially, you have to remember that if every tourist took away part of the mountain, there would soon be no mountain left to see.
Please respect the history and beauty of Crystal Mountain Egypt.
Design Your Custom Egypt Tour
Explore Egypt your way by selecting only the attractions you want to visit