5 Day Egypt Easter Holiday Deal with MS Salacia Nile Cruise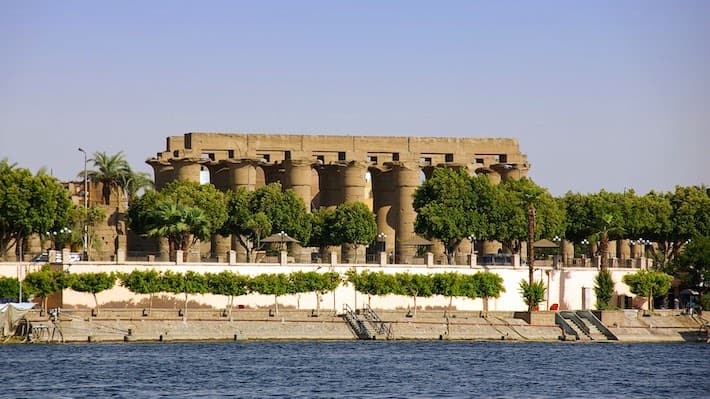 Grab an incredible Egypt Easter Holiday Deal now before it is too late, and secure your place on board the majestic 5-Star MS Salacia Nile River cruise liner for an unforgettable 5-day cruise from Luxor to Aswan. Visit ancient cult temples; mortuary temples; royal tombs and more as you navigate your way from Luxor to Aswan on the tranquil waters of the world's longest river.
Decades worth of experience has taught us what passionate travelers want from a holiday in Egypt, so you can enjoy complete peace of mind in knowing that your Easter holiday is going to be everything you want it to be, and more.
NOTE: Cruises include small group tours (maximum 10) and run from Luxor on the 25th of March and the 1st of April 2024.
Inquire
Egypt Easter Holiday Deal
Itinerary
DAY 1 – Luxor Arrival, Nile Cruise Embarkation, and East Bank Tour
When you arrive at the airport or the railway station in Luxor, your tour manager, along with one of our drivers, will be there to welcome you, and to assist you in any way they can. Then, in a clean and modern air-conditioned vehicle, you will be driven to Luxor port where you will be boarding a luxurious 5-Star Nile River cruise ship with world-class amenities and all the luxuries you would expect to find at any good 5-Star hotel.
Shortly after you have boarded and checked in, a fabulous lunch can be enjoyed in the vessel's beautifully decorated dining area, and then after lunch you and a small group of fellow passengers will disembark together, and you will be taken to see two magnificent ancient sites.
First, you will visit Karnak which was once a sprawling collection of temples, shrines, and other buildings. For a period of more than 2,000 years, each new ruler of Ancient Egypt made changes or added new building, so it makes sense that there is just so much to see at this remarkable site, despite the fact that the sites consists almost entirely of ruins.
After Karnak, you will then move on to see another remarkable temple complex, Luxor Temple which was built in approximately 1400 BCE. As with Karnak Temple complex, Luxor Temple complex was also a cult temple. There are a total of 6 historically significant temples, also known as the Great Temples, on Luxor's East Bank and West Bank. Four of these were mortuary temples, while two were cult temples.
Following your visit to these two amazing cult temples on the East Bank, you and your group will return to the ship and you will have some time for yourself. Enjoy an excellent dinner on board in the evening, and then the night is all yours. Retire to your cabin; take advantage of the boat's many amenities, or sit and relax out on deck under star-filled sky. Tonight you will be sleeping on the water at Luxor
Meals Included: Lunch and Dinner
DAY 2 – Morning Tour of the West Bank and Leisure Cruise to Edfu via Esna
Wake up and enjoy a wonderful breakfast, and then it will be time for you and the other members of your group to enjoy a tour of Luxor's famous West Bank sites: an ancient royal necropolis; a rock-cut mortuary temple, and a pair of massive statues.
First, we will be visiting Valley of the Kings, an ancient necropolis which was reserved for royals, nobles, and a limited number other privileged people. Unlike the early pharaohs who had great pyramids built, the pharaohs of the New Kingdom, from the 16th to the 11th century BC, chose instead to have their rock-cut tombs excavated out of the bedrock in what is today known as the Valley of the Kings.
Unfortunately, all apart from one of the tombs which have been discovered in this area have been opened and robbed in antiquity. The only tomb which was still sealed upon discovery was the tomb of the boy king, Tutankhamen. Nearly all of the artifacts which were recovered from the tomb, including his famous death mask, are now located at the Egyptian Museum in Cairo. However, the mummy of the king, along with some of the artifacts are still on display inside his tomb.
It is worth noting that Tutankhamen's tomb is not always open to visitors, and when it is, only a certain number of admission tickets are sold each day. Tour operators are also no allowed to purchase tickets in advance for their clients. Instead, tickets must be bought in person on the day you visit. Unfortunately, you would need to be at the site even before it opens if you are to have any chance of buying a ticket. After all, it is the most famous archeological site in the world.
From the necropolis, you will then enjoy visit one of the four mortuary temples mentioned earlier, the Mortuary Temple of Queen Hatshepsut. The sheer size of the site makes it very hard to believe that workers actually carved this entire temple out of the bedrock. It is truly a remarkable place to visit.
Your last stop of the morning will be at the Colossi of Memnon, two massive rock-carved statues of Pharaoh Amenhotep III which have been standing on their current location for about 3,400 years. They were constructed to act as guardians of the pharaoh's mortuary temple, which in its day was the largest and most opulent temple in Egypt. Unfortunately, today the temple is all but gone.
Finally, after a wonderful morning on the West Bank, you will return to the ship, and it will begin sailing to Edfu via Esna. Enjoy a good lunch and some afternoon tea along the way, and another fabulous dinner shortly after the boat docks at Edfu. Tonight you will be sleeping on the water at Edfu.
Meals Included: Breakfast, Lunch and Dinner
DAY 3 – Cruise to Aswan with Edfu and Kom Ombo Excursions
The 3rd day of your Egypt Easter Holiday Deal begins with another good breakfast on the water and then you will be disembarking for a visit to Horus Temple at Edfu. This temple never fails to impress, in part because of its remarkable level of preservation. It was buried beneath the sand for more than 2,000 years, and this essentially protected it from both people and nature. Today, it is the most well-preserved cult temple in Egypt.
After your visit to the temple, you return to your cruise liner, and it will begin sailing to Kom Ombo, with passengers enjoying another good lunch and afternoon tea out on the water. When you reach Kom Ombo, you will enjoy another excursion, this time to see an ancient temple that was devoted to two different gods: Sobek the crocodile god and Haeroris the falcon-headed god.
Once you have finished exploring and taking photos, you will then head back to the ship, and once everybody is back on board, it will begin sailing to Aswan. Enjoy another fine dinner in the evening and a good night's sleep on the water at Aswan.
Meals Included: Breakfast, Lunch and Dinner
DAY 4 – Aswan Tour with Free Leisure Time
Wake up to another delightful breakfast, and then once you have finished eating, you and your small group will will disembark for an enjoyable excursion that will see you visiting the impressive Aswan High Dam and the indescribable Philae Temple, an ancient relic which appears to have been frozen in time.
From the temple, you will then make your way to the area's ancient stone quarries to the the Unfinished Obelisk which is the largest such obelisk ever discovered. Sadly, the obelisk was never completed because the project was abandoned after a large crack in the granite appeared.
With you tour now over, everyone will return to the boat in time for another good lunch. There are no further activities scheduled for today, so after you have eaten you will have the rest of the day to yourself. Afternoon tea will of course be served at around 15h00, and dinner will be served at the usual time in the evening. You will be spending the last night of your Egypt Easter Holiday Deal on the water at Aswan.
Meals Included: Breakfast, Lunch, and Dinner
DAY 5 – Egypt Easter Holiday Deal Ends, Disembarkation and Departure
Wake up and enjoy another delightful on-board breakfast, and then sadly, it will be time for everyone to disembark. Upon disembarkation, one of our friendly tour representatives will once again be standing by to meet and greet you, and to confirm whether or not your cruise has been everything you were hoping it to be. They will also escort you to airport or to the railway station in time for your onward journey. They will be happy to assist you in any way they can, and then it will be time for everyone to say goodbye. We hope our Egypt Easter Holiday Deal exceeded your expectations.
Meals Included: Breakfast
What is Included
Inclusions – What is included in our Egypt Easter Holiday Deal:
Meet and assist service at arrival and departure
Customer Service assistance throughout our 5 Day Egypt Easter Holiday Deal
All transfers and tours in clean and modern air-conditioned vehicles
Hotel accommodation for 4 nights on board the Movenpick MS Salacia Nile cruise liner
Free bottled water during tours
All tours mentioned in the Egypt Easter Holiday Deal itinerary
Admission tickets for all attractions mentioned in the itinerary
English speaking guides for all tours
All service charges and taxes
Exclusions – What is not included in your 5-Day Egypt Easter Holiday Deal:
Travel to Luxor and onward travel from Aswan
Optional tours mentioned or not mentioned in our 5-Day Egypt Easter Holiday Deal
itinerary
Personal expenses
Tipping kitty.
Price
Accommodation Plan
MS Salacia Nile Cruise Liner (5-Star)
| Price per person | Valid on Dates Shown Below |
| --- | --- |
| Triple – 3 Sharing | $1,369 |
| Double – 2 Sharing | $1,389 |
| Solo | $2,099 |
Prices for our 5-Day Egypt Easter Holiday Deal with MS Salacia Nile cruise are quoted per person in US$ and are valid for the 30th of April 2024.
Egypt Easter Holidays
Didn't find the Easter Holiday in Egypt you were looking for? See alternatives below or customize your private guided Egypt dream tour here.